Designer Amit Ghadge on India's thriving board game scene – and the four-year development process behind Karigar-e-Taj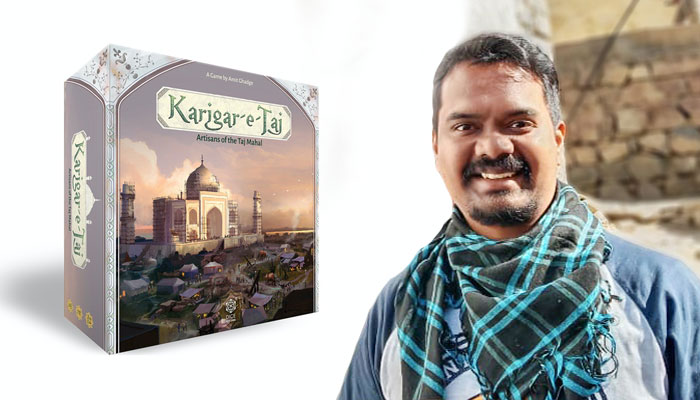 Earlier this month, Dice Toy Labs – a Bangalore-based games company dedicated to creating 'uniquely Indian board games'- launched its first ever Kickstarter campaign.
The campaign is for its worker placement game Karigar-e-Taj, and it passed its funding goal of $8,000 after 18 hours. "This board game will be a game-changer and a showcase for Indian manufacturing capabilities," said Dice Toy Labs co-founder Phalgun Polepalli, following the project's early success.
As the game continues to amass backers, we caught up with Amit Ghadge – designer of Karigar-e-Taj – to find out more about the development game, and learn more about India's game design scene.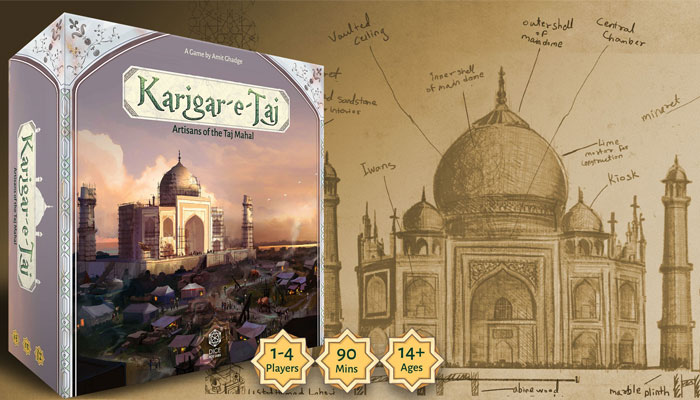 Amit, great to connect; before we dive into Karigar-e-Taj, tell us how you first got into game design?
Thanks, Billy, the pleasure is mine. It was about eight years ago when I was introduced to board games, but that was as an artist. At that same time, my creative setup – Crimzon Studio – was working on comics and graphic novels.
I started receiving requests from publishers to create art and graphics for board games. This got me really interested and I started exploring this new industry myself. My collection of board games slowly grew and I began hosting gaming sessions with friends and family.
A few years down the line, I decided to get into designing board games after having done graphic design for several international board games. In 2020, I designed my first game, Indus 2500 BCE, which was published by Dice Toy Labs. That was a fabulous learning experience for me and I haven't looked back since.
 
Great stuff – and Dice Toy Labs is publishing your latest game, Karigar-e-Taj. Tell us a bit about it.
Karigar-e-Taj is a game about building the magnificent Taj Mahal tile by tile and level by level with the help of your Karigars (Artisans). It is built in the style of a worker placement, resource collection game; players compete with each other to strategically buy goods from the centre bazaar by placing workers and hiring elephants which were prominently used in those days.
Each player tries to build as many tiles as possible to earn the favour of Emperor Shah Jahan and collect victory points. We have tried to use resources that are historically correct in the game and the final rulebook will even have some snippets of history added to it.
Where did the idea for this first come from?
While playing board games based on Indian themes I realised there is so much potential for culturally linked games to be built. India has a very rich heritage and there is an unlimited potential of stories to be told.
While thinking about themes that would be best to start with, the Taj Mahal got me most excited as it stands in the Seven Wonders of the World. I just had to make a game around it!
And the game has been in the works for four years, is that right?
Yes! With the theme in place, the first thing I released was that it would be a great worker placement game. So, I used that as a base mechanic and added a few more layers of different mechanics to the game.
I spent a lot of time doing research and mining authentic historical evidence through books and other documentation. The initial playtests were very helpful as I received a lot of constructive feedback from fellow designers in the gaming community. It took me quite a while to lock the final mechanics of the game.
Once I had a framework in place, I experimented with a lot of variants during the playtests to figure out which variant was more fun and would add replayability to the game.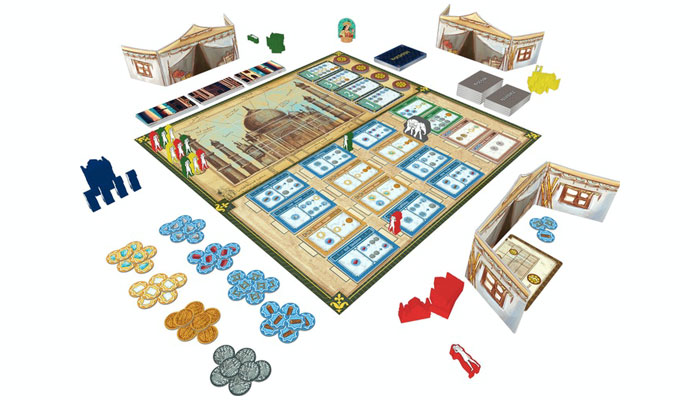 What were some of the biggest tweaks to come out of those playtests?
It started off as a two player game, but I received a lot of suggestions to convert it into a four player game. I updated the rules and many playtests later, I got to a point where it played well with four players.
As I said earlier, I am also an artist by profession, so it was natural for me to work on the prototype art by myself. With every iteration of the rules, I had to update the art as well, which took some time. So working on it on and off, the progress was slow but improved the game quite a lot at each stage.
There'll likely be designers and people from games companies reading who are new to the game design scene in India. How would you describe it?
India has a thriving board game scene that is only growing. There have been several great launches over the last few years and people are moving beyond exploring into turning board gaming into a serious hobby.
India as a cultural hub has so many stories that can drive games, and several Indian game designers are harnessing their experience from the mechanics in international games to Indian cultural concepts. Companies that explore this market will find many hidden gems – both in designers and stories.
Taking Karigar-e-Taj as an example of a successfully funded game on Kickstarter, we hope that our story inspires many new designers and publishers to emerge on the global scene successfully.
Absolutely. Amit, huge thanks again for taking time out for this. Before I let you go, one last question: how do you fuel your creativity?
It's really a challenge to keep a good balance between your creative thoughts. There are a lot of times when we need to push our creative limits and achieve something which pushes up the game.
I spend a lot of time on the concept and R&D stage which helps me visualise the final picture and focus more on the execution process without any distraction. I make sure I have enough cooling time between projects to let the creative juices flow again, and spend time collecting my thoughts by travelling to different places throughout India on my motorcycle.
Fantastic. Thanks again Amit – and good luck with the rest of the Kickstarter campaign, which can be found here.
—
To stay in the loop with the latest news, interviews and features from the world of toy and game design, sign up to our weekly newsletter here