Designer Brett J. Gilbert on why it's great to find a publisher who likes your game, but it's better to find one who can improve it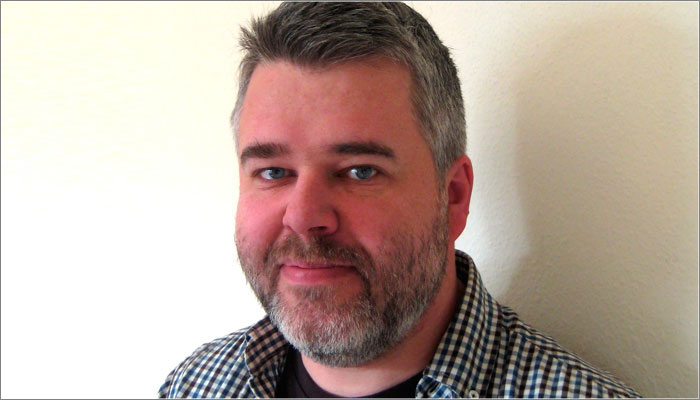 Brett J. Gilbert is one of the UK's most prolific and versatile game designers, with a portfolio spanning the likes of the Kennerspiel des Jahres-nominated Elysium to University Games' quick-thinking card game, Rubik's Match.
Essen 2019 proved to be one of Gilbert's busiest to date, as he saw three of his games – Chocolate Factory (co-designed with Matthew Dunstan), Maya and Mandala (both co-designed with Trevor Benjamin) – debut at the show, while another of his co-creations – The Gruffalo: Games From the Deep Dark Wood – is about to hit shelves.
With Brett in the midst of this flurry of releases, we thought we'd catch up with him to learn more about the design process behind these games, and why collaboration is key when it comes to both invention and publishing.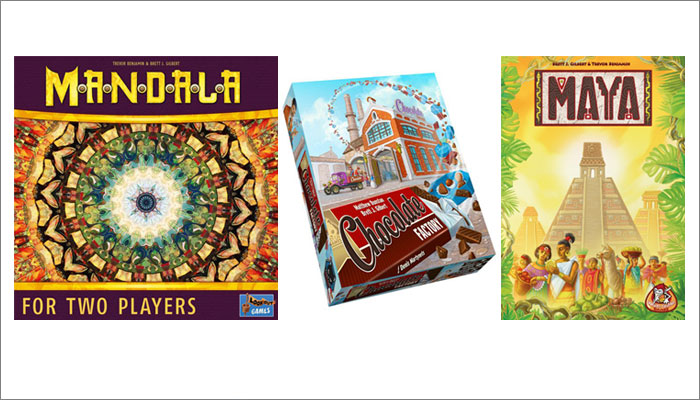 So Brett, this year's Essen appeared to be a busy one for you! How did you get on?
This year was my ninth Essen in a row, and if you'd told me back in 2011 that eight years later I would have over 25 published games – including three new releases this year – I simply would not have believed it possible.
At that time, I didn't even have one published game under my belt. My very first release, Divinare, was still being prepped for publication in early 2012, by the team within Asmodee who would later form Space Cowboys.
And what did I know of the board game industry? Everyone I met and everything I discovered was new, and Essen itself was still a myth that older, wiser, more experienced and more adventurous people talked about in reverent whispers.
Well, it's not like that anymore.
I'm older, for one thing. Wiser too, of course, although part of that wisdom is knowing that Essen is often something to be endured just as much as it is to be enjoyed. It is both work and play, and commensurately full of colleagues and friends. But it has also become a homecoming of sorts. And family, as everyone knows, is a little more complicated.
However, my long service has earnt me a few privileges, and as a game designer I have much to be thankful for. I can say confidently that this year's Essen was a success. To see new games released and being played on demo tables is always exciting, as are the glimpses of new projects in production for 2020 and beyond. The future is bright!
Let's unpick those releases: so first up, Mandala from Lookout Games. A co-design between you and Trevor Benjamin, it's a two-player abstract game that comes with a fancy linen playmat! Where did the concept come from and how far along in the process did the mandala theme present itself?
The concept is just a little over three years old, and is intimately connected with another of this year's releases: Maya.
The game that became Mandala was born of the idea to make a card game version of the board game that eventually became Maya, a concept which itself is nearly five years old.
Both games share a mechanistic seed, even though their look, feel and experience of play is now so very different. It's pure coincidence that they have both been published in the same year — and with spookily similar titles.
Mandala is the distillation of that original card game concept. Trevor and I started out wanting to build a much more elaborate multi-player game, but quickly realised that the two-player experience was the only one that made any sense.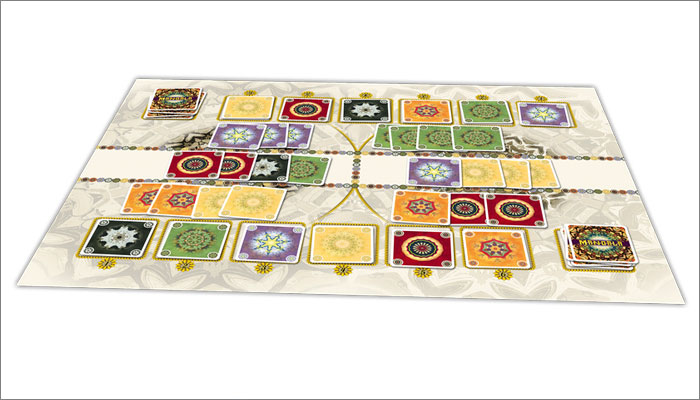 Fortunately, there was a little bit of alchemy at work when we stripped the game back to its core, experimented with a novel scoring concept and, after lots of preposterous attempts, landed on a theme that seemed a perfect fit for the pure, classical game we'd created.
Well, I say 'we'. The final game design is absolutely the result of a genuinely iterative and collaborative process. The theme: not so much. I have a truly terrible record when it comes to choosing themes for games, and the mandala theme was all Trevor's idea.
Lookout Games was always our first, best choice for a publisher, although it took them a little time to see the game's potential. And maybe there was a little bit of alchemy at work there too, since Klemen Franz's artwork and Hanno Girke's out-of-left-field decision to put a linen playmat (which is to say, a tea towel) in the box has created a genuinely beautiful, practical and playful product.
Another Essen release, co-designed with Matthew Dunstan, was Alley Cat Games' Chocolate Factory. As a big fan of both euro games and Dairy Milk Fruit & Nut, this sounds right up my street, and again, it's a novel theme. Can you talk us through the development process behind this?
The origin of this game is even older, and again the theme is something that arrived much later. The conveyor belt mechanism – which made the game a 'cube pusher' in which you literally push cubes! – was always part of the design, although almost everything around that core changed multiple times. But it was the strong physicality of the conveyor belt that carried the game through all of its iterations. Every playtester always immediately enjoyed that part of the game.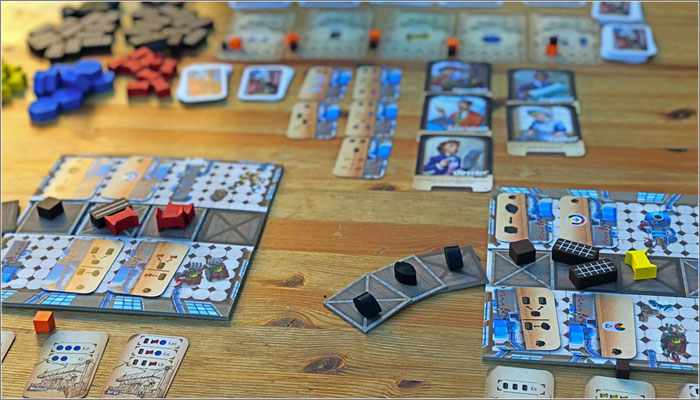 For a couple of years the game was with a (now disappeared) American publisher, and we didn't give it too much attention. We already knew Caezar from Alley Cat Games since he was part of our local playtesting group in Cambridge, and I knew they were looking for a novel eurogame to follow up the success of Dice Hospital.
The stars aligned, and signing the game to Alley Cat kicked off a period of intense development; this was when they proposed a radically new theme which, combined with their design and product instincts, really pushed the game forward.
One of the best things you can do as a designer, beyond simply finding a publisher who likes your idea, is to find one who has an actual opinion about how to improve it and fashion it into the right game for the right market.
Being able to work in partnership with a publisher like that is a relatively rare privilege. And it's certainly not true that so-called 'big' publishers are inherently any better at it than smaller ones. It's simply about whether or not they have enough expertise, gumption and naked ambition to take your game and make it into a great product. And that's exactly what Alley Cat have done with Chocolate Factory.
Brilliant. And then we have Maya, co-designed with Trevor and launching via White Goblin Games. How is it working with a smaller team on a release, and what made White Goblin a good fit for Maya?
As previously billed, Maya is an older design — although not quite as old as the original concept for Chocolate Factory. It was always a pet project for Trevor and me, who revisited the design and the theme many times over its lifetime. The 'Maya' folder on my MacBook contains over 450 files, totally over 1.25 GB!
We experimented with different board layouts, adding and removing gameplay elements, and pitched the game to several plausible publishers within our existing library of contacts. We always hoped to eventually find the game a home since it was a personal favourite — and indeed we were close to doing so on a couple of occasions.
The story of how White Goblin signed the game is unusual for a few reasons. Until Essen this year, we'd never actually met anyone from the company: all communication up to that point, including the pitch, was done via email. More remarkably, that pitch happened just a little over a year ago, and the contract was only signed in April!
We have both been very impressed with how efficiently and professionally White Goblin has handled the project, and we are really pleased with the finished product.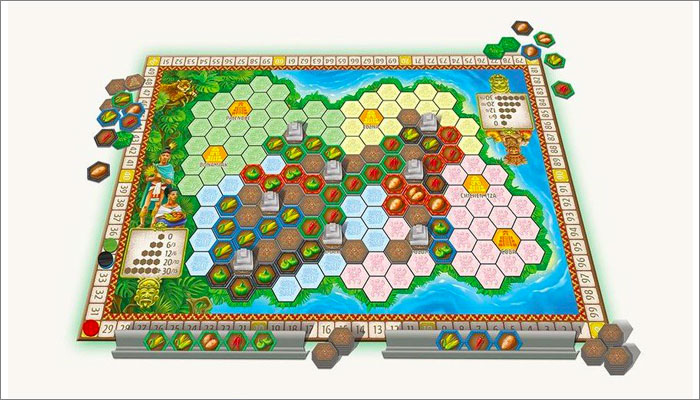 One of the most meaningful accolades I could give any of my own games is to say that I would actually take the final product off the shelf and play it – for fun! It might sound shocking, but I can't say that about the majority of my published games – but I can say it about Maya!
And while it's true that White Goblin are not one of the larger or more well-established European publishers, they have been building a really solid and well-produced line of games, which (and this is important) they have continued to support with expansions and new content.
Maya was, I think, just the right game at the right time: a perfect fit for their list, their scale and their current trajectory.
Elsewhere, and a slight gear change, but this month sees the launch of your Gruffalo games bundle, a co-design with Andrew Harman and Tony Boydell that stemmed from our Gruffalo Design Challenge a few years back. What was the experience like working on a brand like The Gruffalo, and does your approach to design differ much when tackling kids' games vs. hobby games?
All the credit here must go to Andrew Harman, and his own drive to see this product come to life. The Gruffalo Design Challenge was something completely new for me, and was my first true glimpse of the oh-so-very-different world of mass-market games and IP licensing. And that's definitely a door that I want to push on with ever-more deliberate force.
I'm very excited to see the release of 'The Gruffalo: Games from the Deep, Dark Wood' because it will be the first game with my name on it that will reach the UK High Street: I can't wait to spot it in the wild!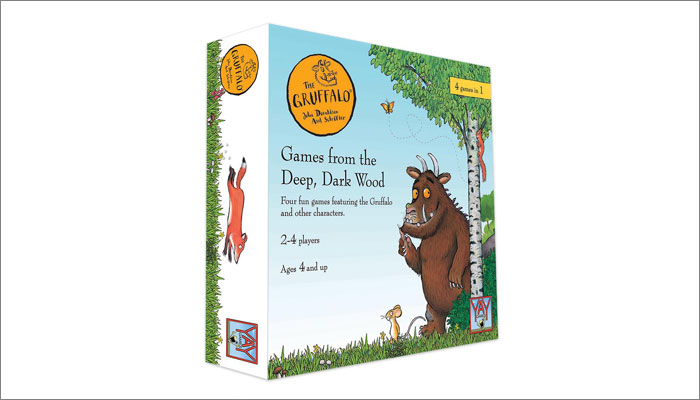 I don't have a lot of experience of designing specifically for children, but I do know that you have to be really smart, because kids just won't tolerate any of the nonsense that grown-up gamers take for granted. Which is only more true of the mass-market, because I'm absolutely certain that most people won't tolerate any of that nonsense either.
It's curious that these four new releases — Mandala, Chocolate Factory, Maya and The Gruffalo — each seem to say something different about my game design instincts: there's the classical, purist, cerebral card game; the conventional cubes-and-contracts eurogame, albeit one with a neat physical hook; the traditional, perhaps even slightly old-fashioned, family tile game; and even the nostalgia of a kids' compendium.
Maybe when I make it to my 10th Essen I'll have figured out what kind of game designer I want to be.
——
To stay in the loop with the latest news, interviews and features from the world of toy and game design, sign up to our weekly newsletter here