Designer Luca Borsa on putting storytelling at the heart of games like Quicky Quack and Monster Dentist with his partner Luca Bellini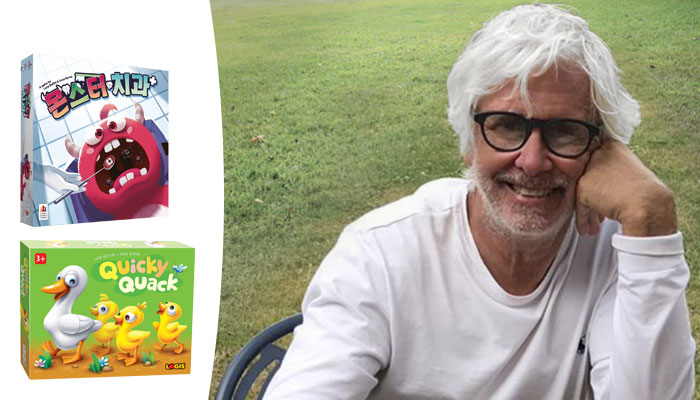 Luca, it's great to connect. Let's start at the beginning: How did you come to be a game designer?
Well, I had great childhood, and my mother was a passionate gamer. She loved card games and my parents taught me many, many games.
For me, board games were an illumination! When you receive a gift, you open the box and immediately understand what the gift is… But when you open a gift and it's a board game, it remains a surprise because you don't know how it'll play. They also fuelled my imagination… If it was playing a game about space, I became that astronaut! I'd often play with the pieces outside of playing the games.
It all fascinated me as a child. I started to make house rules to see how it would change the experience and spark new decisions for players. I started to create new games too.
Did that continue into your studies?
No, I studied to become a civil engineer. After that, I decided I wanted to create games. When I was 25, I tried to publish a game myself – an abstract game for two players. It was difficult because I didn't know the industry around board games. There wasn't any internet at that point and there wasn't a games fair in Italy. I made many mistakes – I tried too hard to protect my idea and so on… All the classic mistakes that amateur game designers make when they are starting out.
And when was this?
This would've been in the early 90s.
Right. So how did your luck change?
Well, in 1998, a friend sent me a fax with information about a game design contest taking place in Italy. This got me into this world and introduced me to other designers who I now call friends. It was a great way to meet people and I'm now the spokesman for SAZ Italia.
SAZ being the Game Designers Association.
Yes. In Italy, we have 76 members. We share ideas and best practices. It's an open, supportive community. It was great for me at the beginning.
What was the first game you licensed?
Well, I got very lucky because a game designer called Andrea Angiolino saw my game, took it to Nuremberg, presented it to Ravensburger and they took it! It was called Verbindung Gesucht. You'd roll dice to make tracks and patterns. It's no longer in their line but it was my first published game.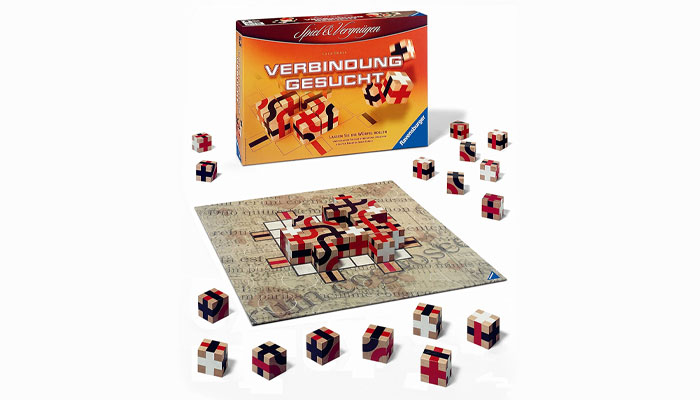 You do a lot of designing with fellow game designer Luca Bellini. What is the benefit of collaborating on games?
Well, I always say that one mind plus another mind doesn't equal two minds, it equals three! You always have lots more ideas this way. I've made a lot of games with Luca and we started off with very simple games. When we started, we both had young children so we were drawn to this type of game, but have created other types of games over the years too.
We also create games for other types of organisations, like schools and brands. Luca, Walter Obert and I started to create promotional games and our first one was for Ferrero's Kinder brand. It was a big version of the classic Kinder Egg and inside are 12 mini games. It was aimed at the general public; people who don't usually play board games. It was great that they wanted to use professional game designers who could bring them games with real value.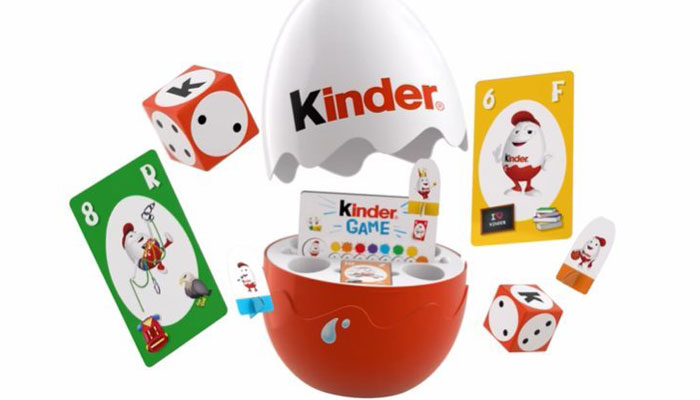 After this experience, Carlo Lanzavecchia joined us and we decide to launch a game studio that focuses on special projects like these. The studio is called Blob Factory.
Blob!?
It's our surnames! Bellini, Lanzavecchia, Obert and Borsa.
Ah! Of course! You mentioned you focused on special projects with Blob… Can you give us an example?
We had a great experience as part of the Fuorisalone Design week in Milan We contributed to a game installation called Talk the Walk, designed by Italo Rota, the architect studio Carlo Ratti Associati and ENI. It invites you to explore the theme of 'the transformation of urban mobility' and highlighted ideas around sustainability.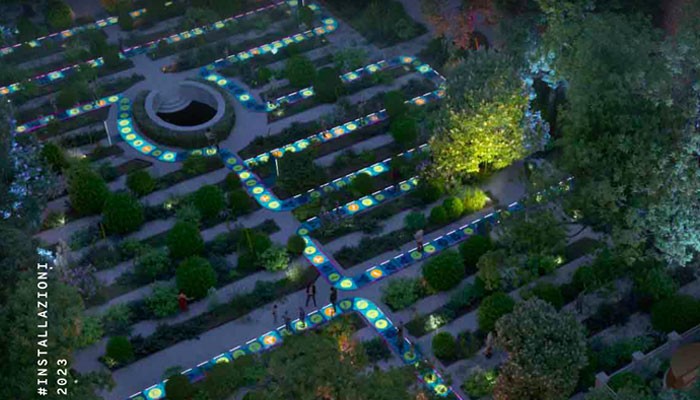 Very cool. Going back to your collaboration with Luca. What is the key to a successful design partnership?
Well, first and foremost, we enjoy ourselves – always! We put ideas on the table that are crazy – and impossible – and we laugh. Joy is always the starting point.
Luca is an incredible volcano of ideas. He'll call me in the morning saying "I've just seen some ducks in the lake, that could be a game!" In fact, that's how our new game with LOGIS – Quicky Quack – came about. It all came from that image of ducks in a lake. So he'll have that initial idea, and then I'll help develop the game. Sometimes it can begin with just a mechanism. It's a good mix of minds!
Sounds like the perfect partnership.
I have one more example! One time, we got stuck with a game idea. It was a problem we were really struggling with… Then, one morning, I woke up and had the solution! I rang Luca straight away and told him. He couldn't believe it, because a minute before he picked up the phone, he had sent me an email with his solution – and it was exactly the same as mine!
Wow! You share a name and brain!
Ha! Exactly. We're also a good match because we don't fall in love with our ideas. An idea is just an idea. I trust Luca – if he has a criticism, I know it'll make the idea better.
You mentioned Quicky Quack a moment ago. I also wanted to discuss one of your other toyetic games – Monster Dentist, published by Korea Board Games. You have to peek inside a monster's mouth using a dental mirror and recreate the layout of its teeth as quick as possible. It's a fun idea beautifully executed. Can you talk me through how that one came to be?
Luca had been to the dentist with his son and the dentist gave his son a mouth mirror as a gift.
A mouth mirror being the little mirror at the end of a stick that dentist's use to look around the mouth?
Exactly. Luca brought the mouth mirror to me and said "This must be a game!" He created a prototype but the first version was quite complex, so I tried to simplify it. The rainbow colours for the teeth helped to do that. The idea is 95% Luca and 5% me, but it was a great collaboration.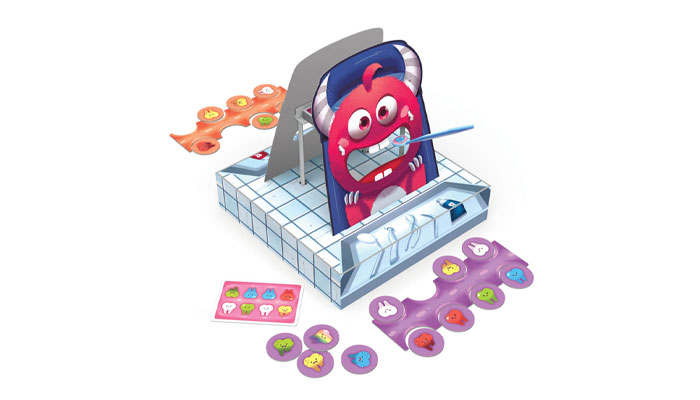 Do you find yourself drawn to concepts that have toyetic qualities?
With children's games, you must give players a material experience. It's not just a game, it's a storytelling tool. With Quicky Quack, the board has holes so the ducks drop into the water and their feet are 'submerged'. The pieces also wobble and balance like they're in the water. It wasn't necessary for the gameplay, but it added to the storytelling and I love that.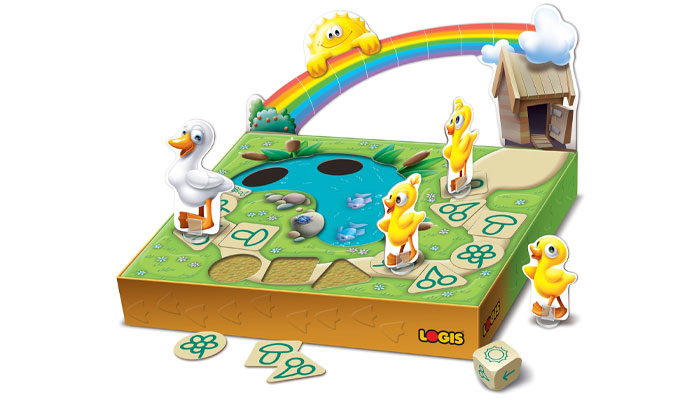 You've pitched to lots of companies. What is the key to fruitful relationships between inventors and publishers?
Well, I think it's best not to think of designers and inventors as suppliers. We should be seen as partners. As well as having relationships with game editors and inventor relations, I also like to have a connection with the illustrator working on the game. The impact of the game on shelf is so important – it's more key now than ever before. Because of that, I like to be connected with the illustrator.
Luca, this has been great. I have one last question. What helps you have ideas?
Creativity is a strange thing. I read David Lynch's book 'Catching the Big Fish: Meditation, Consciousness and Creativity'. If you want to catch the big fish, you have to go deep into the water – and to do that, you have to train your creativity. You can do that in many different ways… Be curious, watch films, do things outside of the board game industry. The big one for me is being bored. I sit on the sofa and do nothing. It's a great way to reset your creativity.
The other thing to do is keep on top of current trends and technologies. A good game 20 years ago is not necessarily a good game today. You want to speak the same language as today's consumers, so keep up!
Great advice. Luca, a huge thanks again for this. Let's talk again soon!
–
To stay in the loop with the latest news, interviews and features from the world of toy and game design, sign up to our weekly newsletter here