Designer Scott Rogers and Ravensburger's Cassidy Werner on bringing Alien to the tabletop with Fate of the Nostromo

In August, Ravensburger is welcoming a new addition its collection of licensed board games in the form of Alien: Fate of the Nostromo – based on the sci-fi horror film from Ridley Scott.
Designed by Scott Rogers, Alien: Fate of the Nostromo is a co-op game that sees players creep around the Nostromo, carrying out tasks while trying to avoid a deadly encounter with the Alien.
We caught up with Scott and Ravenburger North America's International Marketing Manager, Cassidy Werner, to find out more how they approached bringing the iconic movie into board games.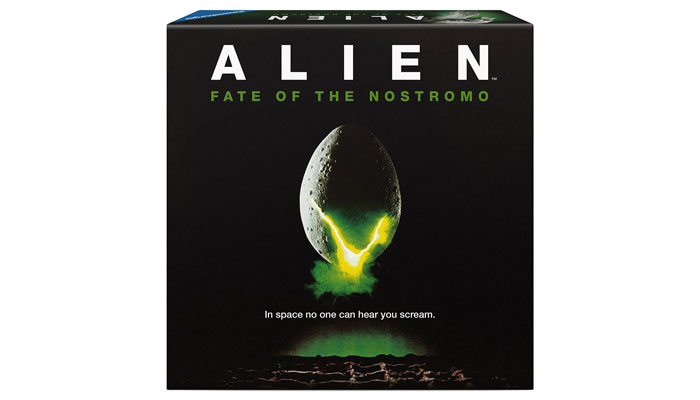 Scott, Cassidy, a huge thanks for making time. Scott, let's kick off with you. How did you get involved in gaming, because your background is in video games, right?
Scott Rogers, Designer, Alien: Fate of the Nostromo: Yes, but the first games I ever played were board games – I've always loved board games. My earliest gaming memories are playing board games like Green Ghost, Barnabus Collins or Voice of the Mummy… Games from the Seventies – I'm old! They were very toyetic games. In Barnabus Collins, you're assembling a skeleton in a coffin, while in Voice of the Mummy, you're on a ziggurat and collecting gems while a mummy is throwing curses at you.
That said, I never considered board gaming or video gaming as a career path. I went to college for art and also got a degree in filmmaking, so I thought I'd end up doing special effects or screenwriting. Eventually, I ended up in working in animation and there's a tradition in animation that every Christmas, they fire everyone. So I was unemployed, but a friend came up to me in a coffee shop – like Lana Turner – and asked if I knew how to draw on a computer because the company he worked at was looking for artists. One thing led to another that's how I ended up working as an artist in video games.
This was during the 16-bit era, so it was pixel-by-pixel. It was less like drawing and more like laying bathroom tiles. I didn't have much fun doing that, but the fellas next to me were having a great time designing the game. I marched over and asked if they could teach me how to design games. One of them was kind enough to take me under his wing and a year later I was designing video games. I've been doing that ever since – although I had a slight detour where I was working for Walt Disney Imagineering creating games for the theme parks.
I've also published a few books on game design, including Level Up: The Guide to Great Video Game Design, and I also teach classes at the New York Film Academy and the University of Southern California.
Before we dive into board games, what were some of the video games that have your fingerprints on?
SR: The original God of War, Pac-Man World, the Maximo series for Capcom. I did some work on the original Soul Blade for Namco and helped create stuff for Darksiders. I did a lot of SpongeBob SquarePants stuff and even games like Bratz: Rock Angelz.
Quite an eclectic mix!
SR: Yes, the full spectrum from macho sword-wielding Greeks to Bratz!
How did board game design enter the picture?
SR: I had an idea for a sci-fi game where you started in a spaceship and then jetted out into space. You'd encounter other creatures and eventually you'd cut your way into an opponent's ship and fight them. I pitched it as a big grand experience, but people kept saying the tech wasn't quite there yet for that kind of video game. It costs a lot of money to make a video game and you need a lot of people to make a video game.
I thought about making it a reality and I thought about doing it as a board game, because that meant I could do everything myself. So I spend a few years making it and eventually I went to Gen Con and pitched it to some publishers. One said yes and then the game – Rayguns and Rocketships – was published.
Sticking with space, let's find out more about your new game, Alien: Fate of the Nostromo. Did you have the game sorted and then realised it could work with the Alien brand, or was the movie the starting point?
SR: Ravensburger actually approached me with the brand.
In that case, let's bring Cassidy in! Why Alien and why Scott?
Cassidy Werner, International Marketing Manager, Ravensburger North America: Well, we have a history with doing really immersive IP games and there's a group of us that sits in a room on a Tuesday afternoon and think about what games we want to make. Alien came up, so we spoke about the core elements that we'd like to see in an Alien game. We then contacted some designers, like Scott, and asked them to pitch us concepts – and Scott's won!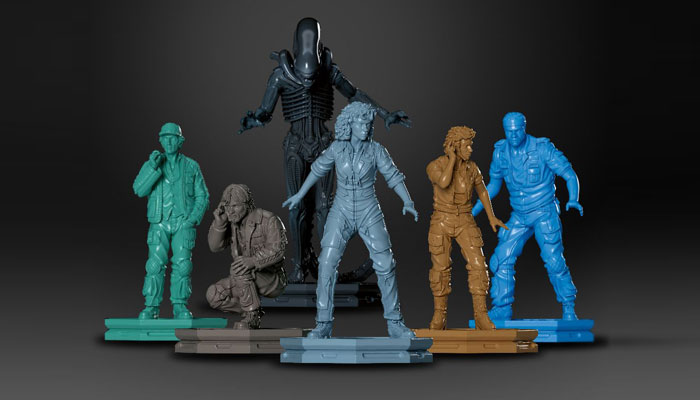 Scott, what appealed about the brief? Were you a fan of the movie?
SR: As somebody who has worked on a lot of licences in the past on video games, my angle is always to design to the IP. There's a reason people love Alien, and I'm a big Alien fan too. I've been a fan ever since my mother barred me from seeing the movie as a child. I bought the Topps bubble gum cards so I could find out more about the story! When I finally saw it, I thought it was one of the greatest films ever made.
What did your first steps look like in creating the game?
SR: When Ravensburger asked me to pitch an Alien game, I immediately asked myself what I – as a fan – would want to see in the game. I thought about what people love about Alien and what would make sense to include.
The whole game takes place within a certain point in the movie. The chest-bursting scene has already happened, and the Alien has grown into its adult form. The tension of these guys being picked off one by one is what everyone associates with Alien, so that's what I wanted to capture in the game.
What's fun about board games is that you're allowed to play a little bit of 'what if…'. The goal of the game is for the crew to survive, and as we all know, not everybody survives. I wanted everyone to be engaged while playing so, if anything is a slight deviation from the film, it's that here you either all win or you're all killed by the Alien.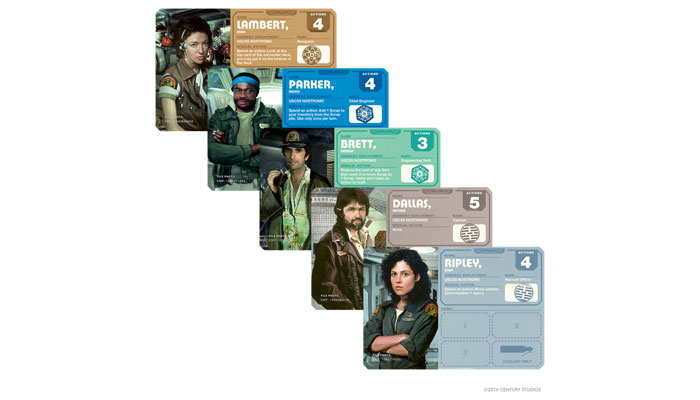 You mention about looking at what people love about Alien, and whether those elements make sense for a game. What were some of the things you knew you had to include?
SR: Well, people love the characters, and it was fun to match gameplay abilities to their personality traits. It's not a role-playing game, but I still wanted characters' personalities to come through. If you're playing as Lambert, I wanted it to really feel like Lambert.
For example, Ripley's ability is that you can spend some action points to tell other players to go and do something – you can essentially move them around. And that's what she does in the movie. Lambert is the most cautious character in the film, so her ability is that if she picks a bad card, she can put it to the bottom of the deck and get another one. That's how I tried to ensure personality traits bubble up throughout the game.
The film itself is obviously very tense and scary, but I imagine trying to make players feel fearful while playing a board game is a tough challenge! How did you tackle that element?
SR: It was a big challenge, but I remembered a famous quote by Alfred Hitchcock. He said if you see a couple at a table and then, all of a sudden, a bomb goes off, you'll be surprised. But if you know there's a bomb ticking away under the table, you get tension – and that's more delicious than the explosion.
In the Alien game, the cards create that tension. You know that something bad is in the deck, but you don't know when it's going to show up. So as your draw cards or go into certain rooms on the board, there's a feeling of apprehension and fear.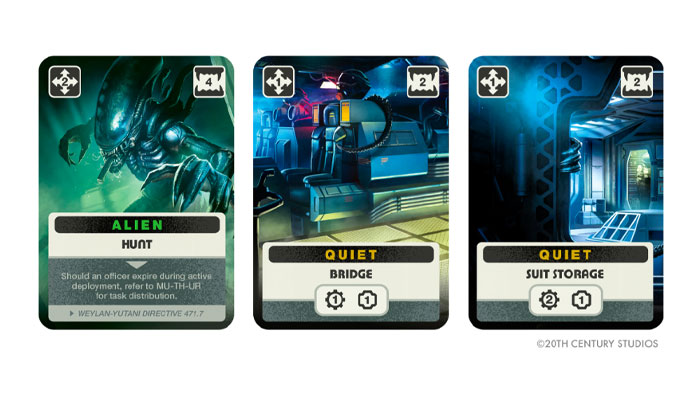 Away from the alien, Ash is an iconic villain from the film. Does he make an appearance here?
SR: Ash was interesting because I love the character. He's such a great villain and a huge part of the plot. When we were first talking about the design, I wanted Ash as a playable character, but it didn't make sense for the game to have a betrayal mechanic because everyone knows, Ash is the betrayer. There's no surprise there, and it doesn't make sense to have any other character be the betrayer.
Ash is a pain in the butt in the movie. He's always complicating things for the characters, so that was the spirit in which I approached bringing him into the game. He goes around making things difficult for players.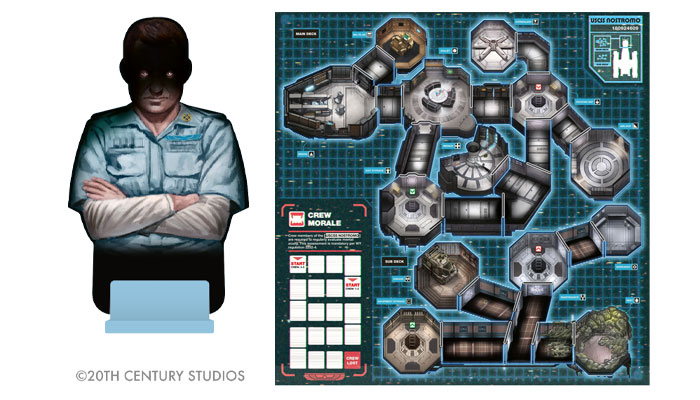 Cassidy, you and the team at Ravensburger have a great track record with licensed games. Jaws, Villainous, Horrified, The Princess Bride; the list goes on! How do you approach which brands to give the tabletop treatment to?
CW: It comes down to a few things. Do we think the property would make a great game? How popular is a property? And there's often properties that we want to do, but for one reason or another we can't. A good example of that was Gargoyles, but with Disney Plus taking off, that IP became commercially viable again and we have a Gargoyles game on the way this year.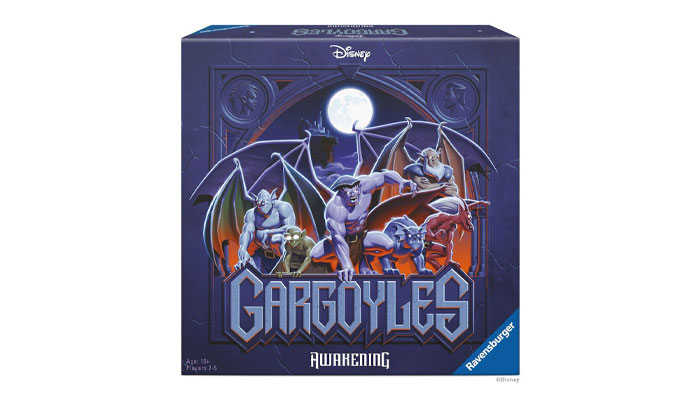 We're all geeks, nerds and gamers, so we sit in a room and think about what we'd love to play. It's very selfish really!
Ha! Well, it's working! And Scott, what's the key – as a designer – to successfully working with a brand?
SR: There's a reason why people love brands. As a designer, you have to find out what people love about them and why they are important to people. It's your responsibility as a designer to honour and respect that. I want the fans to play the game and know that the love they feel for a brand is reflected in the product.
Are we in a golden age for licensed board games?
SR: Absolutely. In video games, I remember when people would roll their eyes at licensed games. People saw them as cash-grabs, and the same was true in board games. We are in a golden age now because publishers have realised that everyone is happier when a licensed game is reflective of what they love about a brand. Publishers know it, designers know it and players know it.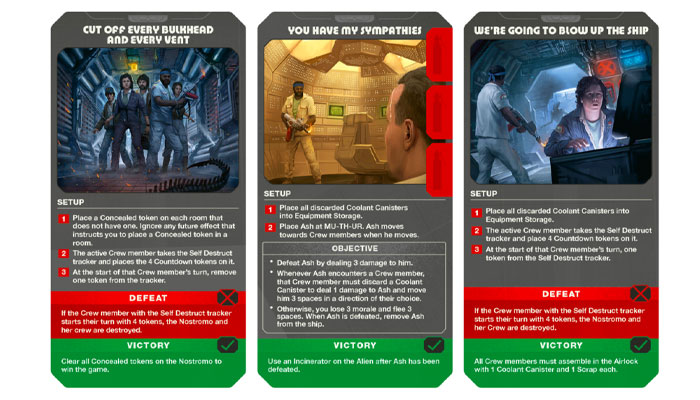 Guys, this has been fun! I have one last question: how do you fuel your creativity?
CW: The fact we're all geeks – and different flavours of geeks – really helps because creativity doesn't exist in a vacuum. We all talk about the cool things we're watching and we're always talking about the games that we play. A genuine love of brands and games is key.
SR: I have so many ideas for games, it's crazy! I have eight designs I'm currently working on and I always have a notebook with me. I call them 'Scott's Book of Great Ideas' and you'll notice; this one is volume 43! Often ideas come to me if I misread something… Miscommunications lead to game ideas!
For me, the creative process is about inputting as much as I can. It's like making a smoothie. Put as much good stuff in there as you can, grind it up and hope what comes out is delicious.
Absolutely. Well, a huge thanks for taking time out for this – and good luck with Alien: Fate of the Nostromo; it looks great.
—
To stay in the loop with the latest news, interviews and features from the world of toy and game design, sign up to our weekly newsletter here