Designer Wayne Lindsay on winning the 2021 Kelvyn Gardner License This! Competition at Brand Licensing Europe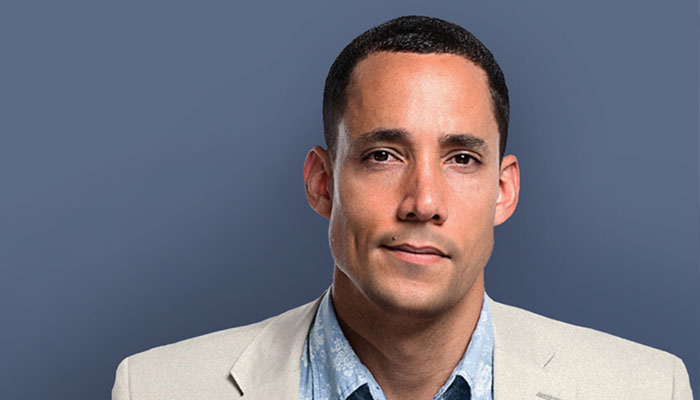 Wayne Lindsay, welcome. Congratulations – you're now an prize-winning designer! Tell us a little bit about your background; how did you get into toys and games?
Great to be here! Thank you so much Deej, it's a very exciting moment for me. I've been working as a designer for some time, starting out as a draughtsman in the early nineties, then moved into graphic design, brand design with some product design along the way, including coin design for legal tender and collectibles.
Really? Gosh, that's an intriguing start! So when did your attention turn to toys and games?
I know it sounds crazy, but it was only in recent years I realised that toys and games needed designers and inventors! I wish it had been on my radar at school… So I've been making a concerted effort to enter the wonderful world of toys and games as the 'play space' is so open, and it's all about imagination and innovation, which is what my work is all about.
Of which, your work just won first place in the 2021 Kelvyn Gardner License This! design competition at Brand Licensing Europe. How did it come to be on your radar?
I think I was just in the right place at the right time, on Linkedin! I've been following Mojo Nation since it began and Billy – big shout out to the don – has been particularly generous and invaluable in shining a guiding light for new and would-be inventors…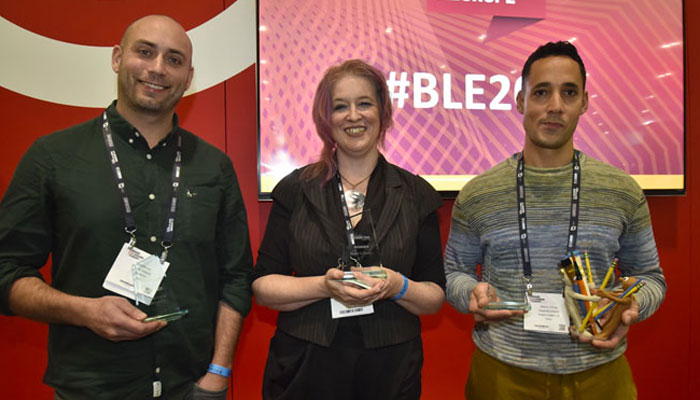 I hate to hear the man praised, but in what way?
He tirelessly encourages and facilitates connections and introductions… So, I saw the Mojo Nation post about the competition and applied to enter. Within moments of reading the competition brief, I'd sketched an initial idea for the product and couldn't stop thinking about it.
What was the idea?
The concept is based on the dynamic between Morph and Chas. They're the perfect double act and I really wanted to celebrate that; I also needed a creative hook to delve deeper into their story. The most compelling word for me was tension.
Tension, did you say?
Yes. I really fell in love with the idea that we could make a product that's challenging, where Morph and Chas can't physically stand up without the perfect balance of tension and teamwork. I also wanted to play with the name Morph – using it as a verb so that it could represent what the product could do to its environment… 'Morph Your Desk!' was born.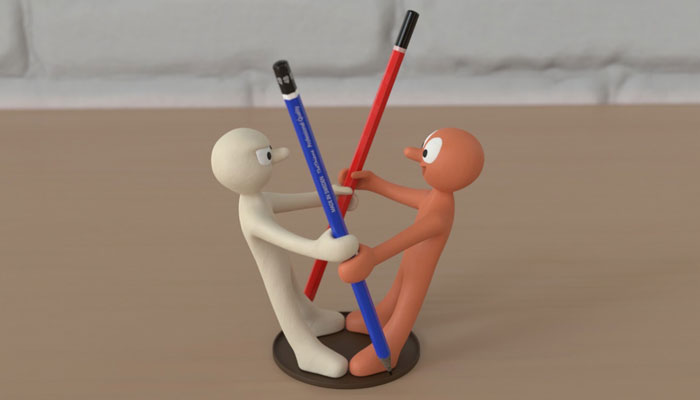 That's terrific! Look at that! And it feels to me like you made a pretty decent prototype there… Is that an easy thing to put together for you?
As a family we are always making things. Our boys are very creative and so we have a huge amount of craft materials to play and create with. My wife Andrea helped me make the initial prototype from modelling clay. We used a wire armature and played with the body shapes to show the tension and sense of fun.
I absolutely love it. What was the biggest challenge with this idea?
Making it work, on every level. It needed to be functional, so that was pretty easy. But would it work for every age? Could it work as more than a desk tidy? Would it work as a gift, a piece of art, or a play thing? Was it curious enough? Could it work in an open-ended way, with new ways to reinvent and use it? So the shape and style, even in subtle details, became the keys to making it work – and it truly came alive with the 3D render.
I lost track of how many questions were in your answer, but I think that says something about the way you think. Let me ask you this… How important do you think creativity is in licensing?
I think it's inherent. Creativity is always there – in the way a story is told, or a product is sold… In the way something is reimagined or seen from different perspectives. Simply by looking at Morph's name from a different perspective – viewing it as a verb, in this case – created more fuel for my ideas. Creativity can give a product power to transform its environment, to ignite imagination. It also unlocks strategic opportunities and ways to tell and sell the story. Today Morph Your Desk!; tomorrow… Morph Your Wardrobe!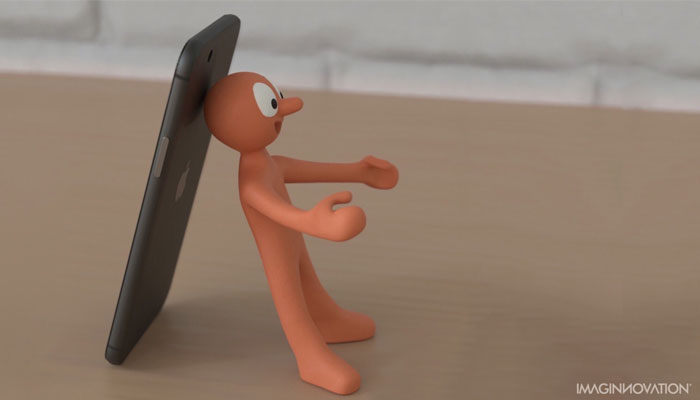 Great answer! Take the rest of the day off after this! Out of interest, then, what was the rest of the competition like?
I was most excited about seeing everyone else's ideas. I love seeing creativity at work and at play, especially when you've had the same brief. In a sense, we've all been given the same ingredients so there's a real sense of anticipation to see what people have cooked up.
"There's always that moment of realisation that someone spotted an angle you missed…"
There's always that moment of realisation that someone spotted an angle you missed, and suddenly your mind spirals with new possibilities – but it's too late because you're up next! Jon and Christophe were definitely fellow creatives rather than competitors, though. We instantly connected and were genuinely willing each other on and doing our best to calm each other's nerves.
It did sound like the rest of the field was pretty strong! So… Charm and good looks aside, did the judges give you any indication of why you were the winner?
Well, they'd been drinking… No, they seemed to really connect with the main component: the dynamic between Morph and Chas. It was the relationship I needed to spotlight. That's where the real story was and my product was simply the flashing arrow to point at it.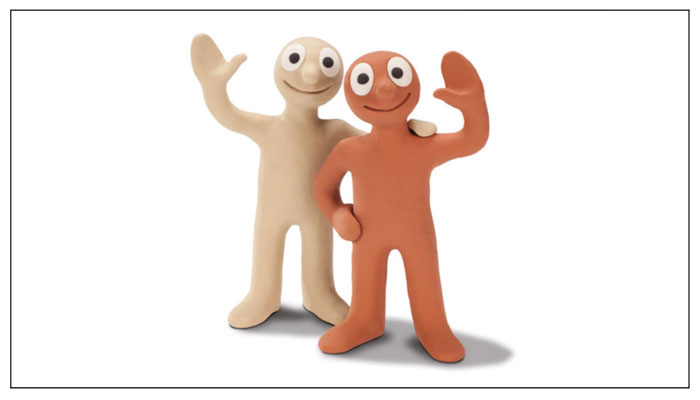 And what happens to that product now?
The next phase is just as creative! We need to practically explore how we help this concept reach its potential, so that it can be transforming desks around the world! That'll include refining the design with manufacturing in mind, exploring the creative scope in terms of product range, marketing opportunities and so on. I'm looking forward to following up with Ian Downes, from Start Licensing, and Rob Goodchild from Aardman to see what's possible.
A couple of good eggs by reputation so that sounds terrific! Great. This isn't the first design of yours that's achieved success, though, is it? What other ideas have you got across the line?
I've worked on branding projects, public art sculptures, digital products, illustrated books and designed legal tender coins but this is definitely the one I'm most excited by.
"Be ultra patient, take advice, and generate as many different ideas as you can."
And given how quickly you went from "looking to learn" to seeing a way forward, what are the best lessons you've learned as a new inventor? What advice would you give even newer inventors?
Be a nice person. Meet as many people as possible and be a sponge. Be ultra patient, take advice, and generate as many different ideas as you can, finding ways to test them objectively. Understand your audience and find creative ways to tell your story. Set realistic goals and celebrate accomplishments along the way, proactively look for ways to help other people. And have fun!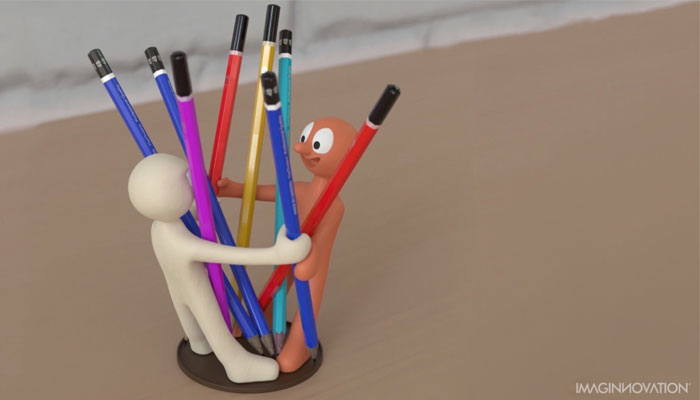 Lovely stuff! What's next for you, Wayne?
I have lots of lovely clients with some fantastic projects in full flow, so that's my immediate focus. My cheeky little Morph Your Desk! prototype is there on my desk, though, silently nudging me to play with more ideas…
Final question then: apart from that design, what's the most interesting thing in your office or on your desk?
I have a box labelled Imaginnovation – Scents of Adventure… I've started incorporating essential oils in some of my client workshops
Oh yes?
Not for massaging! Not for massaging… Instead, I map the agenda like a journey and use the powerful sense of smell at three intervals to focus on creativity, adventure and then success.
Interesting idea!
It's not to be sniffed at!
No! Hahaha! Let's leave it there; mic drop on a pun! Wayne Lindsay: thank you for your time and congratulations again.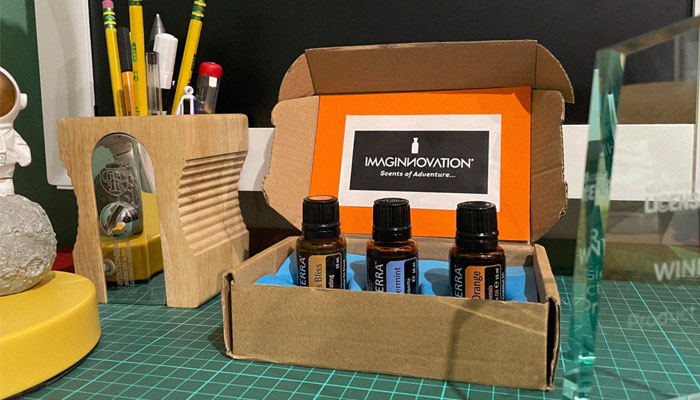 —
To stay in the loop with the latest news, interviews and features from the world of toy and game design, sign up to our weekly newsletter here