Designers behind Kingdomino, Citadels and Love Letter to create games for new subscription service, QST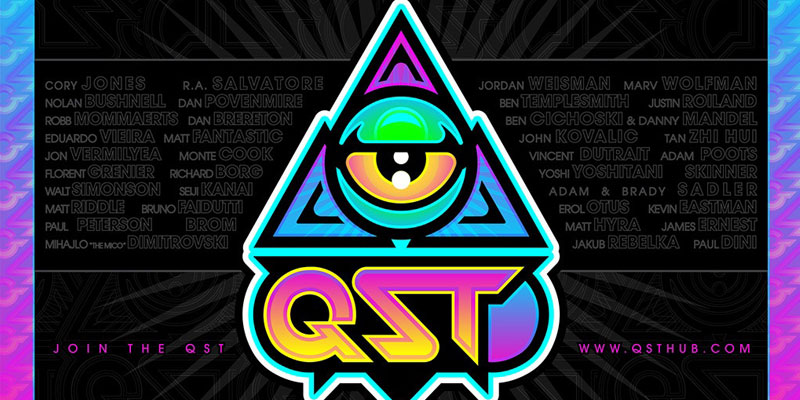 A new tabletop gaming subscription service is set to launch next year, featuring new games from some of the sector's most prolific designers.
Named QST (pronounced Quest), the service offers a brand-new, small form factor tabletop game directly to subscribers every month.
Each game will be a collaboration between three creative visionaries from different fields who work together to deliver the different elements of the game: concept, design, and art.
"We have a revolutionary new twist to the standard monthly subscription gaming model that that we believe will take game creation to an all-new level," said QST founder Cory Jones.
"Each game is a unique three-part collaboration between three creative visionaries from different disciplines. We are working with many of the biggest names in tabletop, videogames, comics, animation, and art with the goal of delivering a brand new, never-before-seen game to consumers' mailboxes each month."
The collaboration between the three creators of each game begins with the person behind the concept defining 'the big idea', dreaming up the themes, worlds, and story elements of the game. Next, the designer takes the concept document and works to bring the theme to life and make 'the most compelling game possible'. Once the design is complete, it is handed over to the artist, who crafts a visual appearance and components that bring the concept and game design to life.
Working on concepts for QST are the likes of Atari founder Nolan Bushnell, Rick and Morty co-creator Justin Roiland and Harley Quinn co-creator Paul Dini, while on board for designing the games are:
Bruno Faidutti – Citadels, Mysteries of the Abbey, Ad Astra
Seiji Kanai – Love Letter, Chronicle, Lost Legacy
Bruno Cathala – Kingdomino, Five Tribes, 7 Wonders: Dule
Paul Peterson – Smash Up, Pathfinder Adventure Card Game, Guillotine
Adam Poots – Kingdom Death: Monster
Matt Hyra – DC Deck Building Game, Adventure Time Card Wars, Rick & Morty: Total Rikall
Adam & Brady Sandler – Star Wars: X-Wing Minatures Game, Warhammer Quest: The Adventure Card Game, Descent: Journeys in the Second Dark
Matt Riddle & Benjamin Pinchback – Fleet, Floating Market, Wasteland Express Delivery Service
Richard Borg – Bluff, Memoir 44, the Command & Colours system
Florent Grenier – Up and coming designer who is part of French design studio, La Cafetiere.
Ben Cichoski & Danny Mandel – Legendary Encounters: An Alien Deck Building Game, Legendary Encounters: A Firefly Deck Building Game
James Earnest – Unexploded Cow, Kill Doctor Lucky, Tak
Matt Fantastic – U Mad Bro?, Glamazons vs The Curse of the Chainmail Bikini
The art for the first year of QST will be created by Jakub Rebelka, Robb Mommaerts, Dan Brereton, Eduardo Vieira, Skinner, Yoshi Yoshitani, Jon Vermilyea, Tan Zhi Hui, Erol Otus, Walt Simonson, Ben Templesmith, Vincent Dutrait, and Mihajlo "the Mico" Dimitrovski.
"QST is a unique opportunity for people who love games to get something crafted by some of the most talented people on the planet every month," added Paul Peterson, game designer and creator of Smash Up.
"Getting to work with creators and artists of this calibre is a bucket-list item for any game designer, and I can't wait to see what we come up with."
Prior to its launch in March 2018, QST is now on Kickstarter, offering backers the opportunity to get the service at a reduced price of $12.99 a month and receive exclusives, including the chance to own a game only ever offered to Kickstarter backers. For consumers who do not contribute to the Kickstarter campaign, the monthly price will be $19.99 (12 months) or $22.99 (six months).
As a promotion during the Kickstarter campaign, QST is running a contest to create the idea for a Kickstarter-exclusive 13th game. The promotion is open to anyone who tweets a picture of their game idea on the official template official template.
The submission that receives the most combined favorites and retweets will be the 13th game sent to all Kickstarter backers as part of their subscription for the first year.
The first QST game to be mailed to consumers will be the blind auction game Foreclosure: Dungeon Masters Tavern, created by the trio of Cory Jones (concept), Matt Hyra (design), and Robb Mommaerts (art) and is set to mail to QST subscribers on March 1st, 2018.