Designers behind The River, Shadows: Amsterdam and Pandemic: Fall of Rome to grace Asmodee's Spiel 2018 live stream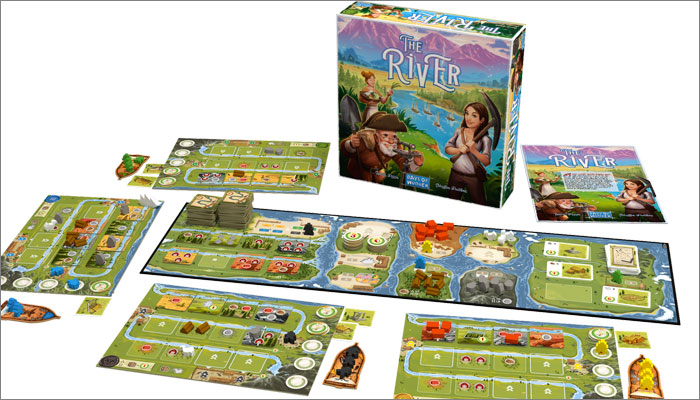 A raft of the world's top game designers are set to appear on Asmodee's Twitch live stream throughout next week as part of the firm's coverage of Spiel 2018.
Capitalising on the success of Asmodee's debut Twitch stream in 2017, which saw in excess of 1.7m views worldwide, Asmodee will be streaming live from Spiel, in Essen, from the October 25th to 28th from 10am to 7pm (CET).
The stream will see presenters Becca Scott, Fabian Kerngast, Abi Crowe and David Oliver talk with designers including:
Bruno Cathala and Florian Sirieix (Imaginarium)
Eric Lang (Cthulhu: Death May Die)
Phil Walker-Harding (Gizmos)
Matt Leacock and Paolo Mori (Pandemic: Fall of Rome)
Sebastien Pauchon and Ismael Perrin (The River)
Jerry Hawthorne (Comanauts)
Paul Sottosanti (NEOM)
Mathieu Aubert (Shadows: Amsterdam)
Naotaka Shimamoto (Tokyo Highway)
The stream will also boast coverage of the worldwide launch of Corey Konieczka's Discover: Lands Unknown, previews of games including KeyForge: Call of Archons, The River and Gen 7 as well as an unboxing of Pandemic 10th Anniversary Edition with creator Matt Leacock.
"Delivering an interactive streaming show from events such as Spiel 2017 and Gen Con 2018 have changed the way we share tabletop gaming entertainment." said Keith Anderson, General Manager Platform, Asmodee Entertainment.
"Thanks to our partners at Twitch, Asmodee Entertainment will be featured globally on their home page for the duration of Essen.  We hope you can tune in to enjoy the very best of tabletop entertainment, live from the world's biggest tabletop gaming show."
To check out the live stream, head to www.twitch.tv/asmodeegames each day of Spiel 2018.