Dice Toy Labs debuts two new games in Amit Ghadge's Indus 2500 BCE and Franz Dias' Seas the Day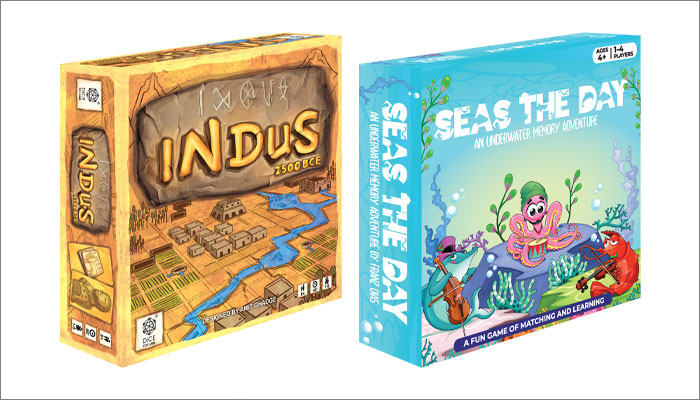 Indian games publisher and design studio Dice Toy Labs has welcomed two new games to its portfolio.
The firm has licensed Seas the Day, a fast-paced memory game from designer Franz Dias, as well as Indus 2500 BCE, a city building game that also boasts a flip-and-write mechanism from designer Amit Ghadge.
"With the rise in demand for board games, and our Prime Minister's vision for a self-reliant India, our focus is publishing games made by Indian designers," said Phalgun Polepalli, co-founder of Dice Toy Labs.
"Internationally, board games are well known for building social interactions, upskilling children and helping create a strategic mindset. India is known to be a source of amazing board games since ancient times and we want to bring back that culture."
Seas the Day designer Franz Dias added: "Seas the Day is an exciting match game based on sea creatures that is very different from the memory games out there because it involves multiple variables and even has a strategy mode.
"Each card even has a unique short poem, written by Christina Fernandes, based on a factoid about the creature. Parents can expect this game to help kids enhance their strategy, mathematical and observation skills while learning about sea animals. The game was inspired by a poetry contest on sea animals and was designed over a weekend in under 48 hours."
Amit Ghadge, designer of Indus 2500 BCE, stated: "Indus 2500 BCE is a 'flip and write' game that is based on the Indus Valley Civilization. It incorporates the peculiarities of the Indus civilisation and the location along with the opportunities and calamities that nature presented the people with.
"I was inspired by the history of the civilisation after my visit to one of the cities on the Indus Valley."
Both games are released this month and available for purchase at www.dicetoylabs.com.
—-
To stay in the loop with the latest news, interviews and features from the world of toy and game design, sign up to our weekly newsletter here