Disney unveils first wave of tech-infused Star Wars: The Last Jedi toy lines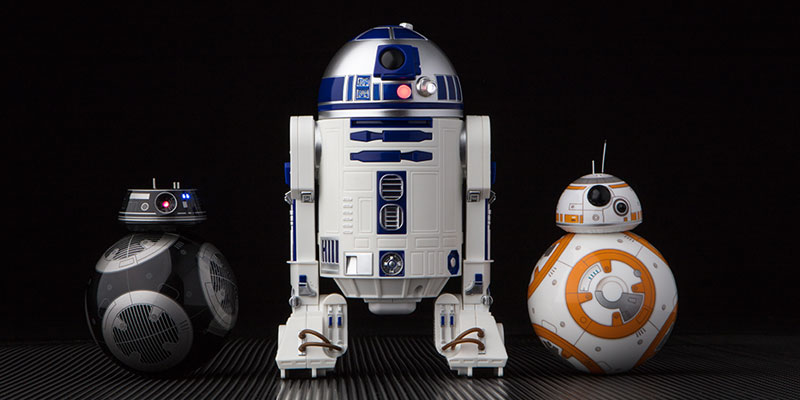 Disney has unwrapped a wave of new tech-infused Star Wars: The Last Jedi toys as part of its Force Friday II celebrations.
Products from Sphero, Propel, Hasbro, LittleBits, LEGO, Wow! Stuff, JAKKS, Revell, Mattel, VTech, Funko, Rubie's and Lenovo made up some of the key lines showcased on Force Friday, with new droid BB-9E (an astromech unit of the First Order) seemingly the star of several ranges.
"Since Star Wars became a cultural phenomenon 40 years ago, consumer products have been a critical part of the fan experience, helping to introduce new audiences to the franchise's rich stories and characters," said Jimmy Pitaro, chairman of Disney Consumer Products and Interactive Media.
"Technology-powered storytelling is at the core of the Star Wars: The Last Jedi product line, and will immerse fans in the Star Wars universe like never before."
Key products featuring technology include Hasbro's Force Link Starter Set which combines wearable tech with the beloved characters and vehicles from the Star Wars saga. The Force Link technology unlocks an extensive collection of sounds, phrases and lights with over 30 compatible figures, vehicles, and play-sets at launch.
Elsewhere, Sphero has unveiled its new R2-D2 and BB-9E App-Enabled Droids while LittleBits has launched its first ever licensed product in the form of the Droid Inventor Kit which allows kids to create their own droid and bring it to life using littleBits electronic Bits and a smart device.
Wow! Stuff's offering includes its new Holopane range, as well as a Jedi Training Remote and Stormtrooper VR Viewer, while Lenovo's Jedi Challenges pack features a smartphone-powered Lenovo Mirage AR headset, Lightsaber Controller, and hours of Star Wars gameplay as players train to perfect their lightsaber skills and outwit their opponents in Holochess, all in augmented reality.
Save