"You don't have to be a scientist; you just need a great idea": Blue Marble's Jordan M. Willing on inventors, National Geographic and creating purposeful products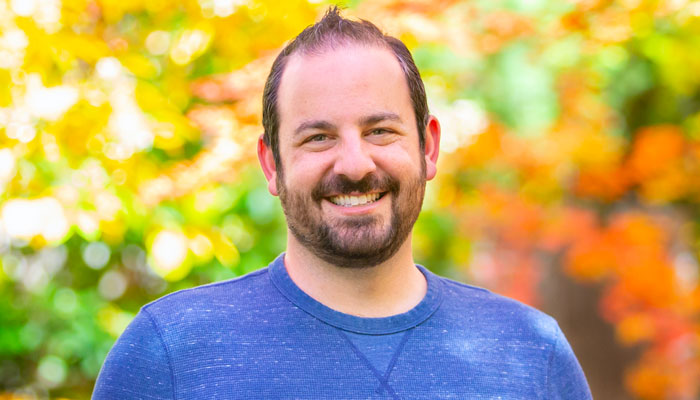 Jordan, it's great to catch up. Let's start at the beginning – how did you come to be working in the play space?
When I was young, I was that kid who was a bit of a hustler. I had the lemonade stand on the street corner; I was selling candy at the back of the bus… That kind of thing!
That entrepreneurial spirit was there early on then?
Well, I grew up in a family of entrepreneurs. We lived near a golf course, and I vividly remember walking across the golf course in the evenings and finding lost golf balls and selling it back to the golf shop the next day! It was engrained in me at an early age so I always had a feeling I'd be an entrepreneur, but I didn't know what industry that would be in.
I had an untraditional college career and went to a few different schools, but I finished up at Santa Barbara. During that time, I went abroad and backpacked through Southeast Asia for about half a year. It was there that I came across some gift industry products, and that was my first foray into a wholesale business.
I bought these Christmas lights wrapped in skeleton leaves – the kind you would see in scrapbooking – and they were in the shape of flowers. It was beautiful handicraft straight out of Thailand. We bought a bunch of those, took them to retail shows and they did really well. That was how it all started, and eventually I pivoted to science toys three or four years later.
Christmas lights to science toys sounds like quite a leap. What prompted the change in direction?
Well, growing up I always had a passion for rocks and minerals. My dad loved collecting rocks and on family trips, he'd bring along gem guidebooks and we'd hunt for rocks and minerals. I never in a million years thought I'd make a business out of rocks though!
While I was doing the lights, I met a firm called Museum Tour that had a beautiful educational catalogue. I got the lights in there and I also put some geodes in there. The lights did terribly in that catalogue, but the geodes did really well, so that was the spark.
I then started developing more and more science toys and before I knew it, we had a whole product line. We started going to the toy shows and managed to get product into places like Toys R Us, Hobby Lobby and Costco.
Then, about five years ago, we did a licensing deal with National Geographic and that changed the game for us. It's such a wonderful brand to work with and it has a reputation for quality that's aligned with our values. We've quickly become their largest licensee in the toy space.
The one other part to all of this is that my wife is a pre-school teacher. We both share a genuine passion for creating great educational material – and she's able to approve them from an educational standpoint, while I make sure they're fun first.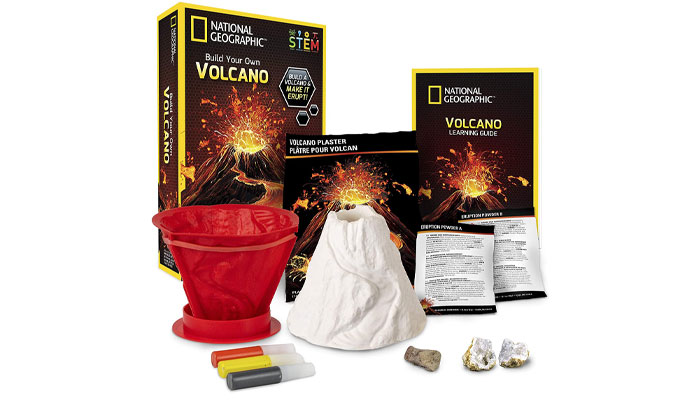 Fun first… Is that the key to creating great, impactful educational toys?
Our mission is to inspire the next generation of kids and create purposeful products for parents. You don't inspire anybody unless you excite them first, so we try always try to be fun first.
Science has traditionally been very boring for many people, but it doesn't have to be. We've proven you can make it really fun and exciting. We take the Indiana Jones approach.
When it comes to new product development, where do you start? Do you pick an educational topic and build out the fun from there, or do you find something exciting and look for an educational hook?
It's both. Sometimes we want to talk about a certain principle, but we're always looking to gamify that knowledge. If you're trying to teach about trajectory, that sounds pretty boring, but if that involves making rockets, that's cool. That epitomises our approach to building toys around principles, but it goes both ways. We might find a great rocket toy that then enables us to teach things about trajectory. A project only goes forward into our line if it's both educational and fun.
You mentioned your National Geographic collection. Talk us through the development of that range and how you work with the brand?
When I think of National Geographic, the first thing that comes to mind is the catalogue we all grew up with. It's a portal into that world. The TV network has taken that tradition and continues to spotlight inventors, scientists and a community of people who are naturally inquisitive – and showcase the amazing achievements of mankind and the natural world. We have a broader canvas than anyone else because we can go anywhere with the brand, as long as it has some element of nature, culture, history or science involved.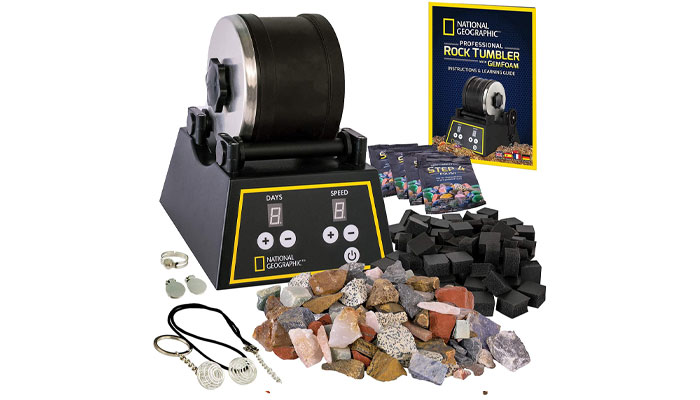 What are some of your favourite National Geographic products?
Well, we revolutionised the rock tumbler industry. It's a product that has been around since I was a kid, and the process of finding rocks and turning them into shiny gemstones was always fun for me – and it's a thrill for a lot of folks around the world. It's a category that felt very Nat Geo to me.
We have the most popular rock tumbler in the world and this year we launched a new one that's an ultra-quiet tumbler. It makes the same amount of noise as a modern dishwasher so it can run inside the house for people who don't have adequate garage space. We're really proud of that.
Another big launch for us this year was our new pottery wheel. We used a really smart design to have an armature tool that helps you centre the clay and open up the pot. It's so easy to use that a kid can get involved straight away and have success. It's a simple tool that we think elevates the entire product category. Whenever we enter a category, we want to reinvent it.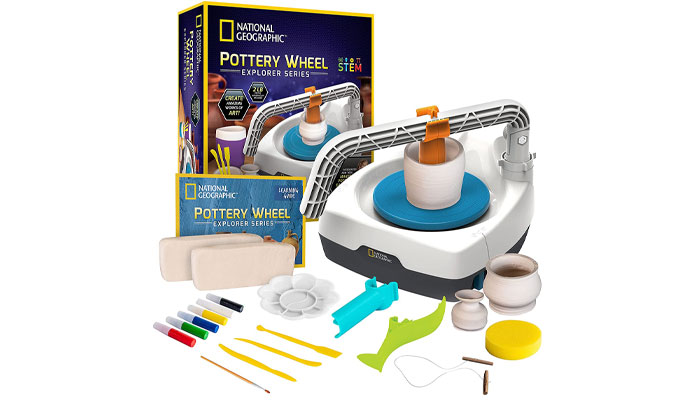 In addition to tumblers, is there another category you can proudly look at having played a role in reinventing?
Digging kits. When we got into that, every dig kit looked the same; a square plaster block with a plastic toy inside that would end up in the trash. We came up with the idea to include a theme. Our bricks looked like dinosaurs or gemstones or treasure chests, and we would put real fossils in there. It's cool stuff that kids are going to treasure rather than throw out.
That's our approach with every category.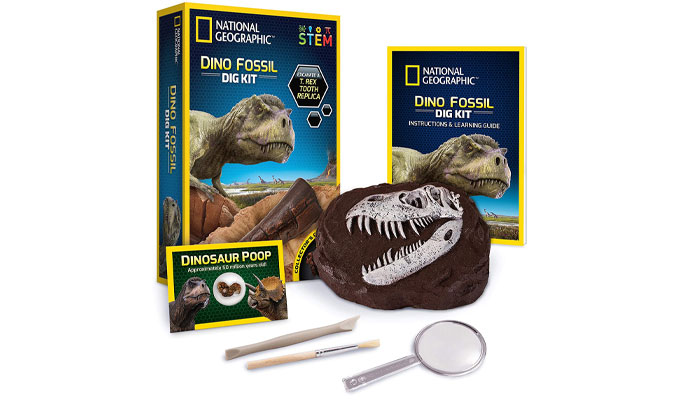 You work a lot with the inventor community. There may be inventors reading that haven't created in this science space before – what would you tell them about inventing for Blue Marble?
Well, you don't have to be scientist. I have a history degree, but I've created more science toys than most people on the planet. Most inventors we work with aren't concerned with the educational part when at the initial concept phase of a product; they're just thinking about creating a great toy. If there's an obvious STEM component, our team can handle the learning guides and that side of it.
Working with inventors is a joy. Our company is built on a philosophy of continual improvement and merit. We have really high calibre people throughout our company; people don't get hung up on committee meeting after committee meeting. We talk about an idea, scope it out, see if it makes sense and then we turn people loose and get out of their way.
Communication is also key for us. If we like an idea, we'll tell you. If we don't, we'll tell you why we don't like it so you can move on. Being stuck waiting to hear back from a company is a miserable experience and that goes against our philosophy. With inventors, we make it fun and collaborative. And you don't need to know science; you just need a good idea that's fun and could inspire a kid.
The best inventors I've worked with are the ones who are passionate about everything they make. With up-and-coming inventors, we're able to make dreams come true and that's an exciting proposition for everybody and it's one of the most fulfilling things we do. Only a small section of people have that inventor brain and can think outside of the box, and thank God we have these people because all of society benefits from them.
One last thing I want to convey to inventors is that we cover a broad range of categories. When you think of a lot of science companies that exist, they're typically are quite niche. They maybe only focus on a category like telescopes. We cover pretty much every category within STEM so there's lots of opportunities for inventors to work with us.
Jordan, this has been great. Thanks for taking the time. My last question is: How do you fuel your creativity?
Playing with my kids and watching how their brains work. A lot of great ideas come from frustrations we have with poorly developed products on the market.
We also look at trends – that's where our pottery wheel came from. Customers have been asking us for that for the past five years and we hadn't had time to develop it until now. We read reviews of the leading products to find out what it's doing well and what sucks about it. With pottery wheels, reviews told us that most of the motors sucked so we put a high-powered motor in our pottery wheel.
So we look at failures and try to solve them. It's one of the things I love about a platform like amazon; it tells you what's wrong with products. We look at our reviews all the time because if we can make something better, we'll make it better.
Outside of that, we also do brainstorms with the entire company. You don't have to be on the product development team to have a great idea.
A smart approach. Well, a huge thanks again for taking time out to chat Jordan. Much appreciated.
—
To stay in the loop with the latest news, interviews and features from the world of toy and game design, sign up to our weekly newsletter here