Ed Kaplan Associates' Steven and Douglas Kaplan on 25 years of Doodle Bear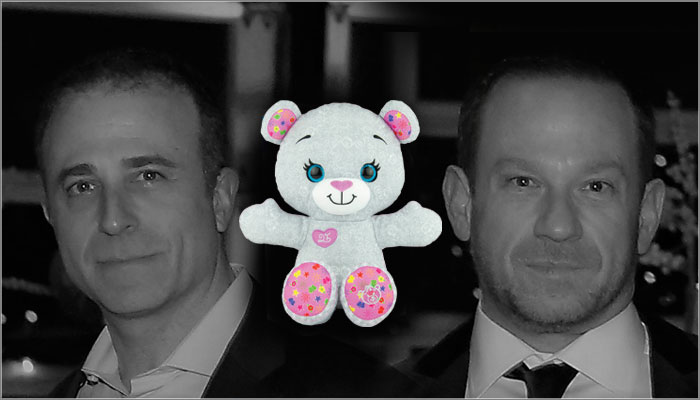 Last year saw TOMY launch a new Doodle Bear range, celebrating 25 years since the launch of the now iconic toy.
An invention of Ed Kaplan Associates, the Doodle Bear has been with several companies over the years, launching at Tyco before enjoying revamps at Mattel, Play Along and Fisher-Price and selling close to $500m over the years.
As the brand celebrates its 25th anniversary, we caught up with Steven and Douglas Kaplan of Ed Kaplan Associates – and sons of Ed – to find out more about where the idea for Doodle Bear came from, and what the secret is to its enduring success.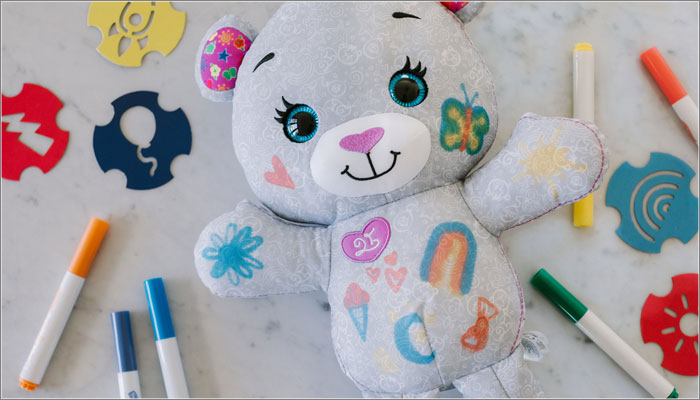 Hi guys; so before we dive into all things Doodle Bear, you are both partners at EKA Associates, a toy invention studio founded by your father Ed Kaplan. Could you tell us a bit about the company?
Steven Kaplan, Ed Kaplan Associates: Yes, the company was founded by my late father in the mid-to-late Eighties. My father spent his entire career in the toy business, originally at Knickerbocker Toy Company, the firm behind Raggedy Ann and Holly Hobbie dolls. He then left Knickerbocker and joined a toy division of American Greetings called AmToy.
In the mid-to-late Eighties he left the manufacturing side of the business to go purely into inventing. That's when he started the company we have now called Ed Kaplan Associates. He spent years with a design staff coming up with items and brands that were licensed to toy companies like Hasbro, Mattel, Fisher-Price and Tyco, back when there was a Tyco.
We've had a number of items on the market over the years, but the most prominent are Puppy Surprise, which is currently on the market with Just Play, and then Doodle Bear with TOMY, who have just launched the 25th Anniversary Doodle Bear.
So growing up, were you guinea pigs for some of these inventions?
Douglas Kaplan, Ed Kaplan Associates: We were three little boys with a dad that ran a big toy company and as you can imagine, for a kid that's pretty exciting. When he started AmToy, the office was in New York at 200 Fifth Avenue, which was the Toy Building. It's not anymore, but at the time, every toy company had an office in that building.
As a little kid, we would go to work with him and it was a pretty exciting place to work. I would go to the Coleco office; they had Cabbage Patch Kids and ColecoVision; they had every video game in the world in there. They would give me ColecoVision games before they were released… It was really exciting!
SK: And Toy Fair would take place in the Toy Building. You would go to each company's showrooms in the Toy Building and it was literally heaven!
DK: So yes, we really grew up in the toy business, but to fast forward a little… I graduated college in the early Nineties and Steven was in law school. Dad started the toy invention business and he wanted us involved, so I went to work for Ed Kaplan Associates right out of college. Steven was a practising lawyer but he would do all the contracts. It made Dad happy for us both to be involved and to spend time with us and we were happy to around it. It was a successful business and an exciting business. Something tells me that in the back of his mind, he was always preparing us to take over for the day when he's not around, which is where we're at now.
And looking at Ed Kaplan Associates now, what do you guys spend most of your time on?
DK: We look after our two big brands, Doodle Bear and Puppy Surprise, and we have an extensive library of other toys that have been sold or haven't been sold. Doodle Bear and Puppy Surprise have each done close to $500m in wholesale sales, from the Nineties to today. They're well-recognised and we're excited they're still both around and doing well.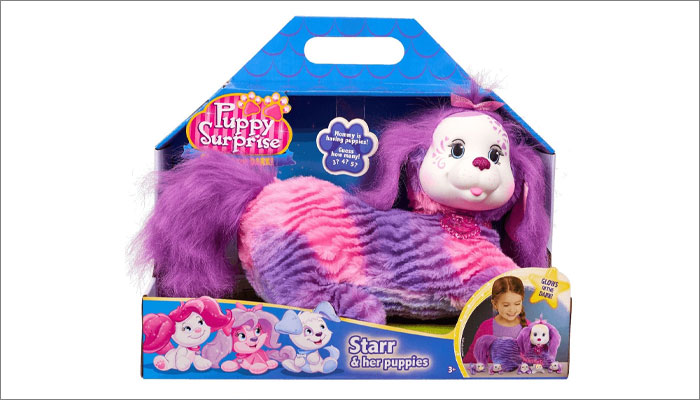 Before we look closer at Doodle Bear, do you think your dad had any particular traits that made him well suited to life as a toy inventor?
DK: He was the most persistent man to have ever lived on the face of the Earth. He liked to tell this story… He went to Brooklyn College and he was in the army in Korea. When he came back, he tried to get a job at Union Carbide, which was a chemical company. Long story short, he was a Jewish boy from Brooklyn and when he tried to get a job there in sales, they told him: "This company is not going to be hiring any young Jewish guys from Brooklyn." He then found an ad in the newspaper for a sales job at toy company, which was Knickerbocker. He applied, he got it, they filled his trunk up with toys and told him to drive from New York to California – and everywhere in-between – and these were the days where there were hundreds, if not thousands, of toy stores across the country.
He would be in the mid-West and in the South; for a Jewish boy from Brooklyn in the Fifties and Sixties, it was like another world! A lot of people wouldn't take his meetings, but he would sit there and not leave until they talked to him. He would come back time after time, and ten years later, he was the number one salesman in the company. Eventually he became the Executive Vice President and was essentially running the company.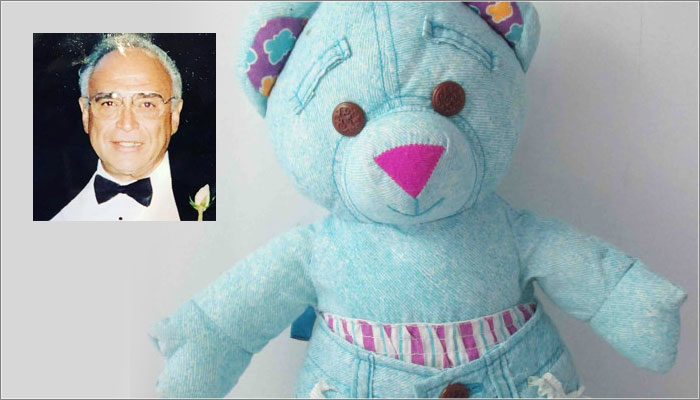 I imagine those years of persistence helped pave the way for his success in inventing?
DK: Yes, you have to deal with a lot of rejection and you're competing with the in-house design teams at companies. There's a territorial thing where the design team within a company doesn't love taking outside inventions because it goes against everything they're working for. His persistence, his sales history and his ability to form relationships with people was key, and he was a pretty creative guy too.
I've been with him many times when his items were rejected and he would show them again 10 or 12 times. People would say "Ed, you've shown me this 10 times, you can't keep showing me the same product" but he would be so persistent. He would say "It's such a great product… If it doesn't fit today, it will fit another time."  Inevitably, the items that were rejected would end up being bought by other companies.
How did he fuel his creativity? What helped him come up with things like Doodle Bear?
SK: He could see where the opportunities were; where the gaps were.
DK: Yes, he had an amazing ability to read the market; to see where it is and see where it's going. When he had the toy invention firm, he was married to a woman named Joan, who worked with him at AmToy. She was a very creative designer, and he had a staff full of creative people like that. So while he knew what could work in the market, he also had talented team of inventors to help create great concepts.
Today, Ed Kaplan Associates is not focused on the inventing side of things, but more on maintaining the success of your brands, is that right?
DK: Yes, we both have other jobs. Steven is a partner at a law firm and I'm in the title insurance real estate business. A third of our time is devoted to these toy brands, but about 10 years ago, as my dad got older, the creative staff went away and we focused on these two brands. Steven and I aren't inventing new products. We're instead trying to grow and manage Doodle Bear and Puppy Surprise.
They are interested careers to juggle; how does the world of law compare to the toy space?
SK: The toy industry is not a big industry and people know each other. What's interesting is that, for the most part, people are actually nice to each other in the toy space. They like each other and people like their jobs. They walk around happy! In my world, the legal world, it's not like that! Lawyers treat each other terribly and most of them are not happy! Toys is a fun, high energy business – I'm impressed by it.
Well I'm glad to know we're not just biased and that the toy space really is as great as we all think it is! And there will be creative elements to what you guys do in your other jobs, but has your Dad's knack for inventing brands filtered through to you two? Do you still come up with ideas now and again?
SK: Doug and I are not creative at all! We have a portfolio of IP that's fantastic and we have at least a couple of hundred other concepts that we'll pull out and modernise, but we don't do that ourselves. We bring talented creative people in to do that.
Was there ever a pressure on you guys to pick up the inventing mantle, considering the history of hits that came from your dad?
DK: When you have hits like Puppy Surprise and Doodle Bear, it's a bit like being an actor who's been in a blockbuster – everyone wants to know what you're doing next. There was a demand for that from us, and we did sell a lot of toy concepts, but if you get one Doodle Bear or one Puppy Surprise in your career, you're beyond lucky. The fact that we've had two means we've been blessed in that regard. We had a toy called Krystal Princess with PlaySkool that was a success, but nothing was on the level of Puppy Surprise or Doodle Bear.
Sticking with Doodle Bear, where did the idea for that come from?
DK: There was a toy back in the Fifties which was an Autograph Hound. It was a toy dog that people would sign at a party, like at a Sweet 16, and you'd bring that home and it preserved the memory of the event. That's where the idea started… What if we turned that into a bear?
Someone in the office had some washable markers and started signing on it. When she took the prototype home, her daughter started colouring the bear in. She put it in the washing machine and it came out clean. That's when the idea snapped and a lightbulb went off… Kids love doodling and colouring and here was a bear you could stamp, tattoo, draw on, throw it in the machine and it comes out clean.
Inspired! And when was it first taken on by a company?
It was launched by Tyco in 1995 and it was a hit from day one. They did a really great commercial that was done to a version of a great song called The Wanderer.
Great song, and that's a fun riff on it! We'll put that in here.
DK: It's a magical commercial and the toy took off from there.
Was Tyco the first choice for Doodle Bear or did you dad pitch it elsewhere first?
DK: I wish my Dad was here to answer that question! I know Puppy Surprise was pitched to Hasbro and they took it on the spot. Alan Hassenfeld said: "This is not going anywhere; no-one else is looking at it, it's ours!" I believe Tyco loved Doodle Bear in a similar way but historically, most great toys were turned down by a few companies before they landed with someone.
SK: Cabbage Patch Kids were turned down by everyone!
And from there, Doodle Bear then landed with Mattel?
DK: Well Mattel bought Tyco in 1997, and Mattel expanded the line. In its first year, Doodle Bear did $50m in sales and when Mattel bought Tyco, they added more SKUs and sales tripled to around $150m between 1997 and 2000.
It was considered a success and then it was taken off the market. Lots of toys run their course and companies drop things for new products and new lines. But Doodle Bear was reintroduced in 2005 by a company called Play Along. They gave it a whole new look, with a lot of new colours and a range that also included a Doodle Bunny, a Doodle Girl, a Doodle Baby, a Magic Brush Doodle Bear; the list goes on. They expanded the line to dozens of SKUs and also did great commercials.
This is where Doodle Bear has its explosive success. Wholesale sales between 2005 and 2009 were around $200m in North America and $50m internationally. Play Along did a great job and it was a monster success.
Absolutely; and then in 2010 it found a new home with Fisher-Price?
DK: Yes, after about five years with Play Along, sales started to slow down and then in 2010, Fisher-Price picked it up. It was reintroduced again with a different look. It did okay – about $50m in three years – but the company was going through a tough time and so we didn't renew the license when it expired in 2013.
When did TOMY, the current home of Doodle Bear, enter the scene?
DK: Well in 2019, we were lucky enough to meet with the team at TOMY, and spoke with great people like Julie Gwaltney, Director of Boys and Girls Toys at TOMY. They saw the potential and knew what Doodle Bear was and is.
TOMY reintroduced it in 2019 with a really cute look and different designers and 2020 was the 25th anniversary of Doodle Bear, so they also launched a special anniversary bear.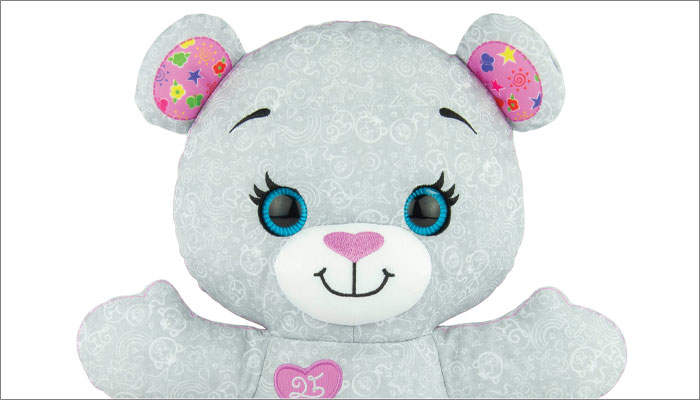 Amazing stuff. I'm interested, in recent years there's been a big focus on personalisation in consumer products, be it Coke cans that have your name on it, personalised children's books or branded Snapchat filters. In that sense, Doodle Bear seems a bit ahead of its time and looks bang on trend again.
DK: We certainly think it is. With everyone taking selfies, sharing things on social media and designing their own things, we think the timing is perfect for Doodle Bear to be back; it's so current.
Julie Gwaltney, Director, Boys & Girls Toys at TOMY: For sure, and we also have a Doodle Bear Studio app. This lets kids decorate their bear, take an image of it in the app and then they can add digital stickers or record silly voices. They can save that and then send it to their friends and family, so it brings physical and digital play together.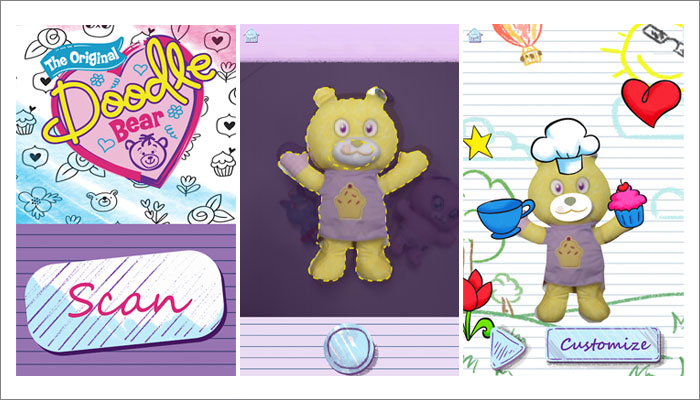 Thanks Julie, and this will be a good opportunity to sing Julie's praises actually: what was it about TOMY that made them such a good fit for Doodle Bear?
SK: One of the things that impressed Doug and I right out of the gate is that TOMY is very committed to understanding the DNA of the brand and they've really done a terrific job at preserving that. TOMY's ability to capture that DNA is an important part of the success of this partnership and was a key reason as to why we were excited about placing the item with them.
At TOMY, you have a group of people with a desire to make the product better, learn from its history and also retain its original messaging, feel and core DNA.
DK: You know, we've done business with almost every major and mid-level toy company in the US and in other countries. We've always made it very clear to them that we want to work closely with the design team and to be kept up-to-date with every step of the design process. There have been companies that don't give us any access to their design teams and months go by… Eventually we get called in to see a toy that's already been shipped.
TOMY has been really forthright with us; looping us in with all the designs and giving us design approval. We've pretty much approved everything because they know what they're doing. We've seen sketches, samples and even box designs, so as a team we've worked very well together. It's easy for us when you work with such a talented team, with people like Julie.
Julie, this is one for you. Looking back over Doodle Bear's history, and all the various versions, it's clear that in-house design teams enjoy working on the brands and there's enough there for them to put their own stamp on the brand. What is it about Doodle Bear that you think makes it an exciting property for an in-house designer to work on?
JG: Well our design team loves working on it because at its core, Doodle Bear is about creativity. With the whole 'doodle – wash – doodle again' process, there's so much you can do. It's so fun for designers to work on because the sky's the limit.
And on that, could Doodle Bear ever embrace licensing with characters or celebrity branded editions? Having watched The Mandalorian, I have visions of a Baby Yoda that you could doodle on…
DK: Well, Doodle Bear has never been done with another license. We've certainly thought about it numerous times, but what appeals about Doodle Bear to a toy manufacturer is that it is a basic creative concept. With licensed product, toy firms end up paying massive royalties to firms like Disney and the movie studios… While Doodle Bear is an amazing concept, it's still a business and companies have to make money.
Doodle Bear is a really inexpensive toy for a toy company to make and there's not a huge brand royalty attached to it. So while I like the idea, and it does lend itself to licences, there has been a financial component to why we've avoided that so far.
On the flip side, more toy brands are expanding beyond the toy aisle and licensing out into fashion and movies and even cooking shows if you look at Food Network's recent deal with Hasbro for Candy Land show. Do you see potential for Doodle Bear to live in other industries?
JG: I definitely think there is potential elsewhere. It's funny, with that licensing question, it was almost like you were in our brainstorm the other day! We were talking about doing collaborations with people, because it could be such a cool thing, even if it was only on a limited-edition basis.
DK: Yes, to get artists to do some special limited-edition Doodle Bears would be great.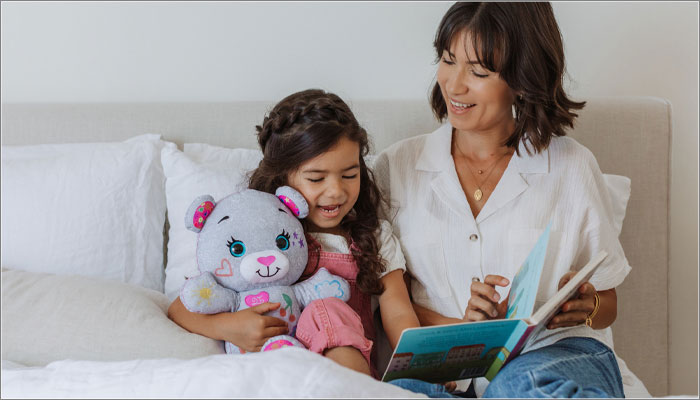 Well it sounds like Julie's on the case so we'll look forward to seeing those! Guys, I've taken up so much of your time and I'm very grateful. To wrap up, we're here talking about 25 years of Doodle Bear; what is the secret to its enduring success?
DK: I think the name is fantastic. Teddy bears will never go away and everyone is into doodling, so the name and branding has been great and is known by multiple generations.
SK: I think it's also been the execution of it; the look and the feel and the core DNA of the product. We've been very lucky that it's all been so good because, frankly, multiple people have tried to knock us off, but none of them ever went on to do anything.
DK: What's unique about Doodle Bear is that most things kids doodle on are paper or colouring books. We created something you could doodle on, cuddle, wash and then doodle on again. It's the combination of something you can doodle on and something you can cuddle that's special.
And yes, there's been other toys that you draw on, but our execution has been what's set us apart; the colours, the design, the name. It's a winning combination.
Well guys, thank you all so much for taking time out to talk. A big congrats on 25 years of Doodle Bear, and good luck with the continued TOMY partnership.
—-
To stay in the loop with the latest news, interviews and features from the world of toy and game design, sign up to our weekly newsletter here