Elana Woldenberg – Senior Director of Product Development at hand2mind – on bringing Numberblocks into toys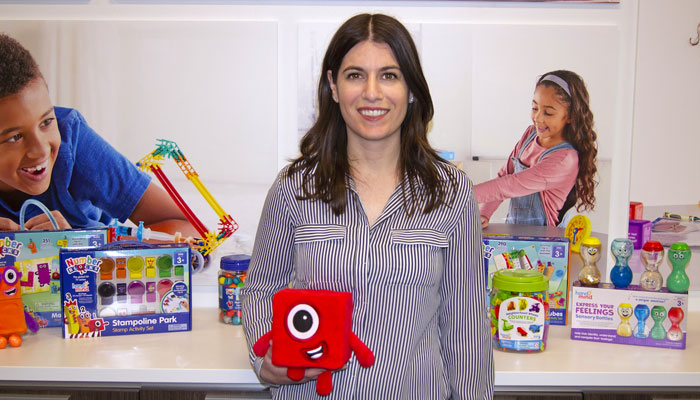 Elana, it's great to connect. To kick us off, how did you come to be working in toys and product development?
Well, hand2mind is actually my family business. It was founded by my grandfather, so this industry is something I have always been interested in – and the educational part of the company is a huge plus.
I studied Mechanical Engineering in college and for my senior year thesis I wanted to do something that was community oriented. For that, I was connected with a local school where I wrote and taught a robotics curriculum. It was so much fun, and very much preceded what I do here now!
You're Senior Director of Product Development at hand2mind. For anyone new to the company, how would you describe its focus?
Our mission is: 'We bring learning to life' and it summarises how we go about developing our products. We want to help children achieve that 'aha!' moment when they understand something, and a big element of that comes from design. We want to make sure the things we design mean something to children and bring in real-world elements that help them grasp abstract concepts.
Can you give me an example of that? A product that helps define an abstract concept for a child?
We've just launched the Neighbourhood Wheels Counters. Counters are a really popular toy for teaching early math concepts because it helps children develop one-to-one correspondence. The product is made up of all sorts of different vehicles that children would interact with day-to-day. It includes things like bicycles, scooters, and skateboards, so things that kids would use and relate to, rather than boats, trains, and planes.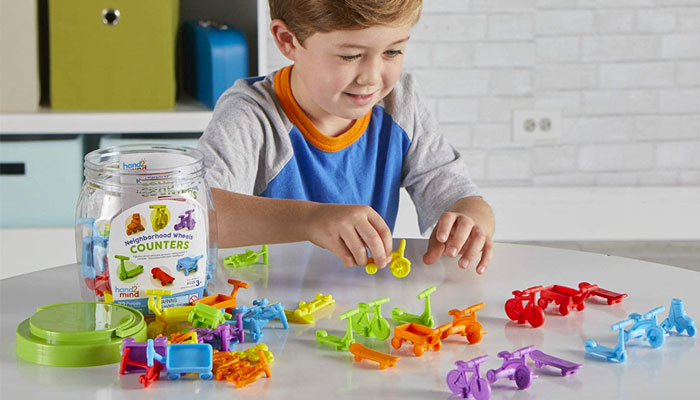 Lovely example. And your customer base spans both parents and educators?
Yes, hand2mind sells direct to parents and teachers, but we also sell direct to schools. Internationally, we also sell through our sister company, Learning Resources.
On that, I imagine you have to keep tabs on the changing school curriculum to ensure some of your products are still relevant and usable in education, right?
Absolutely. We're very integrated with education standards both nationally and State-specific across the US. Right now in the US, there's a big shift around reading instruction. It's something we have to be aware of and align with.
Switching lanes slightly, does hand2mind work with inventors?
We certainly do! We work with all kinds of inventors, including teachers who are still in the school system. We also work with professional inventors too, and we'll be at the Mojo Pitch later this year so we're looking forward to that.
When we evaluate products from inventors, the educational element is really important for us. That's core to who we are as a mission-driven company. Our roots are in the school system and we're very proud of that.
We like to think that any of our products would look equally at home within a classroom setting as they would outside of a classroom. So, for any inventors reading, there's no need to shy away from the educational side of things with us. We love that; it's who we are.
Do you often see the education angle in concepts when that element of the idea isn't front and centre?
Oh, sure! We have a good understanding of the education system, and that's great to bring into inventor meetings. It's a useful lens to look at concepts through.
How do you get the balance right between creating a product that's both fun and educational?
Somebody once said to me: "There's millions of great ideas, but just because something's a great idea doesn't mean anybody will want to use it." Something can be as educational as you want it to be, but if a child doesn't want to come back to it, then there's not much value in it because it won't be used.
Getting the balance right is extremely important and we playtest our products to ensure kids engage with the subject matter and find it enjoyable.
You guys also do licensed products. One new launch is the Numberblocks MathLink Cubes Activity Set, inspired by the popular Numberblocks TV show. Talk us through the development of this line?
We carry a product called MathLink Cubes, and our team in the UK noticed that on social media, a lot of people were using our MathLink Cubes to recreate scenes from Numberblocks. So, we reached out to the team at Alphablocks and it all snowballed from there.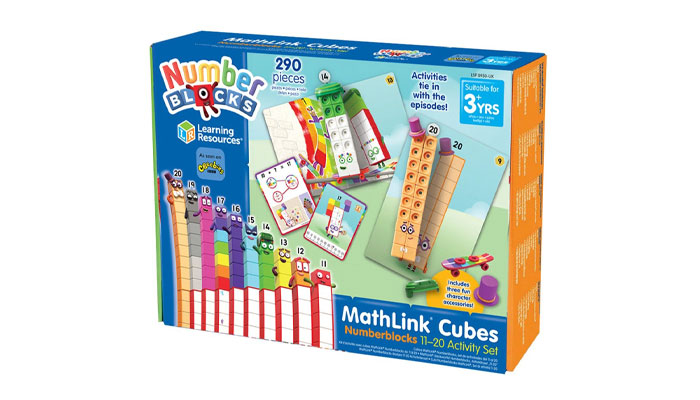 We pitched for the master toy licence and were awarded that at the end of 2021. It was a natural match because education is engrained in the property – and a lot of the product ideas originate from the show itself. It has an authentic and credible approach to how it teaches math.
We've also launched Numberblocks Reusable Clings. These are reusable stickers that children can use to build the Numberblocks characters in different ways. One of the magical things about the show is that the characters morph on screen.
For instance, Four can instantly become four different Ones, or two Twos. Our Clings are a great physical manifestation of that.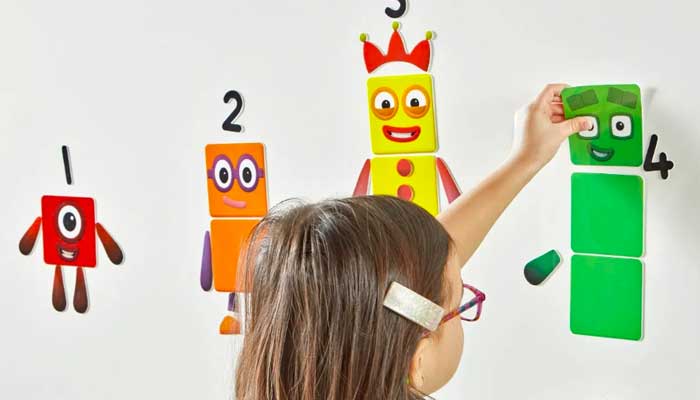 I imagine kids will likely play with these products while they watch the show.
Absolutely. When teaching math, you want to take children from the concrete to the representational to the abstract. When children are watching Numberblocks, they can engage with our products to bring the characters – and the mathematical concepts – into real life. It helps them develop an incredible foundation of math understanding.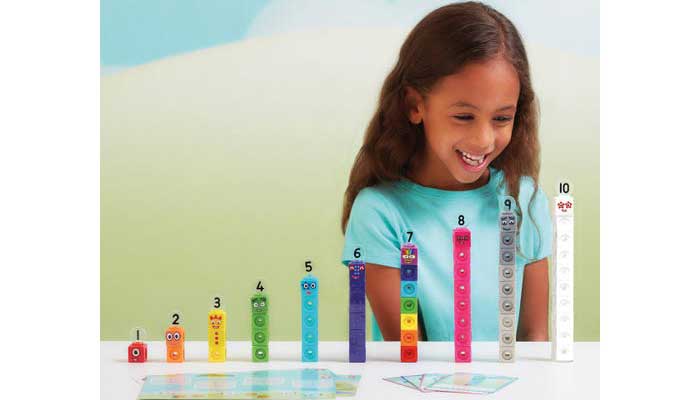 Do you think there's opportunities for brands that aren't grounded in learning to thrive in the educational toy space? Or do they – like Numberblocks – need to have this kind of thing baked into their DNA?
There are so many different facets of early childhood education, so there are lots of ways to tap into a variety of brands to make engaging experiences for children.
We have a growing range of social emotional learning products – it's been a big emphasis for us over the last few years. Everything from Sensory Fidget Tubes to mindfulness products. You don't need to be working with numbers or letters to be educational, so opportunities are there for brands.
Great point. Elana, this has been great. Before we wrap up, how do you fuel your creativity?
I'm very lucky in that I'm surrounded by lots of really talented people at hand2mind and we have a super collaborative process. My best ideas emerge when I'm bouncing them off my teammates. There's a lot of back and forth here, and that goes beyond just my team. We actually launched a product recently that came from an idea from our Head of Customer Service. She had a vision, mocked it up and we took it forward.
Amazing. What was the product?
It was a set of measuring cups that tied into our Rainbow Fraction line.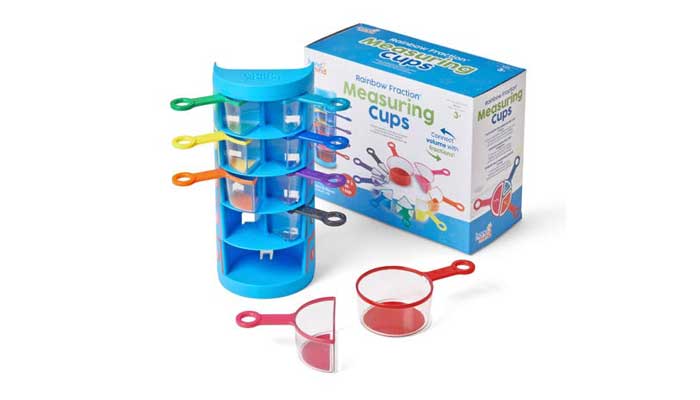 Smart idea! And on the flip side, what kills creativity for you?
Oh gosh! I find open-ended brainstorming can do that… If you let it drag on, that's when people burn out. Staying in a room until you uncover that one great idea can be intimidating.
Elana, a huge thanks for taking time out for this. Let's catch up again soon.
–
To stay in the loop with the latest news, interviews and features from the world of toy and game design, sign up to our weekly newsletter here