"We endeavour to make each gram of plastic earn its right to exist": Designers talk eco-friendly toys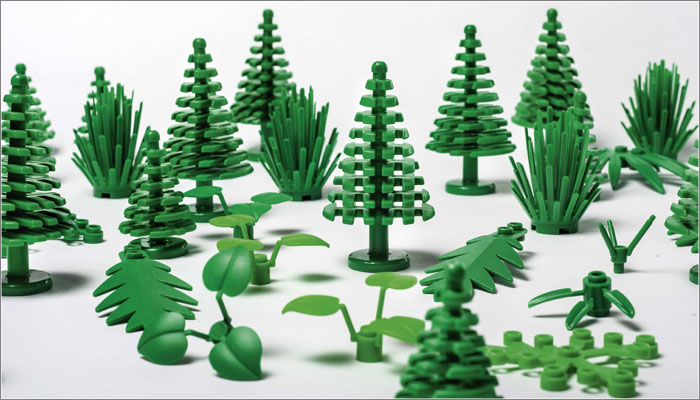 In October 2018, the European Parliament backed a ban on single-use plastics in a bid to combat pollution of the oceans. While not directly affecting the mainstream toy space (the move instead targets items like plastic cutlery, cotton buds and straws), it does raise the issue of how our industry can improve its track record when it comes to 'eco-friendliness'.
LEGO have already outlined plans to use sustainable materials in core products and packaging by 2030, and some of the firm's botanical elements (such as LEGO leaves, bushes and trees) are already being made from plant-based plastic sourced from sugarcane.
Elsewhere, firms like BioBuddi, Green Toys and Plan Toys have appealed to eco-conscious shoppers by being exclusively green when it comes to both product materials and packaging.
As shoppers become more eco-conscious, and the issue rises higher up manufacturers' agendas, what role do toy and game designers have to play in helping to make the industry greener? We asked several prominent figures in the toy and game design community for their thoughts on how creators can help reduce the carbon footprint of the toy space.
Luc Hudson, Co-Founder, Triclops Studio
"Eco-friendliness should be higher up the agenda for toy companies; often it's not even a consideration. Whilst we always try to keep it in mind when designing, the cost implications are what deter any major changes from being implemented. The recent 'unboxing' trend has led to a ridiculous amount of single-use packaging on some products and that 'unthinking' approach needs to be challenged. The only way to change the industry is to make it more expensive to be thoughtless than it is to be eco-friendly. It feels like if one toy company got 'eco-friendly' right (and made it lucrative), others would follow. There is more media coverage regarding plastic waste and it feels like there is greater awareness of the need for eco-friendly products, but it doesn't feel like the appetite is being catered for by any of the major players in the toy arena. Unfortunately, 'worthy' products don't necessarily appeal to the masses so perhaps the answer is to create all toys with more consideration to the environment, cut down on wasteful packaging, consider producing locally to avoid the impact of shipping from overseas and, where possible, look to reduce single-use plastic."
Matt Nuccio, President, Design Edge
"The decision to go green is a lateral decision. Manufactures have to be willing to absorb the additional costs. While reducing the footprint of a toy or package can be considered "light green" for reducing landfill, it also has the added benefit of reducing cost of material and freight. But it's like throwing water balloons at a fire – it's not doing enough to irradiate the compounding issues facing our environment. Truly "green" materials, for the most part, can be far more costly than traditional materials. Many manufacturers have no choice to avoid them considering the current market price mapping. As a collective conscience, we all have to push for eco-friendly, sustainable, materials so that pricing can meet a proper supply and demand. This is a mission that we're strongly focused on and our clients ranging from Mattel to kitchen table start-ups all want to make it happen because they care. Over the past decade, we've been fortunate to work with companies outside of the toy industry, such as Hanes Brands and P&G, where this has been a major issue simply based on the sheer volume of units they sell each day, let alone annually. For them, every bit of unnecessary waste needs to be taken into consideration. We've learned to approach every design with the intention of pushing the current market acceptability to the next level."
Rena Nathanson, CEO, Bananagrams
"Eco-friendliness should absolutely be a priority and a given responsibility for the toy and game sector. We at Bananagrams have insisted on no or minimal excess packaging from the beginning. Mass took some persuading, as we refused to put our games in a box or plastic, but our perseverance paid off in the end!"
Steve Perrin, Senior VP, Design and Production, Seven Towns
"Considering the environment in how we think towards design should take equal billing with any other objective. Packaging is a major factor, and it should be an imperative for the future to make it environmentally friendly. Unfortunately, as toy designers, we rarely get to influence packaging. Where we can influence a toy's carbon footprint is in its sustainability and value through design. The best way to ensure a toy has a minimum impact on the environment is to make toys that endure the test of time. That doesn't just mean being durable – it means making toys that kids want to keep forever. My mantra is to endeavour to make each gram of plastic earn its right to exist, and to create play experiences which create memories that children will cherish. Do that, and there's a chance those toys will endure for decades."
Ben Callicott, Founder, Toy Pioneers Club
"It's hard to argue against it being a priority and we will see more as the costs come down. However, until that point of mass adoption, we can reduce the disposable nature of toys through great design and use of quality materials. Making toys 'too good' to be thrown away – instead created to be kept and passed down to future generations – is, in its own way, sustainable design."
Fi Murray, Creative Director, Making Things
"The capabilities of producing environmentally conscious products have been there for some time (not without cost challenges!) and there have been some awesome brands leading the way for years, but being a mass industry means it's heavily reliant on cost, feasibility and having a mass audience who are ready to see 'eco' as a feature worth paying for. But finally, we've hit the breaking point and it has become part of our mind-set at home, work and play to protect the planet. There's another human behaviour growing that circles 'eco' -'living mindfully', and this includes minimalism. We're growing a distaste for too much stuff (physical or digital) which isn't surprising when we see a new piece of content every four seconds. Traits from leading brands outside of the industry like Patagonia will spread across industries. Expect to see some high-end toy and baby brands coming to the forefront (selling less for more) and brands like Crayola to prosper as they have quality and longevity at the heart of their brand. 'Eco' may result in the biggest industry shake-up since the 'internet' – bring it on!"