Exploding Kittens acquires Happy Salmon from North Star Games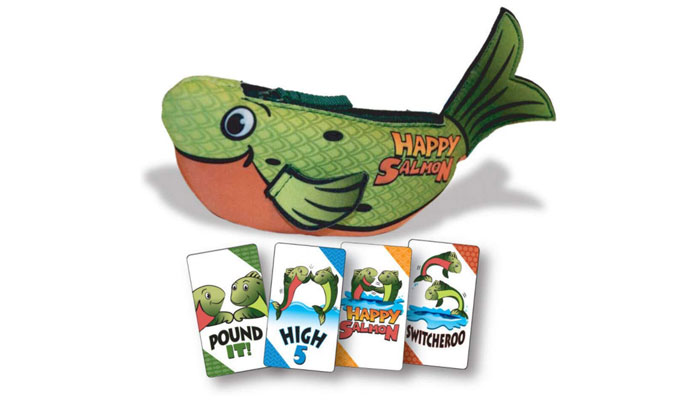 Exploding Kittens has acquired Happy Salmon from North Star Games.
The company will be reimagining Happy Salmon – designed by Quentin Weir and game developer Ken Gruhl, who has since joined the Exploding Kittens team as Senior Game Designer – with an Exploding Kittens twist, and re-releasing the game this November.
"While we've spent so many years building an incredible pipeline for games, we know the best ideas don't always come from within our four walls," said Zach Schiff-Abrams, Head of Creative Development at Exploding Kittens.
"We want to develop new games and brands, whether that's through our internal team, working with external designers, or by acquiring IP and talent like we did with Happy Salmon."
The firm's Throw Throw Burrito came from an external inventor in Brian Spence and has gone on to be one of the company's best sellers, with more than two million copies sold.
"I had no idea Exploding Kittens was so open and eager to receive new games and ideas from external developers like myself," said Spence.
"Working with the Exploding Kittens team to develop my original idea into Throw Throw Burrito and reach millions worldwide has been an extremely rewarding experience. There's more to come from the Throw Throw family, so stay tuned!"
Exploding Kittens are available to pitch to at this year's Virtual Mojo Pitch. For more on that opportunity, email billy@mojo-nation.com.
For more information on how Exploding Kittens works with inventors, head to Exploding Kittens' website.
—
To stay in the loop with the latest news, interviews and features from the world of toy and game design, sign up to our weekly newsletter here