Exploding Kittens debuts Good vs. Evil, a game inspired by its upcoming Netflix show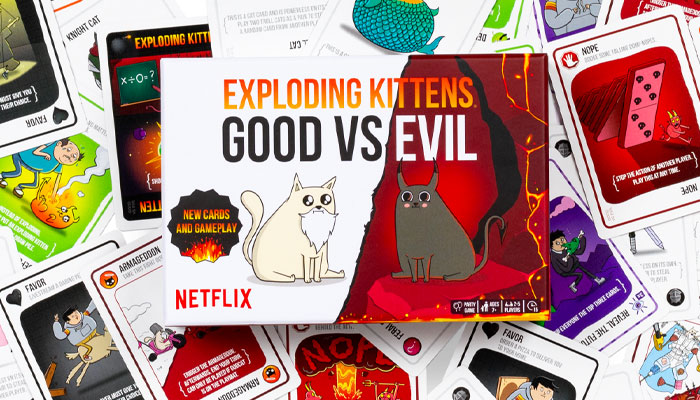 Exploding Kittens has launched Exploding Kittens: Good vs. Evil, a game based on the franchise's upcoming adult animated Netflix series.
This new standalone version of the original Exploding Kittens card game is set within the fictional world of the TV series, introducing new character cards from the show. These include a Godcat card, deemed "the most powerful card ever created" in the Exploding Kittens universe, and Devilcat, which causes a player to immediately explode without the protection of a defuse card.
The game also offers four new card powers, including "Armageddon" and "Raising Heck" cards that each feature new gameplay mechanics.
"Adapting Exploding Kittens into a TV show has been one of our most satisfying creative endeavours," said Elan Lee, Co-Creator and CEO of Exploding Kittens.
"Not only will fans of the upcoming show get to see their new favourite characters on all the Good vs. Evil cards, but new and existing fans will get an exciting gameplay experience with a new game mechanic that pits players against each other in a battle of wits to compete for the most powerful card in the game!"
Matthew Inman, Exploding Kittens' Chief Creative Officer and Creator of The Oatmeal, added: "Creating the Exploding Kittens series with Netflix has been a dream come true. Good vs. Evil allowed us to give fans a first look into what the show has in store, and we hope they have just as much fun playing the game as we had creating it."
The game is available now both in-store and online in the US at Walmart and Target, or fans can order on ExplodingKittens.com from August 1st. For further information on UK distribution, please contact joeri@explodingkittens.com.
–
To stay in the loop with the latest news, interviews and features from the world of toy and game design, sign up to our weekly newsletter here