Exploding Kittens enters pre-school sector with Kitten Games range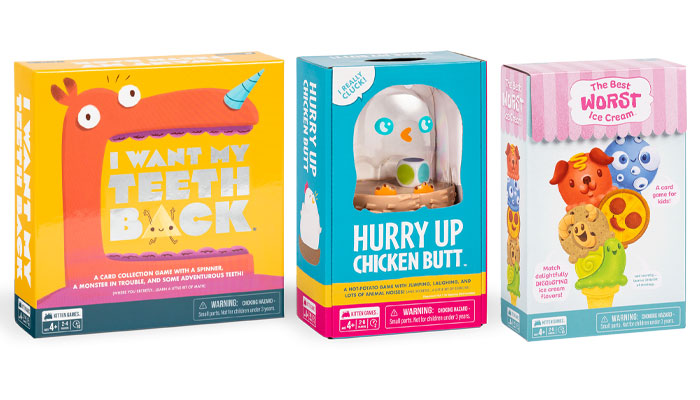 Exploding Kittens is entering the pre-school games space with a range of titles launching under its new Kitten Games banner.
The range came about when Exploding Kittens' CEO and Co-Creator Elan Lee became frustrated with the games available to play with his four-year-old daughter, Avalon.
"When we played the standard games for my daughter's age group, she would get distracted, she wasn't learning anything, and I was getting bored," said Lee.
"So we used paper, markers, and stickers to make games we both loved to play. Kids won't be kids forever, so we didn't have any time for bad games!"
The father-daughter duo designed each of Kitten Games' four titles: I Want My Teeth Back, Hurry Up Chicken Butt, The Best Worst Ice Cream and My Parents Might Be Martians.
I Want My Teeth Back sees players strategically decide when to spin a wheel for an opportunity to collect missing teeth, while the Hot Potato-inspired Hurry Up Chicken Butt requires players to complete silly challenges before passing the chicken.
Elsewhere, My Parents Might Be Martians is a junior version of Exploding Kittens' Poetry for Neanderthals and The Best Worst Ice Cream sees players build ice cream out of wacky flavours like pizza, eyeballs and earthworms.
Each game includes instructions written for adult players, as well as simplified versions for parents to read aloud to their kids, making the learning process as seamless as possible.
Elan Lee's daughter Avalon added: "It was so fun making these games. Drawing the funny characters like earthworm and pizza ice cream was my favourite part. Now my whole family plays our games every night and I get to teach them to my friends too!"
The Kitten Games range will be available to purchase at Target from July 30th, and at ExplodingKittens.com from August 1st.
–
To stay in the loop with the latest news, interviews and features from the world of toy and game design, sign up to our weekly newsletter here