Exploding Kittens launches challenge-based party game, Without Fail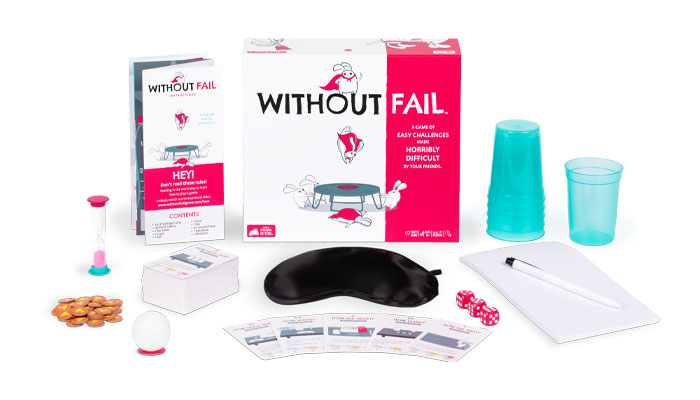 Exploding Kittens has launched Without Fail, a game of 'seemingly easy challenges made horribly difficult by the other players.'
Without Fail offers 150 challenges, involving props like a blindfold, cups and balls, dice, pens, and more. The challenges are simple, but before a player attempts it, their friends bet on how difficult the challenge can be made without failing. The friend who makes the challenge the hardest becomes that player's teammate, and they both score if the player can successfully complete the challenge.
However, if they upped the stakes too high and the challenger fails, then all other players earn a point, and the challenger and their teammate both lose points. Success is based entirely on whether players are good judges of their friends' abilities.
"We've always said our goal at Exploding Kittens is to not only make entertaining games, but to make the players themselves more entertaining," said Elan Lee, Co-Creator and CEO of Exploding Kittens.
"Without Fail's brand-new challenge mechanics take that concept to a new level. Every challenge starts out simple, but quickly gets harder and sometimes impossible as your friends try to outbid each other on what they think you're capable of."
Carol Mertz, Senior Game Designer at Exploding Kittens, added: "As we've been seeing more games get noticed on social media, we knew we wanted to make a game that was as fun to watch as it is to play.
"Without Fail is meant to incorporate everyone — players and audience alike — to get folks laughing and having a great time whether they're in the room or seeing it on TikTok."
Without Fail is available now at ExplodingKittens.com for $24.99. The game will also be available in-store and online at Walmart starting July 29th and Target starting July 30th.
–
To stay in the loop with the latest news, interviews and features from the world of toy and game design, sign up to our weekly newsletter here