Exploding Kittens launches word-guessing party game, Poetry for Neanderthals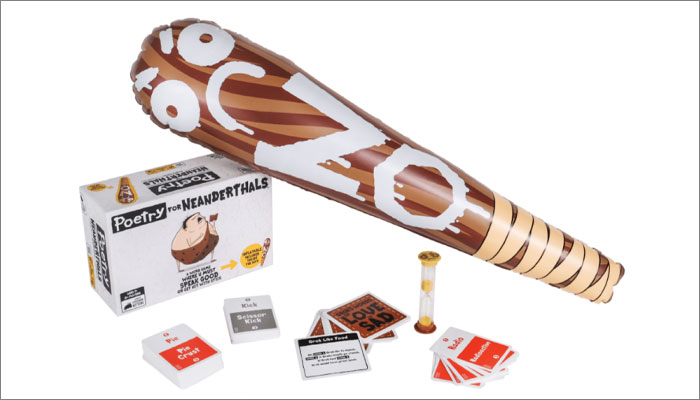 Exploding Kittens has launches its latest card game, Poetry for Neanderthals; a word-guessing party game where teams earn points by correctly figuring out words and phrases.
The game sees players become "Neanderthal Poets", meaning they must only use single syllable words to describe an array of complex terms, or they get bopped with a 2-foot inflatable club.
"Poetry for Neanderthals was born when two friends introduced me to a word game they invented, where each player had to describe a life experience using only single syllable words," said Elan Lee, co-creator of Exploding Kittens.
"After playing for five minutes, I sounded like a caveman at a job interview, and the entire room was in hysterics. We spent the next few months figuring out how to share that experience with the world."
Matthew Inman, Co-Creator of Exploding Kittens and Creator of The Oatmeal, added: "In quarantine, we've each spent our time at home differently: either bettering ourselves into Poets or regressing into Neanderthals.
"Poetry for Neanderthals gives both Poets and Neanderthals a chance to challenge themselves to think outside the box and tap into their own creativity."
—-
To stay in the loop with the latest news, interviews and features from the world of toy and game design, sign up to our weekly newsletter here