Exploding Kittens to launch reimagined English-language version of Cocktail Games' Top Ten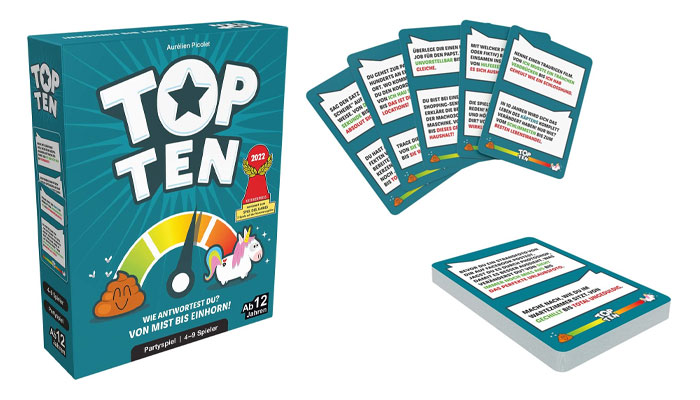 Exploding Kittens has secured the rights to recreate the English-language version of Top Ten from Cocktail Games.
The reimagined game 'with an Exploding-Kittens twist' will feature new game mechanics, title and packaging – and is expected to be released in 2024.
"I've been watching how Top Ten has captivated players throughout Europe, and it's pretty exciting to get the chance to adapt it for English-speaking players," said Elan Lee, Co-Creator and CEO of Exploding Kittens.
"We've built an incredible pipeline for developing and publishing new games and we see a lot of potential in Top Ten to become a new household favourite."
Top Ten puts all players on the same team as they each invent answers to simple questions such as "What's the best single sentence to end a job interview with?" They then have to rank those answers from "Most likely to get the job" to "Least likely to get the job." Each player was secretly told where they should fall in that ranking before the round and if the group's collective ranking matches the secret rankings, they win!
Matthieu d'Epenoux, Owner of Cocktail Games, added: "Exploding Kittens has a fantastic understanding of English-speaking audiences and their love of party games, and Top Ten is a great fit for their library.
"We can't wait for Exploding Kittens' new version to be played in all of the English-speaking countries around the world."
–
To stay in the loop with the latest news, interviews and features from the world of toy and game design, sign up to our weekly newsletter here