Caleb Paullus on taking the pin-craze to the next level with Pinfinity's line of licensed AR pins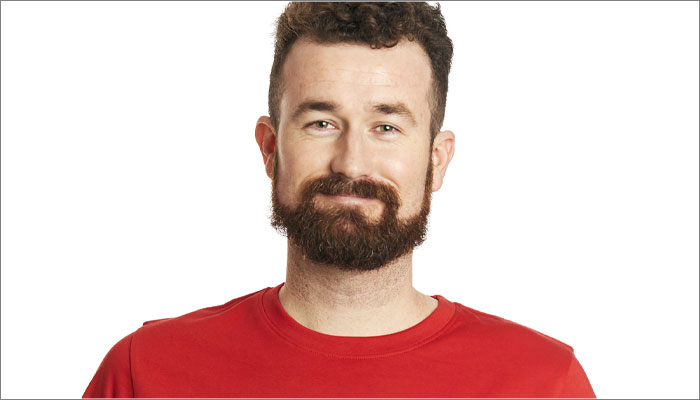 Last year saw Caleb Paullus launch Pinfinity, a new brand that brings augmented reality technology to the world of enamel pins.

The Pinfinity range of pins, already boasting brands from the likes of Disney and Warner Bros, come to life when scanned with its dedicated app; playing sounds, video clips and even showcasing concept art from the movies they're based on.
We caught up with Caleb Paullus, lead creative at Fabric Flavours and the founder of Pinfinity, to learn more about why toy firms should be looking at bringing their brands to life in this way.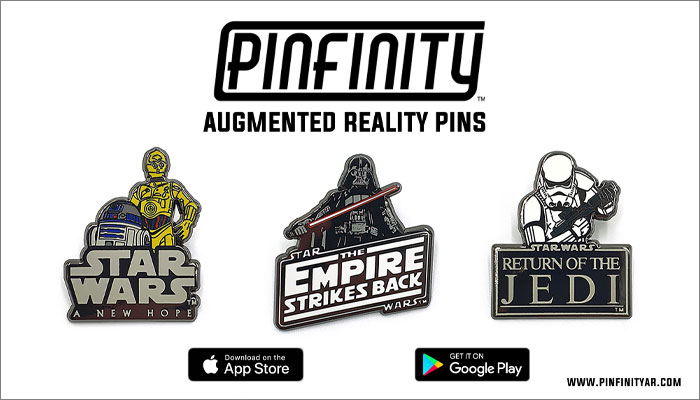 Hi Caleb. First off, can you talk us through your history in the world of brands and toys?
I'm originally from San Diego, California where I would frequently attend San Diego International Comic-Con, falling in love with all things pop culture. Eventually I moved to LA and worked for The Nerd Machine and then as a freelancer for various films creating graphics for props and on-screen usages.
I then moved to London with my wife, whom I met at San Diego International Comic-Con, and started working for entertainment brands, helping create style-guides, pitches, retail-tainment experiences and on my own product development.
I've also worked for a variety of licensees helping them make more cohesive licensed products and apparel.
So, Pinfinity – talk us through the concept and where the idea came from?
Pinfinity was an idea I had quite a while back, as I used to create my own enamel pins. I saw how big pins were and kept thinking about how I could take them to the next level. That's when I thought of using AR.
Using our free Pinfinity AR app, we can display a variety of content on our Patent-Pending Pins like video, sound, animation, custom selfie frames and much more. The Pinfinity AR app is free for everyone on both android and apple phones globally..
And I've seen online you have a Star Wars: A New Hope pin that beeps like R2-D2 and plays concept art from the original film when scanned with the app, so some major brands are seeing the potential here…
Yes! I knew for this to work properly I needed to be synced up with a brand or company that already had major licences. Luckily I was synced up with Fabric Flavours who has many of the major entertainment licenses already.
We already have Disney (Disney, Marvel, Star Wars and Pixar) and now Warner Bros with Looney Tunes, Friends and DC Comics. We have a few more brands we are looking at taking on in the gaming and music sector, which will be announced later this year.
Do you think there are opportunities for toy companies to bring their brands to life with Pinfinity?
One of the key features of Pinfinity is that it is flexible. We can create AR pins for retail with the licensees we have, but we are also open to allowing other licensees that want to make Augmented Reality pins utilise our platform.
On top of that, Pinfinity is a great tool for brands themselves to use for promotions, as we recently did with Disney for Star Wars: The Rise of Skywalker in the UK.
Brands can utilise Pinfinity for trade shows and events, giving away pins to fans but providing great content to keep them engaged like exclusive trailers, sneak peeks, animations or push to external content. With Pinfinity, pins become a low-cost, high-impact collectible.
Great, so if a company is interested in talking to you about Pinfinity, how can they reach out?
We would love to collaborate with more brands, so if anyone is interested in working with us, whether it be wholesale, distribution or creating their own AR pins for retail or promotion, just shoot an email to info@pinfinityar.com
Thanks Caleb – and we should also say that the Pinfinity app can be downloaded on Apple here and Android here if anyone wanted to check it Pinfinity in person!
—–
To stay in the loop with the latest news, interviews and features from the world of toy and game design, sign up to our weekly newsletter here