Façade Games' Travis Hancock on the origins of the firm's Dark Cities series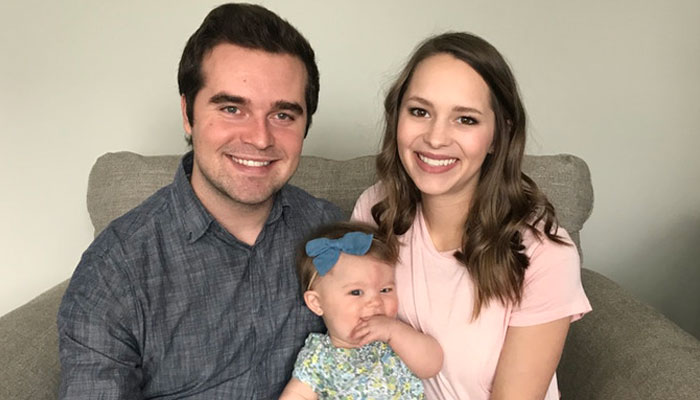 Façade Games is the independent games publisher behind the Dark Cities series, spanning Tortuga 1667, Salem 1692 and Deadwood 1876.
Each game in the series focuses on a city and year, has a dark or mysterious aspect of gameplay, comes in a faux book box and accommodates at least four to nine players.
Tortuga 1667 sees players double cross each other in a bid to make away with the most treasure; in Salem 1692, you accuse and defend your fellow townsfolk while hunting witches, while the firm's latest game is all about robbing safes in the Black Hills of South Dakota.
The first two games in series both launched on Kickstarter, collectively raising over half a million dollars, and Deadwood 1876 is currently raising funds on the platform now (its already smashed its target, having raised over $137k in less than a week).
We caught up with Travis Hancock, founder at Façade Games, about the origins of the company, the design process behind the first three games in the Dark Cities series and what to expect from the fourth.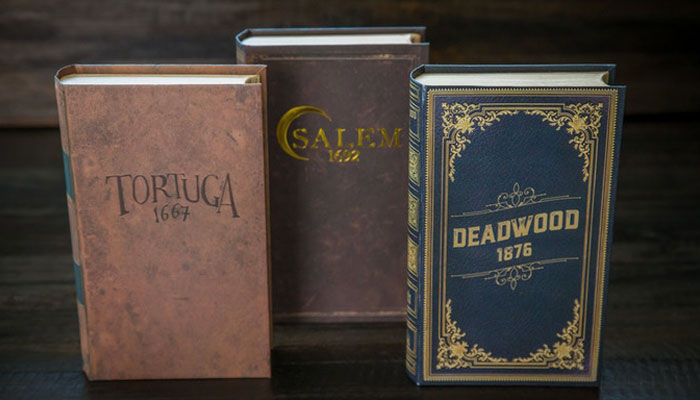 Where did Façade Games originate?
I've always loved playing games and tweaking them to be better. One summer, I was in Alaska and invented a version of Harry Potter Mafia with some friends. That eventually turned into a game I worked on with my wife, which became Salem. We launched it just for fun in the spring of 2015 and it surprised us by taking off! It raised $100,000 on Kickstarter, so I quit my day job and started making games full time.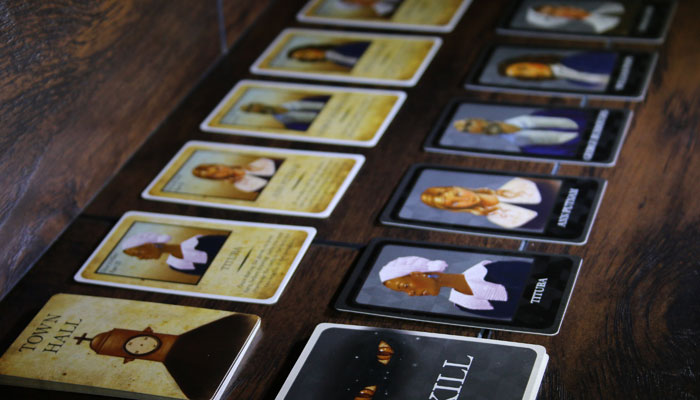 Where did the idea for Dark Cities come from and what unites all the games in the line-up?
I've always loved history, and when Salem did well I started thinking about what other historical events we could make a game out of. One day, in the shower, the idea of the Dark Cities Series came about. Each game focuses on a city and year, has a dark or mysterious aspect of gameplay, comes in a faux book box, and accommodates at least four to nine players. There aren't enough games out there that can get to the higher numbers, so we're happy to help fill that void!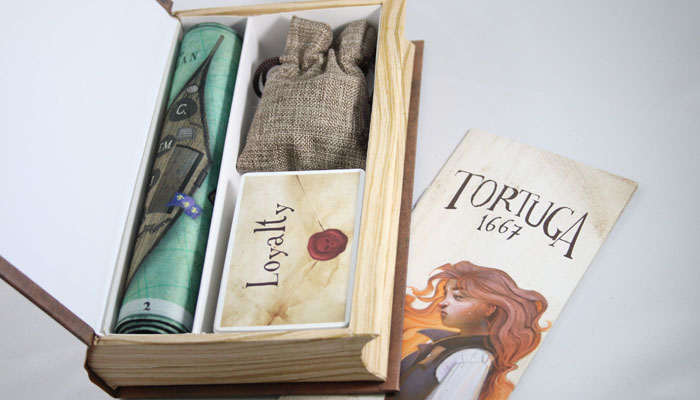 How do you and Holly split design duties on the games?
We're both heavily involved in all aspects of the game, but I take the lead on designing the rules of the game and the business decisions, and she takes the lead on the graphic design and how it all looks. We also work with an incredible illustrator named Sarah Keele.
Where do you find inspiration for new titles?
Everywhere! Learning about history, playing lots of other games, thinking about certain mechanics that I think are great or others that I think are lousy and could be fixed up, etc. Also, traveling! Holly and I travel all over, and each time I go to a new country I get to thinking about its history and setting and how a game could come out of it. Traveling stokes the game juices more than anything.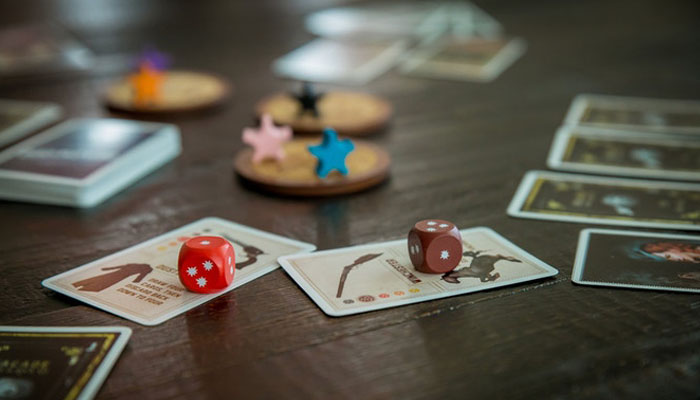 Can you talk us through some of the key design decisions behind your latest title, Deadwood 1876?
Deadwood had my number. We went through literally 74 versions before we landed on the final game. For a long time I wanted turns to be simultaneous in some way, but it just wasn't working. So I tried to create a setting where everyone was still very involved the whole game, but still had individual turns.
There also used to be more of a "poker" element and using cards as a currency to buy gun upgrades. The elements were fun, but they just slowed the game down too much. It was too clunky.
Finally we got to the 'core' of the game – working with teammates, but also preparing to kill them – and tried to design as few elements around that idea as possible. We matched guns to dice to keep hand management in play and we created the idea of the Final Showdown. It has been such a fun process! Picking a favourite game of ours is like choosing a favourite child, but I sure love how this one turned out!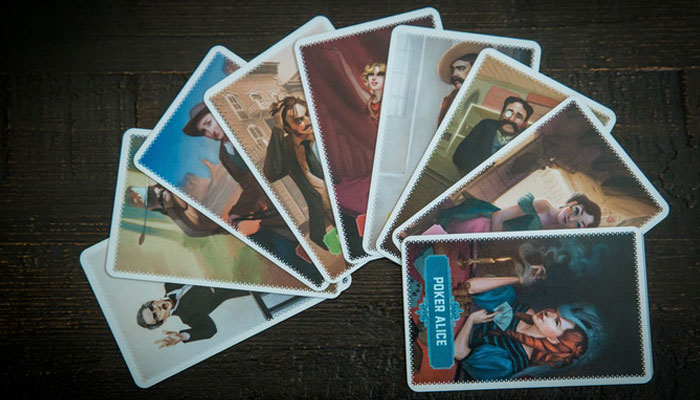 Why opt to use Kickstarter as the launchpad for your games?
Kickstarter is so much fun! The idea that it is a 'campaign' makes it feel like a big massive quest to turn nothing into something. That quest feel just does such a great job of finding a community and then getting them excited about the game. Plus, funding with Kickstarter takes away a lot of the risk since you can see right away how much demand there is for the game. It also lets us produce the game in a very large batch, which brings down manufacturing cost. And managing costs is a huge thing to stay on top of as a small publisher.
How do you stay creative?
I write a blog, travel as much as possible, play as many games as possible, and read and watch lots of books and movies! I also always carry a paper and pen with me so that moments of inspiration never get lost. So many of our game ideas come at super odd moments of the day.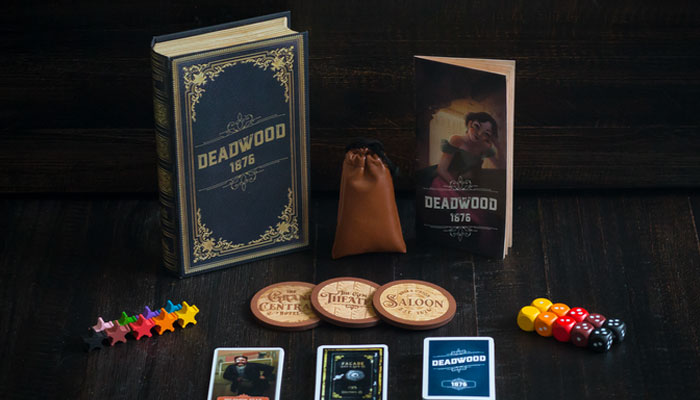 Do you think the world of tabletop games is in a good place creatively at present?
Great question. There are a ton of games right now, and I think that sometimes that forces companies to keep publishing more and more to be the latest and greatest thing. I think companies need to slow down, make fewer games, and be more innovative about how they do them. For such an innovative product, so many board games tend to feel the same. There is so much room for cool ideas that go beyond the gameplay itself.
What can you tell us about Dark Cities Vol 4?
We're working on it now! One hint though. Salem, Tortuga and Deadwood all happened in the Americas in a similar time period. Our next set of three games will go to a new time and place in the world! We're also working on a party game of sorts that will probably be launched before Volume 4.

For more on Façade Games' Deadwood 1876, head to the Kickstarter page here.