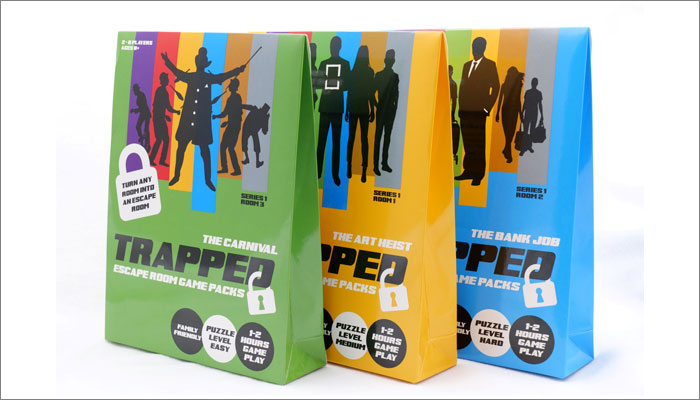 Golden Bear has launched Trapped, a new line of games that turn any room in your house into an escape room.
Created by The Fantastic Factory and designed with input from real escape room experts, the Trapped series launches this month with three different themed games: The Carnival, The Art Heist and The Bank Job – each boasting an increasingly difficultly level.
Each game includes everything needed to turn any room in your house into an escape room, with content to put on walls and other surfaces, before teams attempt to work out puzzles, put clues together and escape.
"There's been a huge increase in the popularity of escape rooms over the past decade with the market still growing," said Kathy Lesser, brand manager at Golden Bear.
"We want to bring the escape room experience to everyone and within the comfort of their own surroundings – and this is the ideal time to introduce this world-first game concept. Consumers are looking for new home-based entertainment that promotes family interaction which Trapped does in abundance.
"Just add people and the play begins by looking at the puzzles around the room and working as individuals or as part of a team to crack the codes, and score points with the ultimate mission of escaping the room. With lockdown gradually easing, it also makes for a great night in with friends. Trapped is unlike most other escape room games because once you've played you can put everything back in the box and pass it on so someone else can enjoy the fun."
—-
To stay in the loop with the latest news, interviews and features from the world of toy and game design, sign up to our weekly newsletter here