The Fantastic Factory's David Snow on giving Facebook craze Rate My Plate the party game treatment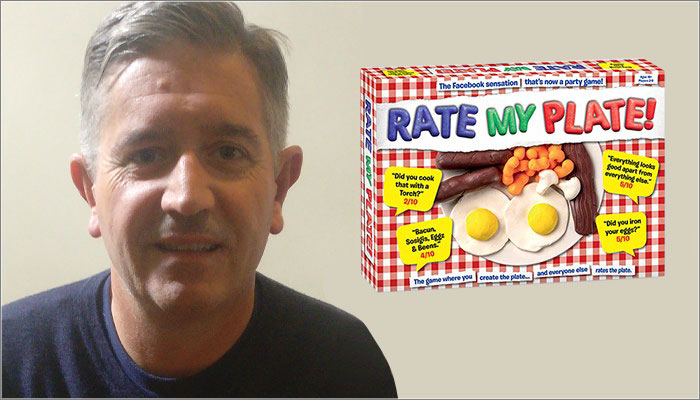 If you haven't enjoyed the delights of the Rate My Plate Facebook page, then allow me an attempt to do it justice.
The idea is simple. Post a photo of your culinary creation and the Rate My Plate group – which now boasts over 2.2m followers – can judge, praise or most likely mock your efforts (one user's attempt at a dinosaur cake was brutally told it looked like 'if Colin the Caterpillar came from Chernobyl').
Well the Facebook craze is now heading to the tabletop with a Rate My Plate party game from The Fantastic Factory that sees players tasked with creating dishes out of dough and slime, before rating each other's best attempts.
We caught up with The Fantastic Factory's David Snow to learn more about the game, and find out why more firms should be looking at bringing left-field brands like Rate My Plate into the games space.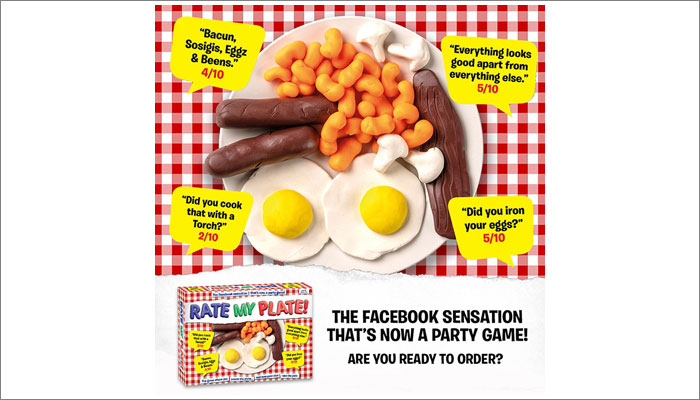 When did Rate My Plate first pop onto your radar, and what about the brand made you think it could make for a great game?
We are working with another super inventor on this game – Karen Starkey. She is a big fan of Rate My Plate and aspires to make her dinners look as good as the Rate My Plate ones!
We talked when we were last in Hong Kong about ideas from left field that could work as games. We approached the guys at Rate My Plate and they were up for it, so we made a game and are looking to promote across the Facebook page and through many other mediums.
 
Talk us through how the game plays, and where the idea came from?
Given Rate My Plate comments can be extremely rude and caustic, we wanted to capture some of that in a game but wanted to make the game as accessible as possible to everyone. Just making a party game like Cards Against Humanity would be the easy route, but that's been done before. We wanted something unique.
We went down the route of actually making dishes in the game. Obviously we couldn't fill the box with food, so decided to use dough and slime. You play by selecting a card and making a dish under time pressure. Your fellow players then rate your efforts, with the highest score winning the Rate My Plate Trophy. You have to go through three rounds (starter/main/dessert) and there are some twists in the game as well.
Whilst we were playtesting, we realised that making stuff out of dough and slime is still awesome no matter your age. And who knew I could make a mean Spaghetti Bolognese out of dough?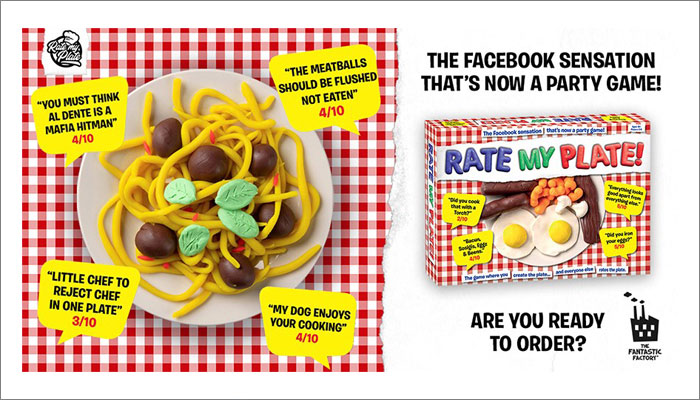 Do you think there's potential for more brands outside of movies and TV shows to make the leap into board games?
Yes, there is so much potential out there. When I grew up, I used to get my cartoon fix from one TV channel at teatime. Now people have access to content 24 hours a day across multiple platforms.
My kids talk to me about stuff they've seen online that I didn't even know was a thing. I know I'm showing my age now but the point is that there is such a wide choice for people now and there is no limit to engagement time with your chosen brand/person/TV show.
The engagement is also two-way. In the past, you could watch a TV show and then write a letter to the presenter, studio or TV channel. Now you can instantly react with the content provider and get instant responses, so products can be created with potential buyers becoming part of the development process.
It's great that there are the likes of Disney and Nickelodeon that make up a large percentage of licensed product out there, but there is also so much more available with an audience ready to buy in. You just have to look at what's out there and see if the online idea can be turned into a physical product that will get people socially interacting away from the screen.
This is your first foray into the direct-to-consumer model. Is this something you'll look to repeat moving forward?
Yes, we are looking to complement our distribution model with more direct to consumer ideas. In the current climate, you have to explore every opportunity going.
We are super excited about Rate My Plate, we love the game and by going direct to consumer we will learn a great deal. Well we hope we do, as we have our next direct to consumer project in development as we speak!
Finally, when can we get our hands on a copy of the game?
The game will be available to buy in October through a number of online sites.