Farm Rescue designer Harris Tsagas on Greece's blossoming game design scene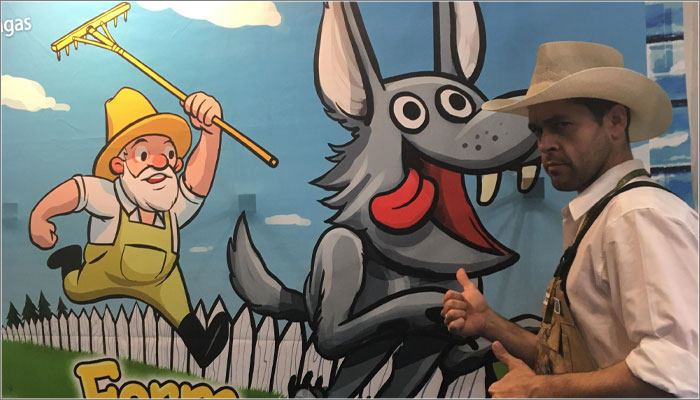 At UK Games Expo earlier this month, in a hall brimming with titles of complex strategy and impressive mechanics, I was a little surprised to discover my favourite game of the show was a farm-themed memory game featuring a little toy wolf.
Created by Greek designer Harris Tsagas and published by Brain Games, Farm Rescue is a co-operative memory game with a twist.
Players have to find a match based on what's rolled on the dice, remembering where the farmyard animals are. If you correctly find a match, you move the farmer along his track, but if you fail, the wolf moves instead. You win by when the farmer catches the wolf, but lose if the wolf makes it around the track and into the farm.
We caught up with Tsagas to learn more about the origins of Farm Rescue – his first published game – and why he feels optimistic about the game design scene in Greece.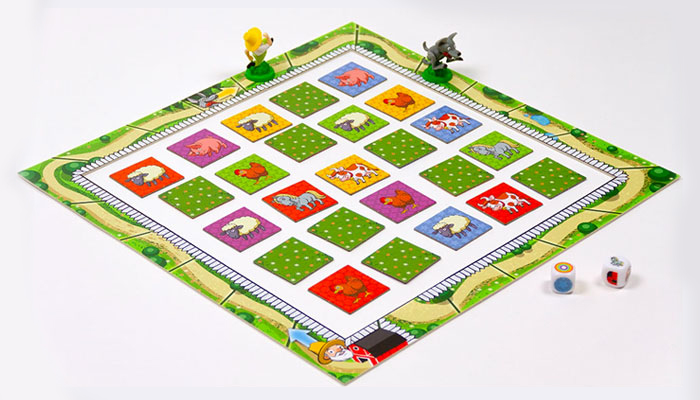 Where did the idea for Farm Rescue come from?
Up until 2017, the only games in my collection were Scrabble, Monopoly, UNO, a couple of classic memory games and a copy of Mr. Jack that I had bought from a Greek store in 2009.
One evening my five-year-old daughter discovered UNO somewhere in the house and wanted to play it with me. My three-year-old daughter wanted to join us too, but she was struggling with the numbers and was disappointed. So I decided to replace the numbers with animals and because she was doing really well with memory games, I added a memory element. Furthermore, rolling dice is always funny for children, so I added that.
At first, we were rolling the dice looking for the animals and trying to flip all of them over. Also, as fairy tales were a part of our daily routine, I came up with the idea to include a chasing story into the game. So, the early prototype was ready!
So how did Brain Games get involved and what made them a great fit for Farm Rescue?
After I had designed my early prototype, for the next two to three months we just played the game, and I didn't think to give it a name as I had never even thought about publishing it.
Why not?
Well I assumed that all companies have their own design teams, so didn't need ideas from outside designers. I had no idea how the board game industry works!
Looking for other children's game recommendations online, I saw a discussion on BoardGameGeek. "What is that site?" I wondered, and then an ocean of information came up! The post I saw was about Brain Games' Ice Cool, and everyone was so excited about it.
So – in just one day – I had learned that I could actually get someone to publish my own game, and that a company called Brain Games had published a great game called Ice Cool. I then saw they were behind other equally awesome games like Game of Trains and even Mr Jack – a game I already owned.
It might be sounds illogical or karmic but having already owned a Brain Games game and then randomly hearing about the same company nine years later made me think that there was something good about this company!
What I had to do next was to name my game and have it playtested a lot. When it came to playtesting, I enjoyed the feedback of the young playtesters in my daughter's school – they were authentic and helpful!
Then I contacted Brain Games, as I liked their profile and product line. The response came quickly and when I saw the result of their excellent production of my game, I knew I had made the right choice.
Brain Games believed in Farm Rescue from the first moment and they behave in a very professional way. Communicating and working with them is really great!
I am so excited that my game is released and out there now.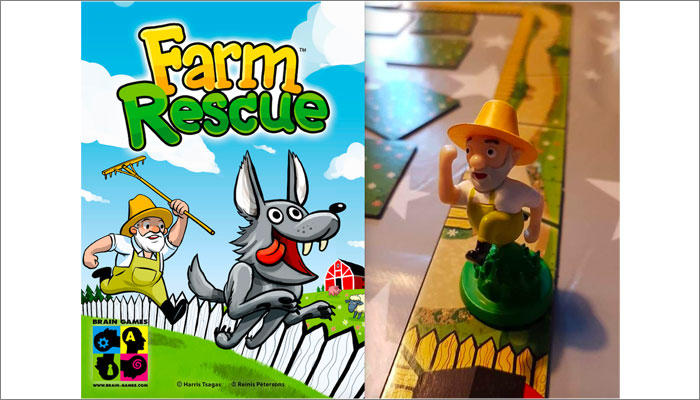 What's the game design scene like in Greece? Are there many other designers making waves in the board game space?
Board gaming is not such a popular hobby in Greece, and especially in west Greece where I live. Sometimes when I tell somebody that my hobby is playing board games, I sound weird to them, as they are mostly only aware of classic board games. But I don't blame them – I was the same two years ago!
However, in the last few years the interest in board games has grown considerably, both in Greece and around the world, with more and more people coming into the hobby.
People with many years of experience and knowledge in board game industry have set up their own companies and are producing games by Greek designers, distributing them worldwide. Now lots of Greek designers have designed games that have sold thousands of copies and won many awards.
This couldn't have happened without the help of playtesters. There are some great game playtesting groups in Greece, and there is also a national board game design contest, which takes place every year. This has welcomed a lot of talented designers whose games have been accepted by the global board game scene.
I believe we are at the beginning of an upward course for the board game design scene in Greece and I am optimistic that the following years will become more and more promising for Greece's contribution to the worldwide board game industry.
How do you stay creative? Where do you find you get game ideas from?
The spark of my inspiration for Farm Rescue were my children. I wanted to make something for them and something that would give us good times as a family. I couldn't have made it without the help of my supportive wife.
I always try to make something special for my kids, be it a board game or something totally different like a trip. But because they are my inspiration, my design process often shifts from demanding and time-consuming to creative and funny!
So with your first game on shelves now, what can we look forward from you next?
Currently I am working on two prototypes: one kids game and one family game (as my oldest daughter is now seven).
I have other ideas I would like to work on and I will do so as long as I find some time. But don't expect a heavy war game from me in the near future – although I believe in the motto "never say never", other board game categories are my priority at the moment!
Generally, my future plans include whatever satisfies the needs of my family – and that's anything that ensures we have fun and enjoy ourselves!