Fat Brain Toys' Adam Hocherman on the role in-house development teams play in evolving inventor items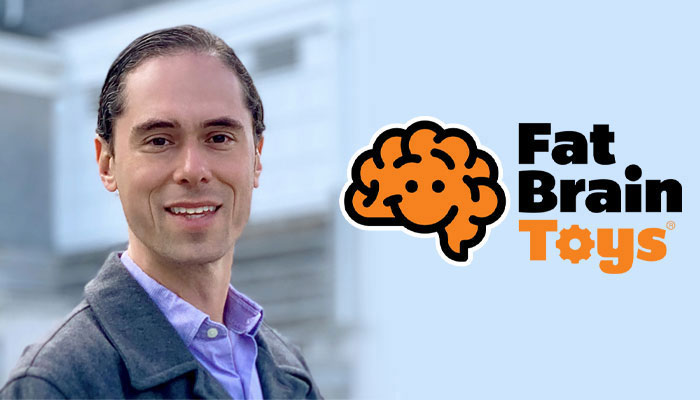 Hi Adam, thanks for making time. We last did an interview when you were one month into the role at Fat Brain. 12 months on, how has your first year with the company been?
Hi Billy, it's great to chat with you again, as always, and I am looking forward to the Mojo Pitch which is right around the corner!
It's been a great first year with Fat Brain – productive but also a lot of fun. This week we are launching a diverse slate of new items at ASTRA from many different categories. Among these are the first items to see the light of day that were developed under my umbrella, which is exciting for me personally.
I can imagine! Now, the focus of our chat today is the role in-house product development teams play in evolving inventor items. Before we dive into some examples, do you see that process as being one of collaboration between inventors and PD teams? Or is it more useful for the baton to be completely handed over, so to speak?
In a perfect world, I like to see a hand-in-glove collaboration between inventor and publisher and that does happen. Having done this for a long time, however, I've observed that most projects take the form of an arms-length relationship… Albeit with a mutual appreciation for the respective roles of inventor and publisher.
Right, with both sides understanding the other's role in the journey to a finished product.
Correct. We respect the kernel idea so much that we've decided to devote a year to it – and the inventor understands that we need a little room to spread our wings and possibly modify the idea to fit the company objectives.
On that note, are PD teams usually excited to work on inventor items? Does it enable them to flex a muscle they may not use in the day-to-day role?
From a PD team perspective, there's not as much difference in working on an internal vs. external idea as you might imagine. We've become trained to take an idea – often one that is not fully formed – and run with it, whether it was birthed within the walls of the company or discovered during an inventor pitch.
On that, how important is your ability to squint at a concept to see what it could be and where PD might take it?
I like how you've phrased that. You've really put a pin in it and that's what the job of IR, and subsequently the PD team, is all about. Taking a formed product and placing it for sale is called distribution. That's not what we do, in this context. It's seeing beyond the paper prototype that defines our skillset.
At Fat Brain I – and more recently my talented colleague Rana Schenke – take the first swat at that, but then we bring these items into the Fat Brain Toy Co. war room and our entire PD team weighs in on concepts. It's important to have different perspectives in the room.
Let's dive into some case studies of how PD teams evolve inventor items. We spoke recently and you mentioned a then under-wraps electronic item that sounded exciting. Can you tell me about that?
Yes, I'm finally able to do that! The item is electric, more so than "electronic." It's called Air Toobz and it is our flagship item at this year's ASTRA. Air Toobz seeks to replicate the joy that we've observed children experience at museum installations by which this concept was inspired. Children place foam balls into an air-powered network of clear tubes and watch the effects, as these items magically circulate.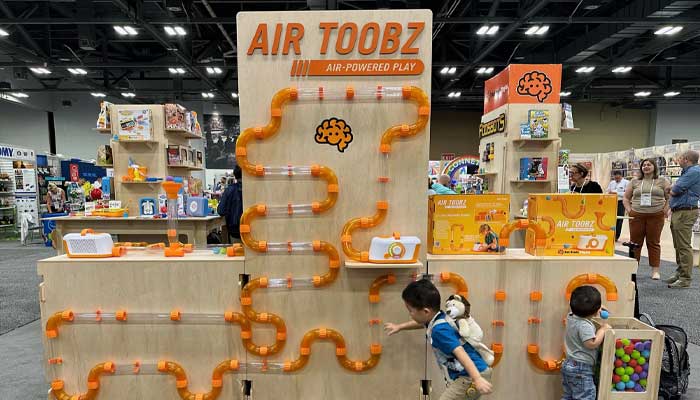 I'm sold! And this was an inventor item?
Yes, this item was conceptualised by first-time toy inventor Brad Owen. He's been great to work with.
What's been interesting about this project is that while the original working prototype and the final product produce similar effects, the challenge on this one was of a very technical nature. This is a perfect example of where a brilliant concept required a lot of engineering to make it a commercial reality.
I have to take the opportunity to highlight my team members Adam Carson (Industrial Design) and Kyle Gutzmann (Mechanical Engineering) for driving this one to completion. It has been a labor of love over hundreds of hours of development and many obstacles.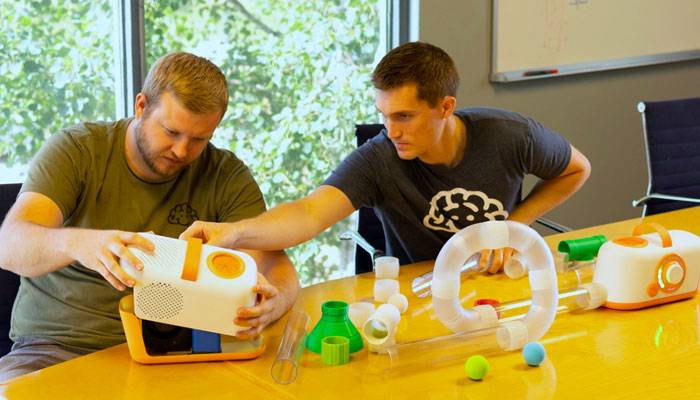 I look forward to seeing it out in the wild. Now, sometimes the opportunity arises to pair inventor ideas with licenses. Can you talk us through an example where this has happened?
Yes, the game is called Make That Most Magnificent Thing. The gameplay is elegant and wonderful, developed by one of my favorite inventor teams in the industry – Gary Pyper and Fun-Damental.
At its heart, it's a box of nearly 200 individual items – wheels, wires, wagons, frames, you name it. Players pull a prompt card and then have two minutes to design their "most magnificent thing." The kids then get to explain how their invention works. It is incredibly creative and amusing to watch.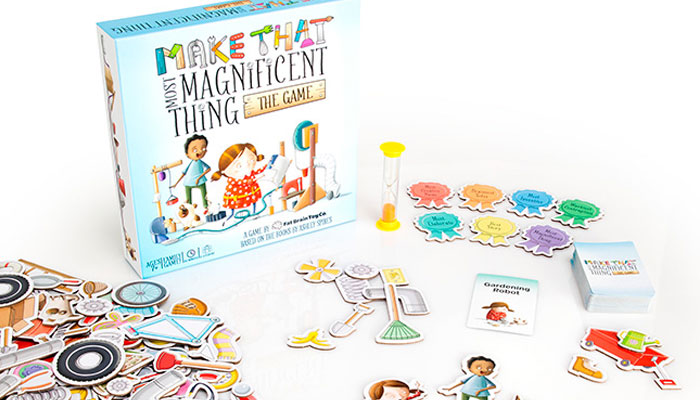 I am fond of a book I used to read to my girls called The Most Magnificent Thing, published by Kids Can Press and written by Ashley Spires. It's a great story about a young girl experiencing the joys and frustration of inventing; of trying to bring to light the magnificent thing that's in one's mind. The marriage of these two things struck me the moment I saw Gary's concept, so I reached out to KCP. They'd never done toys before but also loved the concept and off we went.
KCP and Ashley have been a joy to work with – the whole project has been a ton of fun. From a design standpoint, the logo treatment and box artwork has been a real hit – handled by Jess Norman, from my team.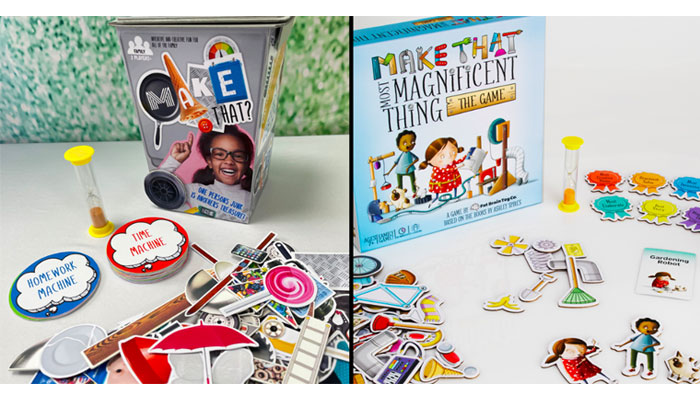 Fantastic example – and what a lovely idea. I also wanted to ask you about revamping classic items… PD teams often play a key role in breathing new life into old favourites, with fresh themes, mechanics or just a new lick of paint. This happened with a game that's been in your line for years, right?
That's right. We had a successful game in our line for over a decade called Animalogic. At its heart a clever single-player puzzle game, but it hasn't aged well.
In what way?
The prior iteration had a very academic feel to it – perhaps appropriate for the time. I tasked my team with reinventing this item in a more contemporary, fun and storyetic way. To that end I seeded a name and a backstory. Then illustrator and graphic artist Kevin Mathis took the baton and ran. The result is now called Zoo Rendezvous.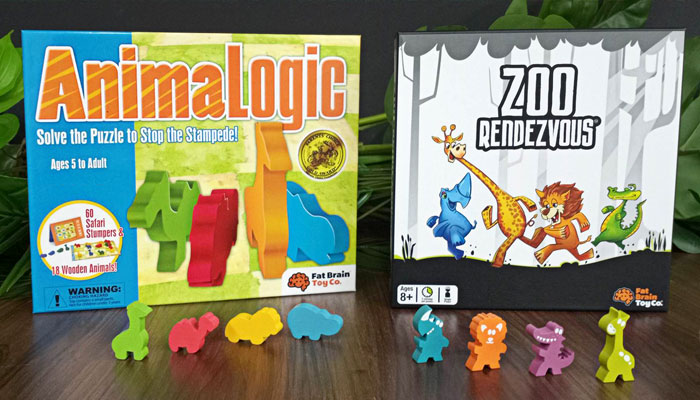 When you look at them side by side it's night and day!
It has the exact same game mechanics, but now it's a story about four animal friends who are sneaking out of the zoo each evening for a night on the town, only to sneak back in before dawn. I just love the illustration style Kevin devised. We rethought every little detail of the game, down to the shape and finishes of the box. It will be interesting to see how it performs this fall.
Before we wrap up, I recently had the pleasure of chatting with Kate Hunt, inventor of your first 'Gen Con' style family strategy game, Ultimate Treehouse. Why move into this space?
Strategy gaming continues to be one of the most vibrant and fast-growing sectors of the games industry. I spent a lot of time studying the space in my prior role and when I arrived at Fat Brain, it occurred to me that there's a lot of overlap in the qualities of strategy game consumers and in our own Fat Brain DTC audience.
We didn't have anything to offer in the space so I wanted to establish our brand among the 'Gen Con' crowd. I am also personally interested in this specific area of games, so it scratched an itch for me.
What was it about Kate's game that appealed? And did it transform much from pitch to shelf?
I met Kate at ASTRA exactly one year ago. Her game – previously self-published – was a slam dunk for the niche I was looking to carve out for Fat Brain: 8-10+, family strategy and story/character driven. She had designed a great hook which is a tile-overlay mechanic that allows players to build their ultimate treehouse and see it come to life. From there the game did evolve quite a bit, however.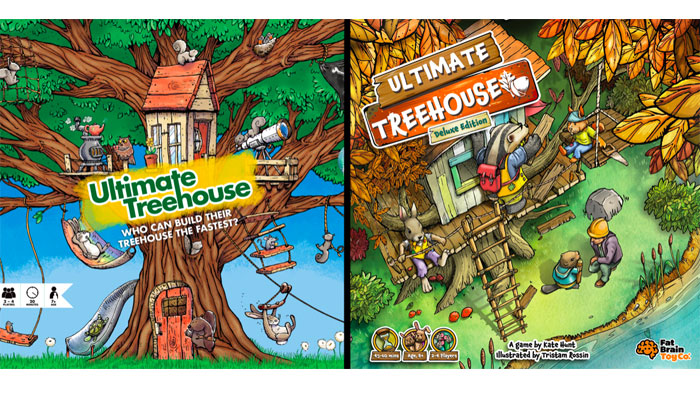 Most notably, we revamped all of the artwork with the help of the talented Tristam Rossin. We also reworked aspects of the game which we felt were necessary to age it up in order to better position the game for the audience we were targeting. We carefully added some complexity that allows greater interest for older players, while keeping the game accessible for younger fans. We also moved some mechanics out of cards in order to create a more interesting table presence.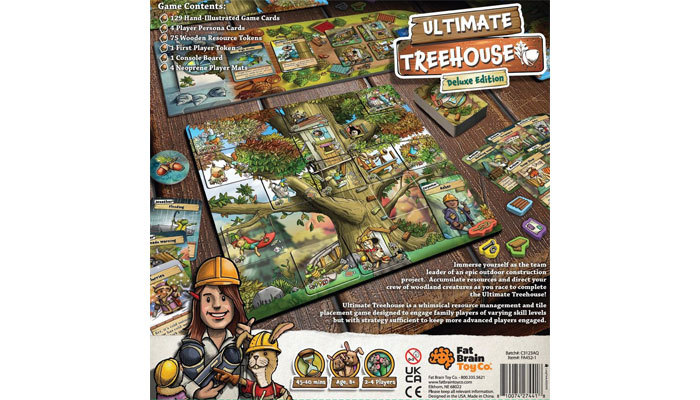 At the end of the day, it's a gorgeous game at an accessible USD $35 MSRP and we're really encouraged by early sneak-peak responses.
Fun fact – the architect character on the back is modeled after my wife, Jen, who is a commercial architect in real life … although she's never done a treehouse – yet! However, we did rent one recently… A decision absolutely inspired by the game!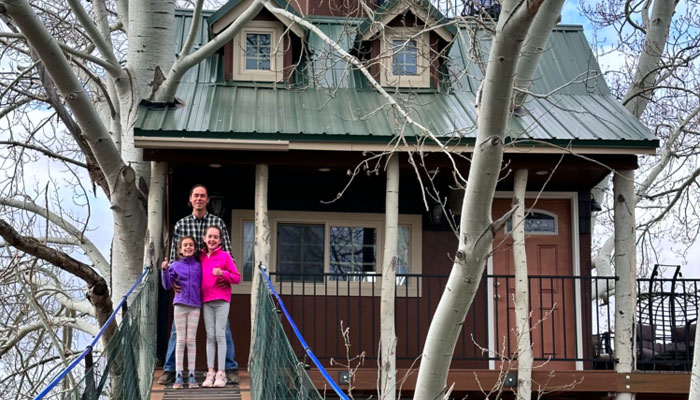 Look at that! Looks fantastic. Adam, as always this has been a pleasure. Good luck with all of those products mentioned and I'll see you in London in two weeks!
–
To stay in the loop with the latest news, interviews and features from the world of toy and game design, sign up to our weekly newsletter here