Fat Brain Toys teams with Make for Kidventor Challenge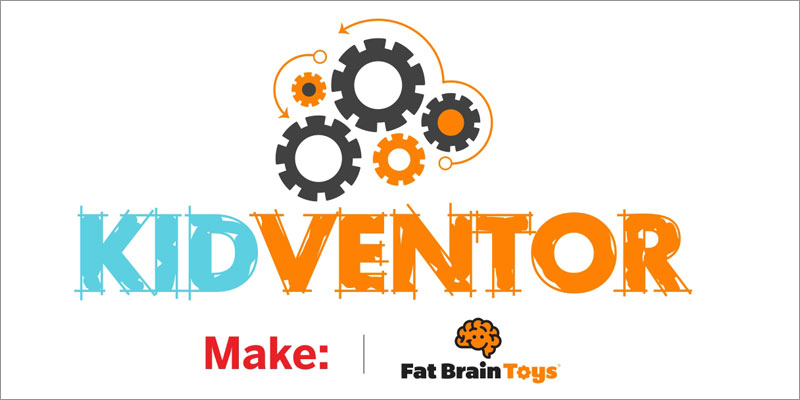 US retailer and toy developer Fat Brain Toys has partnered with Maker to launch the Kidventor Challenge.
The Kidventor Challenge gives children in first through to sixth grade an opportunity to submit toy or game ideas for the chance to have their concept brought to market by Fat Brain Toys.
The winner will receive a $2,500 advance scholarship, and a deal that offers royalties, as well as round trip airfare and hotel accommodations for two to attend the 2018 US  Toy Fair where the winning toy or game will be showcased.
"We strongly believe in the power of pure, authentic play," said Mark Carson, CEO and co-founder of Fat Brain Toys.
"It fills children with a desire to explore, discover, build, experiment, and be curious about the world around them. Since this company was founded, we have dedicated ourselves to helping parents enrich their children's lives with play. The Kidventor Challenge is yet another opportunity for us to inspire children to create and explore innovation."
Dale Dougherty, founder and CEO of Make, added: "We believe when kids grow up with a maker mindset, they grow up with a constant sense of curiosity, wonder, and playful ambition.
"They grow up convinced that anything is possible and the overwhelming complexities of the world become endless opportunities for creativity and fun. The Kidventor Challenge is a great way for us to encourage even more kids to embrace creativity and learning. I cannot wait to read all the submissions and dive into the incredible ideas I know we will receive."
Participants can share their ideas by submitting the name and description of their invention, accompanied by an image or drawing (optional), at www.fatbraintoys.com/kidventor.cfm
The Kidventor Challenge ends November 14th, 2017, and the winner will be announced in November.