Flair, HTI and Plum Products complete Mojo Pitch 2018 line-up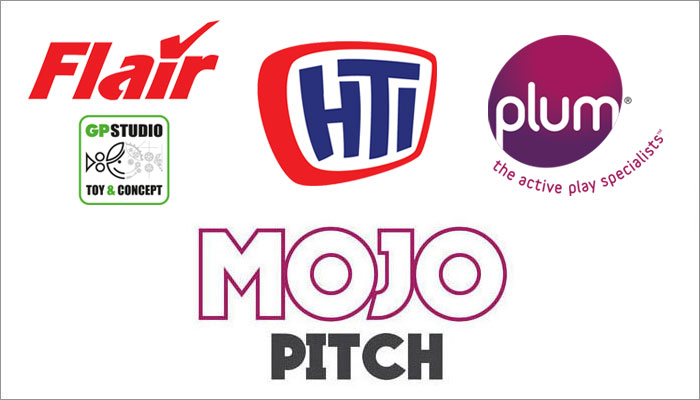 HTI, GP Flair and Plum Products will be taking part in the inaugural Mojo Pitch event this September.
Forming part of the Play Creators Festival, the Mojo Pitch will take place on September 11th at London's Emirates Stadium, and will see toy and game designers, invention houses and design agencies pitch exciting new toy and game concepts to a range of companies, each on the lookout for new products.
"Participating in the Mojo Nation Pitch represents a great opportunity for GP Flair and the Giochi Preziosi Group," said Andrew McKay, development director at Flair Leisure Products.
"Not only will it be a great opportunity to meet some fresh new inventors and to learn and share ideas, but it's the perfect place for us to network with friends and colleagues from the toy and inventing community. We are looking forward to a productive couple of days and are delighted to be on board!"
Plum's commercial director, Paul Schaffer, added: "We at Plum love being involved in new fun innovation which help shape and make a childhood. The Mojo Pitch event is a fantastic opportunity to see new ideas and meet lots of designers in one place, in a cool location."
HTI's head of UK design, Lee Glickman, added: "As a company of toy lovers, we strive to be ahead of the times, push the boundaries of design and are always on the look out for the next big idea. Fun isn't something we simply manufacture: it's a passion you have to feel, a sparkle that ignites conversations that transcend 'why' and 'how'. We are super excited to be part of the Mojo Pitch event and can't wait to meet the inventors."
HTI, Flair and Plum join the already announced Hasbro, Spin Master, Cartamundi, Worlds Apart, Sambro, TOMY, Entertoyment, Alpha, Vivid, Character Options, Rubik's, Bananagrams, WowWee, Drumond International, Seven Towns and Wynne-Jones IP in being involved in this year's Mojo Pitch.
Each company has provided wish list, outlining what they are looking for in terms of product, ahead of the event. To see these lists, and to book your ticket to the Pitch, head to mojo-pitch.com.
For more information on the wider Play Creators Festival, head to: playcreatorsfestival.com.