Fog of Love LGBTQ expansion on the way from designer Nikki Valens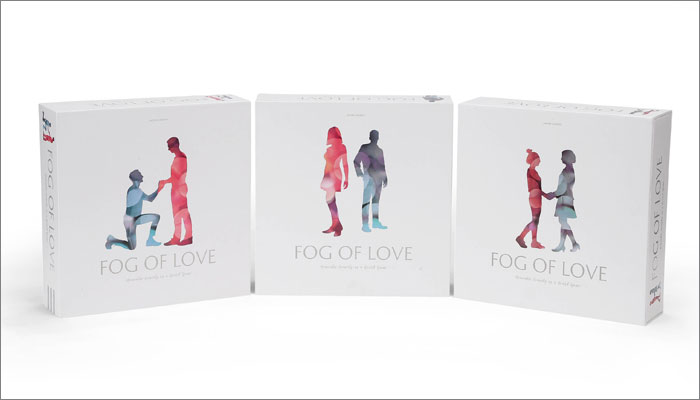 A LGBTQ expansion to hit romantic comedy board game Fog of Love is in the works from designer Nikki Valens.
The expansion will focus on telling stories about queer relationships, and ahead of its arrival, Fog of Love has also launched two new LGBTQ covers as a direct result of consumer feedback.
One features two women holding hands and looking into each other's eyes, while the other is of a man proposing to another man. These join the original cover, which depicts a man and woman side by side.
"We wanted to make the original game as inclusive as possible," said Fog of Love creator Jacob Jaskov.
"However, I'm a heterosexual male and no matter how much I tried, there were a few details I was bound to miss or be inadvertently blind to. When we launched the game last year, people loved that we'd made queer relationships possible in the game through the gender neutrality of characters, but feedback suggested that some elements felt awkward. When we initiated the reprint, we saw a chance to improve on this."
Fog of Love hired Nikki Valens, designer of Eldritch Horror, Mansions of Madness 2nd Edition and Legacy of Dragonholt, as a consultant to check every card and scenario, with the aim of ensuring the core game does the very best job of representing LGBTQ relationships. Her perspective as a member of the queer and transgender communities has ensured that scenes are more reflective of LGBTQ relationships.
The changes she has made are subtle but important and will be included in all future copies of the game, while the prototype for her LGBTQ-focused Fog of Love expansion will be at SHUX and Spiel 2018 in Essen.
"When I first heard about Fog of Love, I was very intrigued," said Valens.
"Romance is my favourite genre to read or watch, and I was excited to see how board games could approach the subject. The game really manages to capture the feeling of a romantic comedy or drama, but after playing the first time, something felt a bit 'off' to me. There were minor details that didn't sit right with me. Not enough to make me not enjoy the game, but enough to make me feel uncomfortable. It was as if the game was meant for someone else.
"I was excited for the chance to dig deeper and bring some of my experiences into the game, experiences that I know are shared by other members of the queer and trans communities. I'm happy with the changes we've made, and I think they make the game more inclusive for a queer audience."
The new edition of Fog of Love in all three covers will be available in the coming weeks.