From Bad People to Hot Seat, Dyce's Mike Lancaster on his path into party games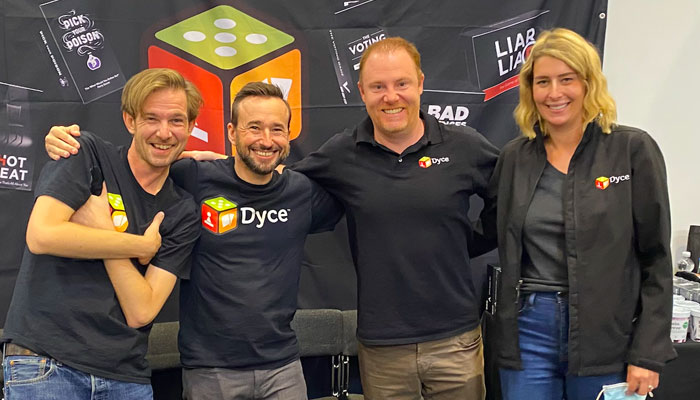 Mike, it's great to connect. Before we dive into all things Dyce, how did you find yourself working in board games?
Games was a huge part of my childhood. Games like Rummy, Scrabble, Monopoly… My whole family loved games. Then, later in life in the 2000s, I got into the world of poker and competed against the best in the world at the World Series of Poker, which was a lot of fun. I started a successful sports marketing business that I eventually sold to a private equity firm in 2015.
After the sale I was trying to figure out what I wanted to do next. I've always loved party games so I made my first game – Bad People – in 2016 and that started the business. So, it started off as a passion project and became a business.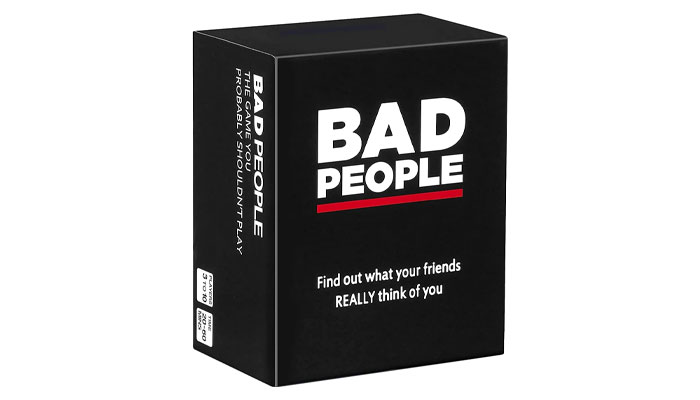 Was there a big barrier to entry launching a company in an industry that was new to you?
The sports marketing sector and the games industry are two very different worlds. There's lots of information out there about the games market, but you learn it piece by piece. There's no playbook – I'm still learning now! It's an awesome space and people are friendly and nice. It's been a fun and challenging ride to go from one game concept to a business that's doing over $10m in revenue a year. It's been exciting.
Amazing. You mentioned it all started with Bad People. Talk us through that game.
Well, I wanted to create an adult party game that I really wanted to play. I felt Cards Against Humanity was good, but that a mechanic where you could make fun of your friends with some brutal questions would be more fun. The concept for Bad People came from that.
It's a voting mechanic game, where you're voting for your friends in response to 'least likely to' or 'most likely to' questions. Each round, you're trying to get into the head of the question master as you want to guess who they'd vote for, which is fun.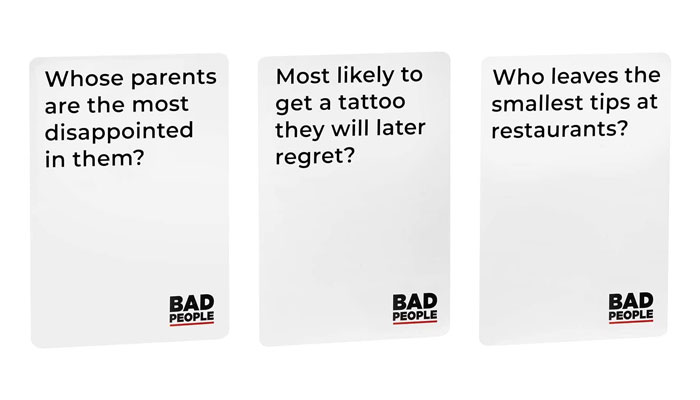 What was it like getting retailers on board initially?
I didn't know how to get a game out into the market! I took it to Kickstarter and then to amazon, but I didn't know anything about distribution or retail. It was a huge learning curve. I did make some classic mistakes – the original Bad People box had a middle finger on it… That's definitely not appropriate for retail! You learn these things over time!
How did you go from a one-game company to having a whole portfolio?
About a year after Bad People, I got the itch to create my second game – which was Bad Choices. It's an adult party game that's essentially 'Never Have I Ever…' meets UNO. You read out a question and have to pick people around the table you think would say yes to it. It's a lot of fun.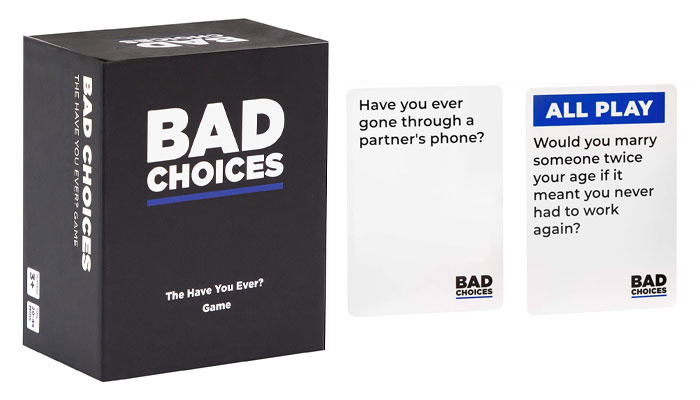 That game was off to a good start and then I had an opportunity to purchase the Player Ten portfolio. They had some great games, including my favourite game of all time, Hot Seat. With my marketing background, I felt I could really supercharge the sales of some of these games, so I acquired Player Ten's line-up.
You mentioned Hot Seat being your favourite game and now it sits proudly in your portfolio. For anyone new to it, what makes that game special?
Hot Seat is a game where you have to get into the mind of the person reading the question card. They could have a question like 'What would be the first thing I'd buy if I won $1 million?' The person reading the question – or the one in the Hot Seat according to the game – writes their answer, and then everyone else writes an answer that they feel the person could've written. Everyone has to work out which answer genuinely belonged to the person in the Hot Seat.
The cards are very suggestive, so it's only as rude as the people you're playing with. It's still my favourite game and we sell over 250,000 copies of that game each year.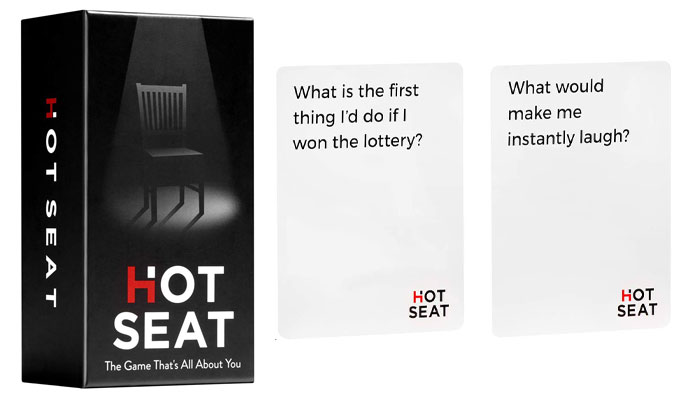 Fantastic. Other games in your range includes Pick Your Poison, Brain Freeze, The Voting Game… Is there anything that connects them all? Do they all share any traits?
Up until this year, definitely! We used to say that all our games are about the players at the table. You learn about the players at the table. That said, we've recently moved into the licensing world with our first trivia game, which is a collaboration with the History channel. It's very exciting and that's our first game that's not in the party game space.
Exciting. The History channel is not an obvious brand that you'd like to the board game space. How did this partnership come about?
It's been a really great partnership. A+E Networks, who owns the History channel, reached out to us and said: "Hey Mike, we see your games everywhere. Would you be interested in partnering?" They showed us their portfolio of IP and asked us to come up with a concept that we felt could work. One of our team members said "Why is there not a History channel trivia game out already? It feels like there should be one already on the market." That was the a-ha! moment for us.
The game we've created is a trivia game, but the action is fast-play with each player only getting to answer one question on their turn. There's also a fun mechanic about putting down cards from certain categories to block other players who are doing well. The History channel loved the idea and it'll launch in February 2023.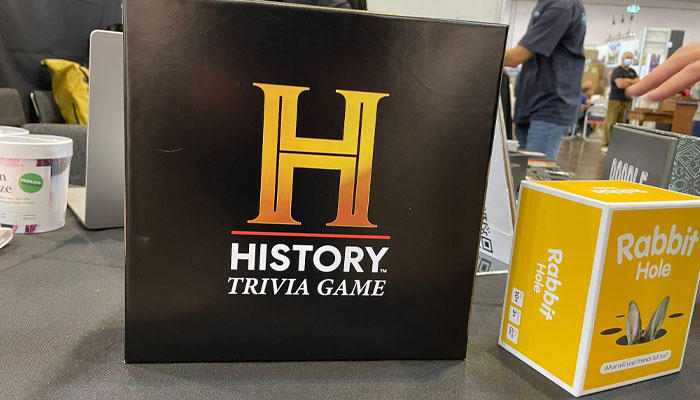 We'll keep our eyes peeled for that. Going back to party games for a moment, what, for you, makes for a successful party game?
If you can't learn one of our games in two minutes, we've done something wrong. That's what makes a good party game – it has to be easy to play and it has to be exciting to play. People want to get into games right away, so if it's not something you can learn in two minutes, it's not something we want in our portfolio.
Great insight for inventors there. On that, do you work with inventors?
Absolutely. We have some licensing deals in place with inventors already, and we're excited about that. We get three or four ideas pitched to us each week, and we're very selective about what we choose, but we're very much open to speaking with inventors. The best way to reach out to us is at https://dycegames.com.
Good to know! Party games is obviously quite a crowded sector at the moment. Do you think it's in a good place creatively?
I don't think we're seeing much uniqueness right now. Party games are super popular, but a lot of the launches tend to be similar. We're really looking to break that mould and come up with things a little outside of the box. That said, there's been some really great games and there's room to welcome new mechanics into the sector all the time.
Mike, I have one last question. What helps you have ideas?
I have ideas when I'm out on a run, and sometimes I'll have ideas randomly when I'm out having a few drinks chatting with friends. You'll be talking and suddenly think 'Hey! That could be a game!'
Running and drinks – there's the formula! Mike, let's tie-in again soon.
–
To stay in the loop with the latest news, interviews and features from the world of toy and game design, sign up to our weekly newsletter here