Funko Games' Deirdre Cross on fandom, collaboration and the firm's new real-time co-op game, Last Defense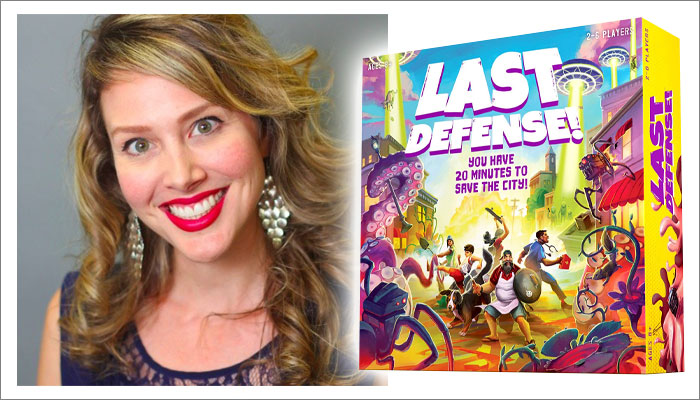 Deirdre Cross is Director of Product Development at Funko Games, the arm of Funko that in recent times has helped bring brands as eclectic as Back to the Future, Footloose and even Pan Am into the games space.
With lots of buzz around the firm's most recent real-time co-op game, Last Defense, we caught up with Deirdre to find out more about the power of collaboration, the best way to translate brands into play experiences and the game that set her on the path into the toy industry.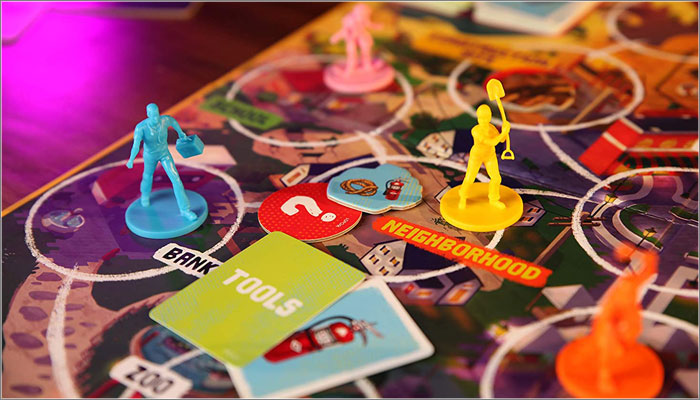 Hi Deirdre; great to catch up! So to start at the beginning, was a career in game design always on the cards?
I've been in the games business for about 14 years, but I definitely came from a game-playing family. We played a lot of games, and mostly a traditional assortment of Monopoly and Trivial Pursuit and things like that. For me, because I have a big family, games was a time for us to sit down and come together. I've never lost that element of how games can make you feel when you come together with your family, set squabbles aside and create memories together.
When I was growing up, there weren't really any co-operative games out; it was all competitive games. Once we hit the 2000s and a few co-op games started to come out, playing those was a real eye-opening experience for me. There was one game in particular that stands out called Break the Safe, published by Mattel. I played it with my husband and his cousin and it was an awesome, crazy, stand-up experience – which we lost! We played the game something like four times in a row because we wanted to beat it, but it was so much fun. That game made me love playing games again.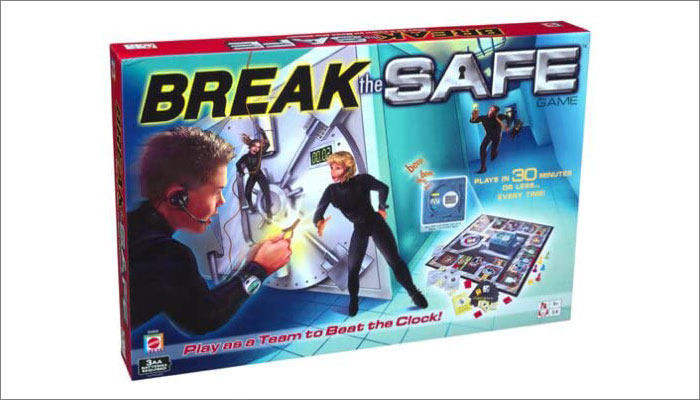 So Break the Safe sparked a search for a job in games?
Well at the time, I was working in the software industry and I was looking to make a change. My background is actually in filmmaking; I went to school to make films and I really see myself as a storyteller, so I was looking to get back into the creative space. This job at a game studio called Forrest-Pruzan Creative came up and I looked at their website, and that's when I realised the game I loved before and that was such a transformative experience – Break the Safe – was one of their games; they had invented it for Mattel.
So of course, I wrote to the guys and said 'hey, I don't have any game experience, but I saw the job and playing your game Break the Safe was transformative for me. Even if you don't call me back, thanks a lot for making that thing because it's awesome'. They called me in for an interview and couldn't believe I had played their game, but that's the power that games have; think about how they make you feel and how they can transport you to another place and time. I've been chasing that for 14 years, because I want to give that to everyone.
Did you jump straight into a design role at Forrest-Pruzan?
Well I was lucky enough to be at an organisation that really encourages people to grow, to follow what they're good at and discover what they're good at. I came in as a production manager, running the playtesting programme and learning about the industry. Over the years, I eventually become VP of Product Development for that studio, before we were acquired by Funko.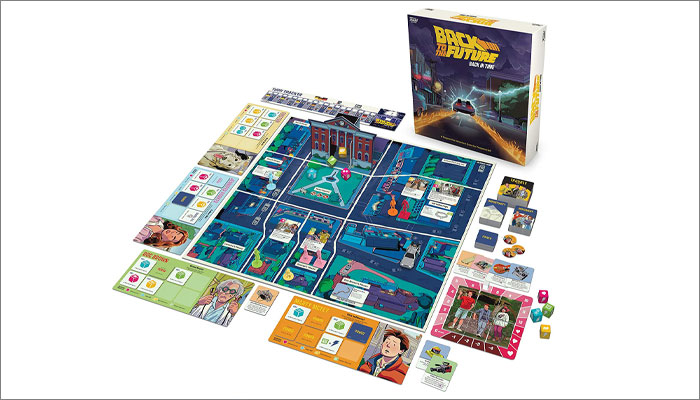 Over the years your team has created countless amazing games. Jaws, Horrified, Villainous, and plenty more as Forrest-Pruzan; and more recently as Funko Games there's Pan Am, Godzilla Tokyo Clash, Back to the Future: Back in Time, the Funkoverse series…the list goes on. It's a varied portfolio of styles and licences, so how would you describe your team's approach to game design?
The games market is always changing, and so the types of games that we make has shifted over the years. We try to keep our finger on the pulse of where the market is going by talking to people, by looking at the hobby space and by looking at mass as well. In everything we approach, we look at what the experience will be and what is the story we want to tell.
If you look at our work, and I think I've worked on around 500 games now, every one of those is very different. We're always trying to create the best experience for fans of that property, or if it's non-licensed, we want to create the best experience for the story we want to tell them.
And many will see the name Prospero Hall on your games… Rather than being the secret weapon on team, that's actually the name for the collective group of all of you. Where did that name come from?
We were working as an independent invention studio and licensing our work all over the world, but European publishers wanted a name to put on the front of the box. Our company name was on the back of everything we'd done, but they wanted an inventor's name to put on the front. Because of our collaborative nature, it didn't feel right to us to put the name of one person from our group on the box, so we made up a name!
Well it's a memorable name! And that makes sense because you're quite a big team right?
Yes, there's 30 of us. And the collaborative nature of our team is so important. If we did put one name down, you could imagine that one person then takes all the credit and it's suddenly all about their reputation. Once it's our reputation, our games and our story that we're telling, it belongs to all of us and we succeed together. It's a different mind-set than having an individual auteur.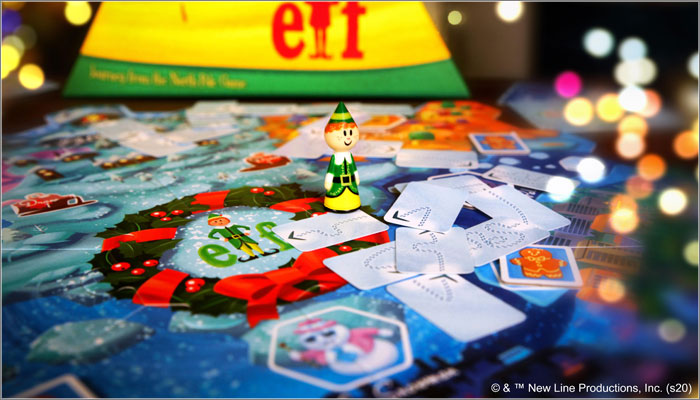 You're spot on; when it comes to toy and game design, it takes a village.
Absolutely, and think about all the people whose contributions might otherwise be overlooked. For example, the work that our office manager does is integral to supporting us, as is the work of playtesting co-ordinators, or workshoppers who help hone the game. These people are an important part of our team and this way they are included and they feel just as proud.
What was the first game you worked on when you joined the team? And what did it teach you about the industry?
The first thing I worked on when I joined in 2007 was a Dr Seuss game. We were just starting a small publishing company called Wonder Forge, which we later sold to Ravensburger. That's when I learnt about how important the source material is. We can all think back to what we know about The Cat in the Hat, but you do have to go back and read the book. It seems silly, because it's a children's book, but re-reading the book and making sure every part of what you're doing harkens back to the source is key. People are buying a game because they love The Cat in the Hat. So that was the big thing I learned, how valuable engaging with the source material is when creating licensed product.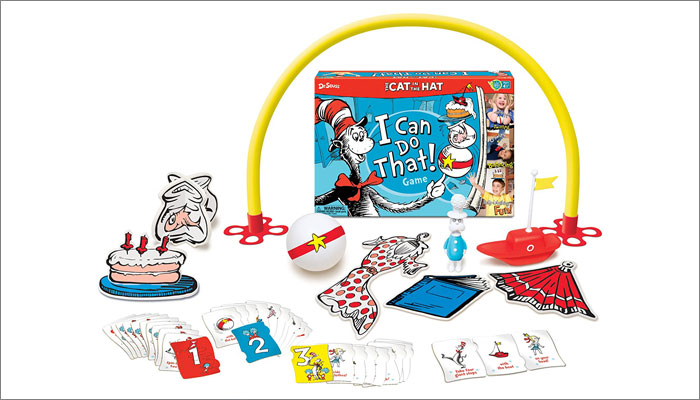 You mention The Cat in the Hat there, and games based on brands didn't always have the best reputations for being great games, but you guys have done lots to help to change that. What is the key to making great licensed games?
Here at Funko Games, when we have an opportunity to work on something, we go to our team and everyone starts brainstorming.
So let's say we ask 'what would we do if we could create a Pan Am game?' Everyone throws in ideas and then we start getting to 'who's the biggest fan of this?'; that's on the game development side, on the graphics side, on the production side. When you see people who aren't even assigned to the project walking around with stacks of Pan Am books, just because they love the story, that's when to focus them on Pan Am!
We always want to come to a project with a deep connection to a brand, because what really makes a brand sing is the fandom. We'll then usually coalesce around one big idea and the team will set out to crack that nut.
 
Was it a conscious decision for the studio to focus on licensed games, or was it a happy accident?
Consumers really like buying new things based on things they already love. If you love watching Seinfeld, chances are that you'll embrace a Seinfeld game. It's a shortcut; if you like this, you'll like that. So there were a lot of opportunities to do licensed product, but as you said earlier, licensed games had a reputation for not taking their source material seriously and not giving properties the credit they're due.
We actually got a letter from Robert Zemeckis, director of Back to the Future. He said something like 'your game is amazing, and it's so refreshing, because back in the Eighties, the games were a little bit different!' He was like 'you guys get it!' So we've had the opportunity to move the needle.
As far as heavier strategy games go, our first big licensed strategy game came in 2010 with Pirates of the Caribbean: Masters of the Seas and Disney gave us their Inventor of the Year award for that which was pretty special. That's when we really started growing our team in the hobby space and began to expand in that direction.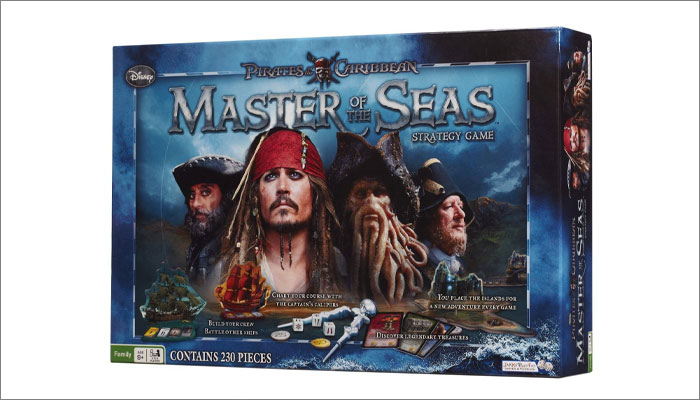 And I like that you don't always tackle brands that have a clear or obvious fit for board games. I'm thinking of recent Funko Games launches like Pop Tarts or Footloose; of which I was sold straight away just on the shoes! Do you like the challenge of adapting IP that people wouldn't expect to translate into games?
It all comes down to who's going to buy this and how do they connect to the property. With the case of Footloose, we looked at that iconic opening sequence with all the feet! People really remember that – and Kevin Bacon dancing!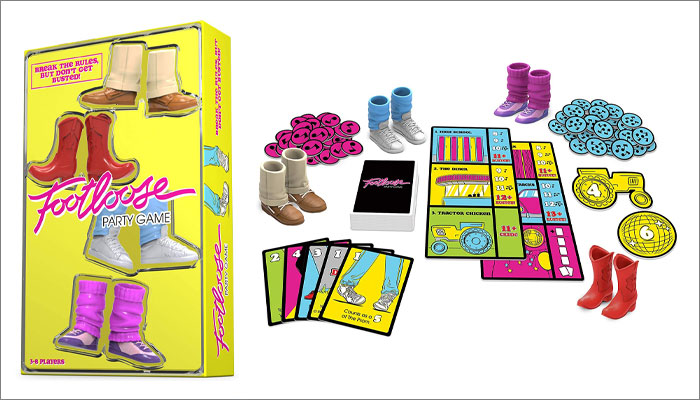 We look at how people connect to a property and what do they remember about it. There was also tension around dancing and getting busted, so the game itself is a push-your-luck game because in the movie, that's exactly what the kids are doing in the film.
What about something like Pan Am, because that one really is an exciting, unusual brand extension, and a great game to boot!
If we find something that surprises us and delights us, we'll go after it. Pam Am was an interesting one because it's a really unusual proposition; it's a corporation that doesn't fly planes anymore, so it's more of an aesthetic brand. It was great opportunity for us as Funko Games, because we are now our own publisher, we don't have to pitch that or try and find a client to bite on our crazy idea! We could decide to do it and Funko has a world class licensing team that supported us and got us the licence.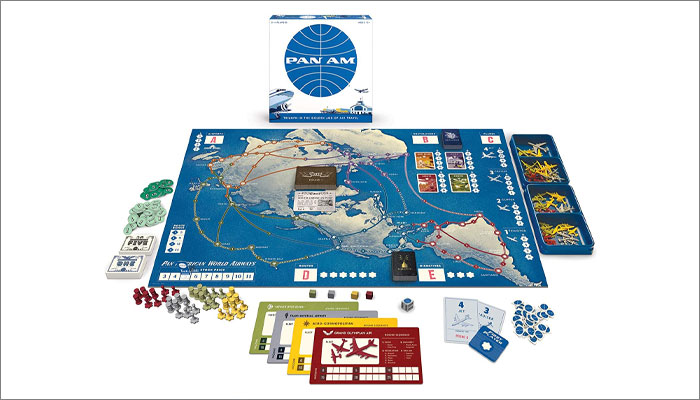 Absolutely, and on that, I think when the news broke that Forrest-Pruzan was being acquired by Funko and you were becoming Funko Games, it made complete sense because you both seem well aligned in how you approach licensed product.
Absolutely, there was so much synergy between the organisations in terms of how we see product, how we see licences and how we see the fans. As far as how we work, we're still in our crazy office here in Seattle and Funko has a beautiful headquarters in Everett. We go up there for meetings but for the most part, they want us to keep doing what we do because this team is amazing at what they do. So they do their best to let us make the magic and we really appreciate that; it's great.
We've spoken lots about your work on licensed games, but Funko Games also creates new original games, so let's talk about that, and in particular, your new game: Last Defense.
Yes, this is a good one to talk about because this is definitely available in the UK – and not all our stuff is.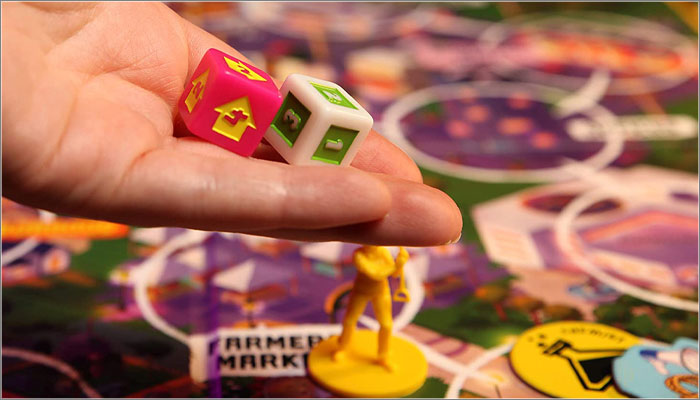 Tell me about it!
Ha! Yes that's a whole different part of the licensing business!
Ha, we'll dig into that another time! Back to Last Defense; it looks amazing. What can you tell us about it?
Well our team is known for our licensed work, but as you said, Last Defense is non-licensed. It was an exciting opportunity to tell our own story and to create something new. It's for families, is aged 8 and up and can take up to six players.
The story of the game is kind of perfect for 2020, where we have all of these crazy things attacking our city – like spider robots and junk blobs, which are not quite 2020 things but you get what I mean!
They're not 2020 things yet Deirdre, but there's still time; let's not jinx it!
Ha! Junk blobs moving through London – I hope not! But all the threats are made up things because we didn't want the game to be scary! Some places do have hurricanes and earthquakes, so all the things that are attacking are silly. But the premise of the game is that the first responders are overwhelmed, so they're asking people to help, and they become our last defense.
It actually has a bit of its lineage in Break the Safe, which we talked about earlier, in the way players work together to overcome obstacles. It has a time-pressure where this game plays in 20 minutes every single time, which is a great thing for parents. The longitudinal testing we did on this game was amazing because parents were telling us their children wanted to play it every night, and it only takes 20 minutes. Add in the fact that you're all working together and it's a really special animal.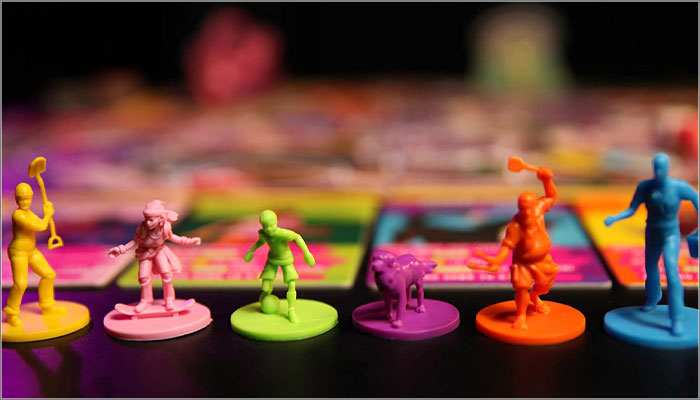 Was that real-time element the starting point for this when you starting developing it?
Yes, at its heart we knew we wanted that time pressure. By the third act of the game, we wanted players to be on their feet, shouting at the dice and passing them as fast as they can. We wanted that kind of energy.
Back in the 2000s, this kind of game would've feature a big chunky piece of plastic that you would wind up and it would start to tick down. Now, 98% of people have a smartphone in their pocket, so it's the perfect time to do app-enabled stuff, and the barrier to entry is so low.
So we knew we wanted to put the app in there, but we wanted it to be passive and auditory. There was a game out a few years ago called Five Minute Dungeon and we thought they did the app really well, so we took inspiration from that to create an app that plays music, talks to you and tells you what's going on, but there's not much happening on screen except the numbers counting down.
So the app doesn't get in the way.
Right! I don't have to pick it up and it's not more interesting than what's happening on the table or than what's happening between the players.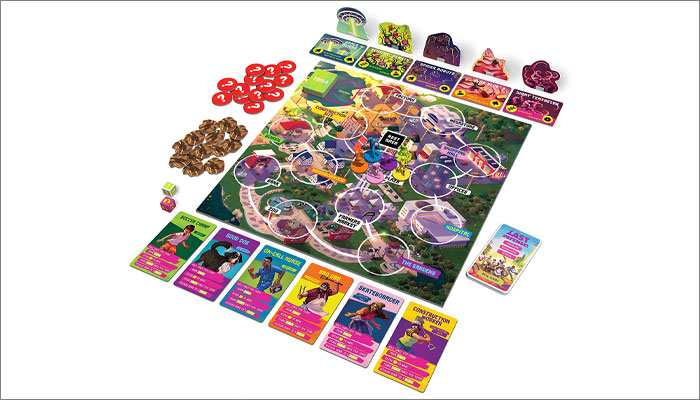 Now you're part of the Funko family, is there an added benefit that if you create an original game IP like Last Defense and it takes off, you'll have the option to create Funko Pop figures and other toys for the brand through the wider Funko divisions?
Absolutely. If we should be so lucky to generate something at that scale on the games side, it would be amazing.
I could see it with Last Defense. The artwork and the characters are great; I could see them existing as toys.
Thank you for saying that about the art. The cover art was done by Kwanchai Moriya, who is a terrific artist. But yes, there's definitely an opportunity within the larger company that if something is really working, it can cross pollinate.
We have some stuff coming out in 2021 that originated on the Funko Pop! side and last year, we did a collaboration with the Pop team on a brand they developed called Wetmore Forest. So there's definitely opportunities to go back and forth.
Fingers crossed! Speaking of Funko Pop, you guys also created the Funkoverse series of games and again, that must've been an interesting challenge. How did you translate that line into something that works as a game experience?
We started working with Funko on that in 2018, and they were a client of ours back then! We sat down with their team and talked about what Funko Pop means to people and how it connects with people. We got to see how Funko is about the fans and for the fans. When you look at someone's Pop collection, people buy what they love and what speaks to them, so we knew we needed to create a game that would embrace the Pop styling but exist within the story of the brand we'd be adapting.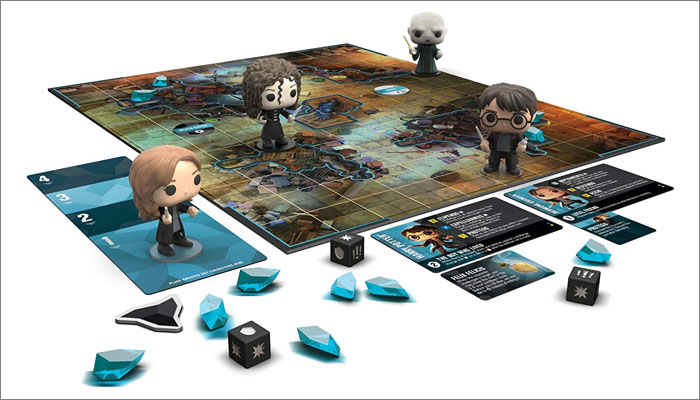 For example, with Funkoverse: Harry Potter, it is the Harry Potter story, but because it's Funko Pop, we wanted to create something that's collectable and integrated. So a key part of our process was to get into the mind of the collector.
Great. Now before I let you go, we're talking at the end of a crazy year. How was lockdown for you, and how did you keep your creativity flowing in trying times?
One of the things we do as a team to ideate is what we call 'playstorms'. This is where you bring the foundation of a game, but other people bring ideas and you play it and recreate it and play it and recreate it. That became very hard to do, so from a development standpoint, we moved to platforms like Tabletop Simulator to do our work.
There's another thing we like to do that, luckily, we've still been able to do during lockdown. I'm a big believer in movement fuelling creative thinking. If we have problems we need to solve, I will write them down and then go for a 45-minute walk. In pre-Covid times, my development partners would come with me, and away we'd go and we'd walk until we figure them out.
I also always carry a piece of paper and a pen with me. I want to write an idea down so I don't forget it and so I can forget it. It means I don't have to remember it and that frees me up to have more ideas.
That's beautifully put! Well thank you so much for this Deirdre; I'm a huge fan of the work you're doing at Funko Games and I wish you guys all the best with Last Defense.
—-
To stay in the loop with the latest news, interviews and features from the world of toy and game design, sign up to our weekly newsletter here