Funko Games' Deirdre Cross on Cranium: 25th Anniversary Edition – and why the brand continues to thrive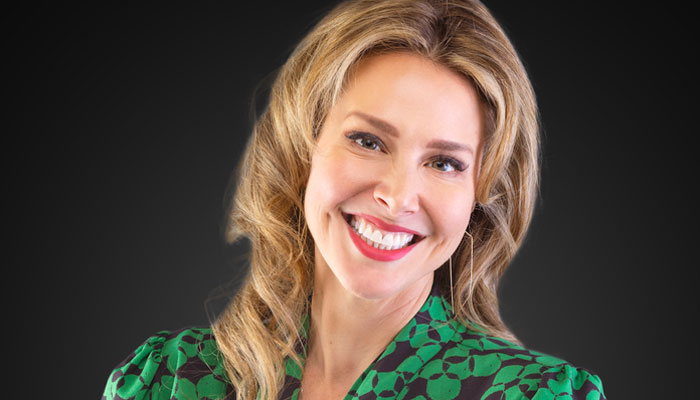 Deirdre, it's always great to chat. Exciting news from earlier this year is that Hasbro has partnered with Funko Games to relaunch Cranium. And this spans both the core game as well as a suite of other Cranium titles. You and the Prospero Hall team at Funko Games have a history with brand already, right?
The original founders of Cranium were based here in Seattle. It was a Seattle company, a Seattle invention and it even launched at Starbucks, which is another Seattle company! Forrest-Pruzan Creative – our company that was acquired by Funko and became Funko Games – was also starting around the time that Cranium was becoming a household brand.
Back in those early days, we partnered with Cranium on several of their products – and some of those are now being relaunched as part of this slate of games. That includes Hoopla and Hullabaloo, which won Game of the Year twice!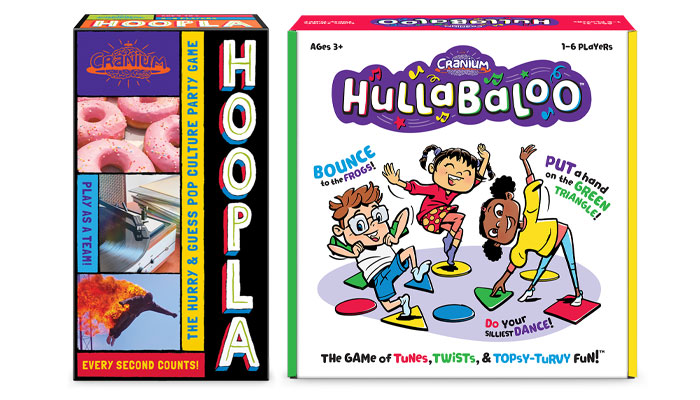 It's a homecoming of sorts!
Exactly, and we still have all of the original notes back from when we developing those games. We have deep knowledge of the brand – right down to the fact that the team uses purple pens when working on the project!
Ha! Of course! Now, not all of Cranium's contemporaries get to the 25th anniversary milestone. Why has the game endured?
Well, as you know, we do a lot of licensed games here at Funko Games and we love bringing stories to the tabletop. Part of that is about tapping into the nostalgia and affection people have for certain films and brands. Cranium is an interesting one in that, like a lot of properties we work on, there's a huge affection from consumers for the brand and the experience. I think that's down to how ground-breaking Cranium was when it first came out in 1998. It wasn't just charades. It wasn't just drawing. It wasn't just trivia. It gave everyone a chance to shine and made people feel good. Consumers remain nostalgic for that feeling and it's one of the big reasons as to why we wanted to bring Cranium back.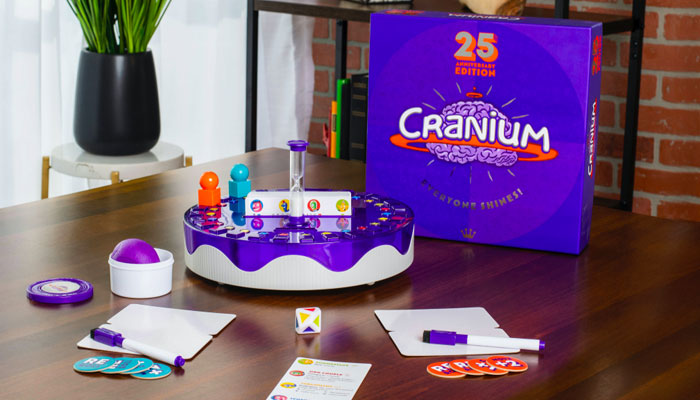 And bring Cranium back you have! What should we expect from Funko Games' Cranium: 25th Anniversary Edition?
We took the original game and identified the must-have parts of it. The team play, the chance for everyone to shine, the different methods of play… Then we expanded the different activities that were in there and also refined some of them. The favourites are still in there – like Cloodle and Sculptorades – and there are some really funny new ones. We also created a really cool new caddy that the game stores into, but you also play the game on top of it.
This version of the game is for two teams, where the previous version catered for four teams. What was the thinking behind that?
We found in larger play groups, it took a very long time for your turn to come around again… With four teams, you were losing people to their cell phones. Our attention spans aren't quite what they were 25 years ago, but the two team version really keeps people engaged. We applied a modern sensibility to the gameplay experience.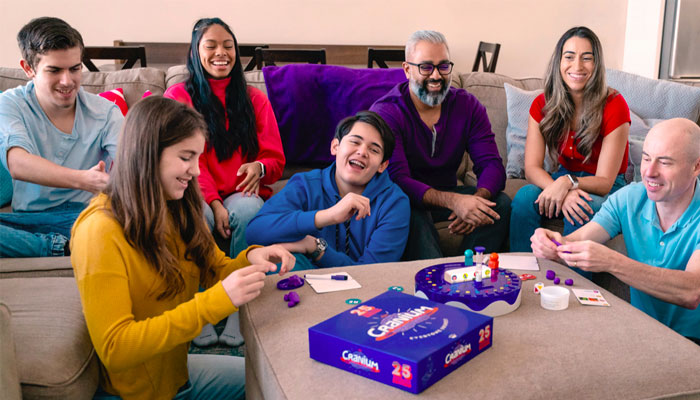 Your Cranium collection also includes a brand-new game for the brand in Cranium Big Brain Detective. How did this idea take shape?
Well, kudos to our partners at Hasbro who own the Cranium brand. They recognised our passion for the brand and were excited to partner on new concepts. Cranium Big Brain Detective is the first of those to come out. You saw it at London Toy Fair – it has a huge, immersive game board and the gameplay centres around solving a series of little mysteries. There are 200 to solve in the game. Each mystery has a key to guide players towards a certain part of the board and then you have to search for clues. Once you've solved it, each card has a little story on it and a bonus activity too.
Kids are awesome at this game. When we were playtesting it, they were immediately crawling over the board and obsessively looking at every little thing. Meanwhile, parents are over there focused on the cards. It's great fun and it's been cool to gamify a play pattern that's usually found in picture books.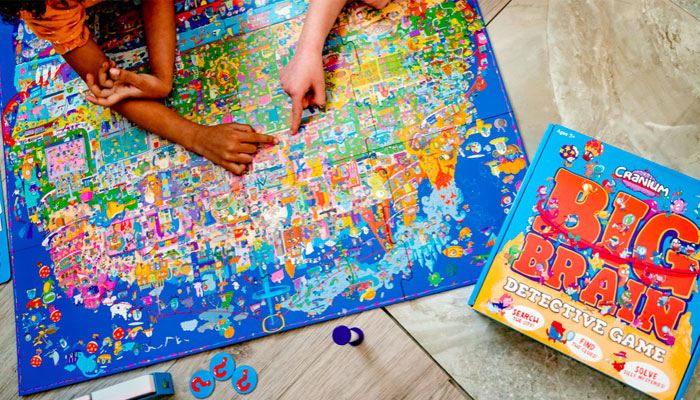 Going back to the size of the board. As you mentioned, it's huge and for some companies, that would've been a pain point. What steered the decision to go with that?
In playtesting, we saw that when you have a board as detailed as this one, children will crawl on top of it very naturally. Even if you put it up on the table, children will try and crawl onto the table to play it! So we knew it'd be played on the floor. We then started exploring the size of what we wanted to do and durability of the material; that was a huge process. We looked at all kinds of things – Tyvek, ripstop nylon, taffeta… We found that making it out of paper board was effective, but to reduce the wear and tear we cut the board into four strips that lock together like a puzzle. But yes, it's called Big Brain Detective and we wanted it to be huge – and it actually started out even bigger, if you can imagine! This is the small version!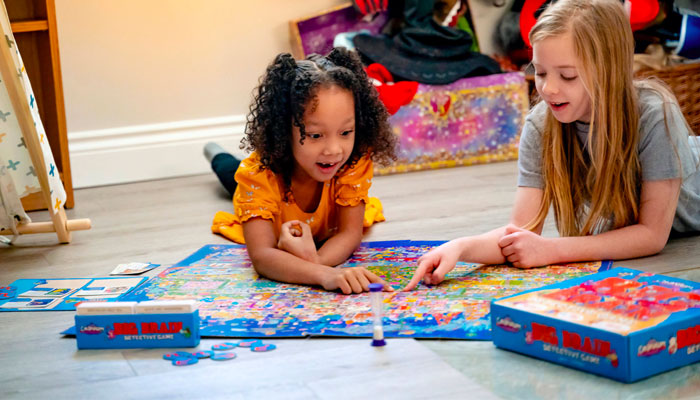 Ha! Great stuff. Now, away from Cranium, Funko Games has recently launched a wave of exciting Disney games that I wanted to dive into. Let's start with Disney Animated – production value-wise, this was one of the best things I saw at London Toy Fair earlier this year. For anyone that hasn't seen it yet, how would you pitch it?
Disney Animated is a co-operative game where you take on the role of the Disney Animation Studio. Each player is producing their own Disney film, meaning we need to complete background animation, we need ink and paint to do our cel animation, we need grit, courage and inspiration. Time is working against you – there is a deadline that you need to complete your films by.
It's a beautiful celebration of the process of animation and it has a healthy sprinkle of Disney magic over the top. And with each film you're working on, the art direction is tied to a 'concept art' look… I haven't seen art like this in any other game. It's really striking.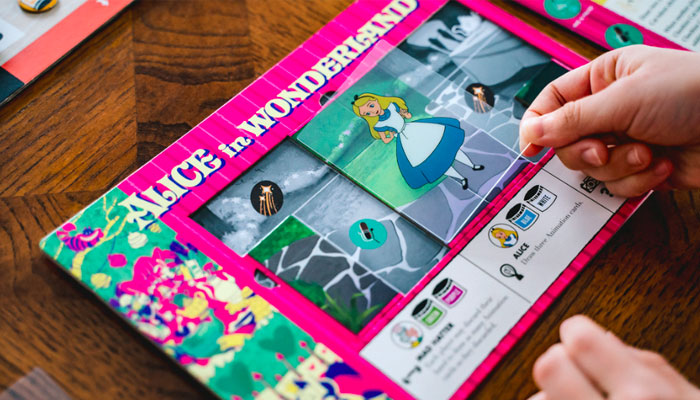 Absolutely. The characters are on transparent cards so it really feels like you're constructing a scene.
We knew we wanted to create a game about animation and we knew we had to have the cels. And it's functional to the gameplay – it's not just a special visual.
Disney Animated features Snow White, Alice in Wonderland, Fantasia, Aladdin and 101 Dalmatians. How do you choose which films to feature in the game?
It's partly informed by Disney and their plans around things like future live action adaptations, but other factors come into play to. For example, it was important for Snow White to be in there because it was Disney's first feature film. We also wanted to pick films from several different eras – Aladdin gets our millennial friends excited about the game!
Is the plan to do further sets that introduce more movies?
Disney Animated absolutely has the potential to become a gaming brand and it's designed to have the space for that. There's 100 years of stories to play with and lot of opportunities if fans connect with the game.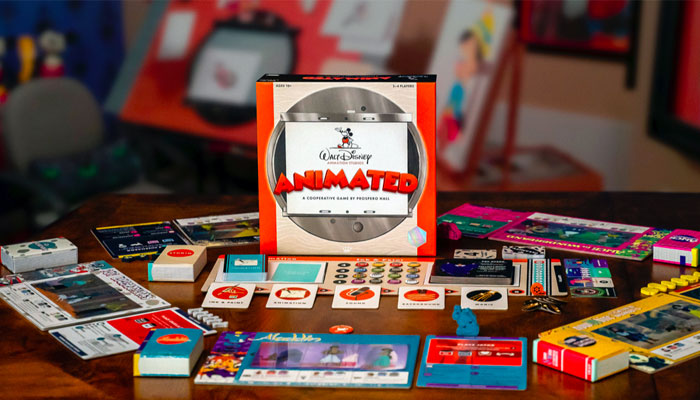 Fingers crossed. Now, before we wrap up, a quick look at the rest of the Disney range. You have Cars Launch N Race – there's an fun looking gizmo at the heart of this.
Yes! At the centre of the board is a launcher. You place your car – either Mater or Lightning McQueen – against the starting block and there's a mechanism that you flip to send them down the launcher. Where you land dictates where you then head to in Radiator Springs. There's a little bit of skill there, but it's a really fun, gentle pre-school game.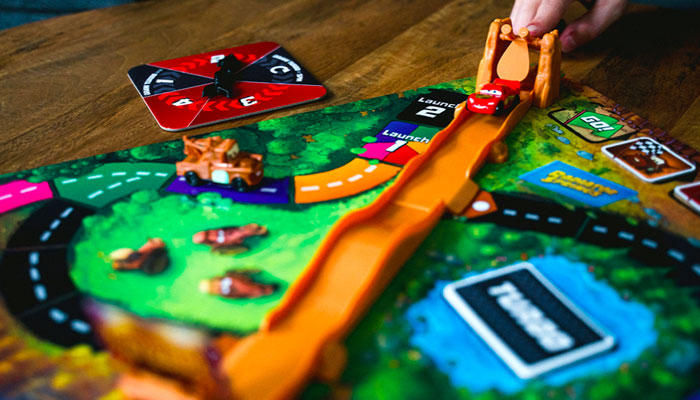 Staying with fun game pieces, there's also Disney Villains Sinister Spoons. How did that one come about?
Party games are a big part of the market – and an area that continues to expand – and we wanted to do a big energy, speed-play party game aimed at families. We looked at play patterns that families are familiar with and Spoons is a classic… And if we're putting spoons in, they should look amazing! Each one is tied to a different villain and it's a really wild game – it's a scream.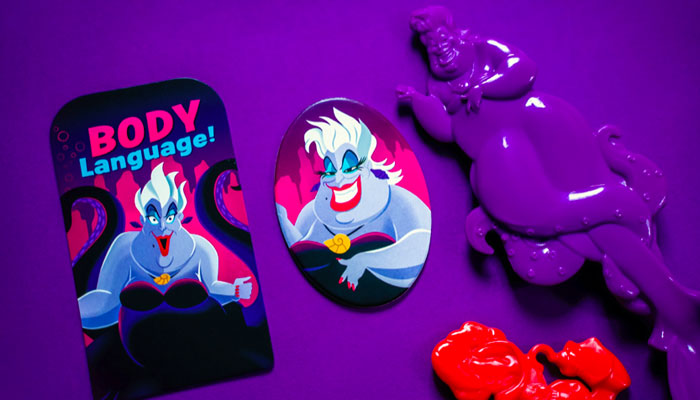 It looks it! Deirdre, this has been fun; a huge thanks again!
–
To stay in the loop with the latest news, interviews and features from the world of toy and game design, sign up to our weekly newsletter here