Funko Games details slate of Indiana Jones games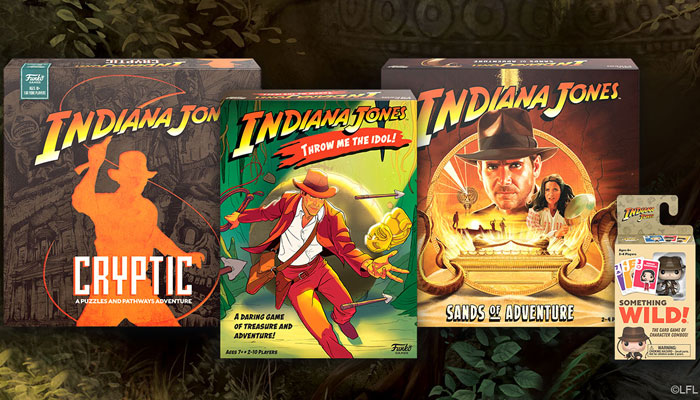 Funko Games has debuted a range of Indiana Jones games, including a party game, a strategy title and a mystery game.
"Collaborating with Lucasfilm on Indiana Jones has been a dream, with the whole Funko Games team flexing their creative muscles as we designed a truly original slate of games," said Deirdre Cross, Head of Funko Games.
"Our new product line captures the excitement and adventure of the Indiana Jones franchise while also providing a broad range of fun and challenging gameplay experiences for players of all levels."
Indiana Jones: Throw Me the Idol is a frenetic party game that sees teams battle it out across 12 'out-of-your-seat' challenges before grabbing the Golden Idol to win.
On the strategy front, Indiana Jones: Sands of Adventure sees players step into the shoes of Indiana Jones, Sallah, Marion Ravenwood and Marcus Brody in a timed battle to save the Ark of the Covenant. If the sand timer suddenly swings over, it triggers a race to survive.
Elsewhere, Indiana Jones Cryptic is the first in a new interactive mystery game line of "Puzzles and Pathways Adventures" from Funko Games. In Indiana Jones Cryptic, players follow clues from Dr. Jones' journal to solve a wide variety of intricate challenges across three separate adventures based on the first three films.
Finally, Funko is bolstering its Something Wild card game brand with an Indiana Jones edition featuring a collectible Indiana Jones Pocket Pop! figure.
–
To stay in the loop with the latest news, interviews and features from the world of toy and game design, sign up to our weekly newsletter here