Fuse's Tim Rowe on the best way to get someone excited about an invention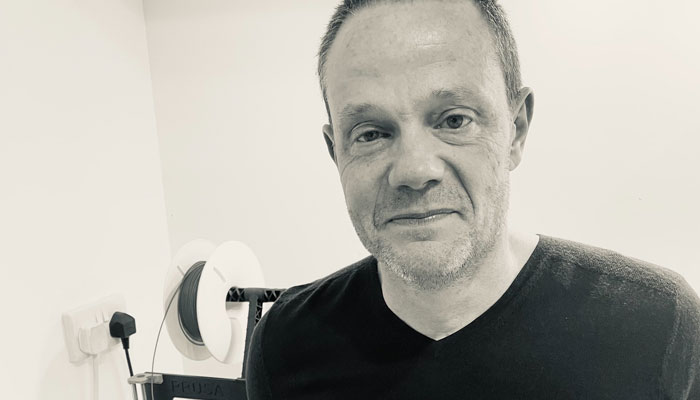 Laura Rowe interviews her dad – Fuse Director Tim Rowe – about his route into toys… And asks whether he's still wracked by guilt over taking her old toys apart for prototypes!
Thanks for taking the time to do this! How did you first get into the toy industry?
You're very welcome! I was working as a product prototype model maker in an industrial design consultancy, and I was looking for my next move. An old college friend, Katrina, told me that Origin Products were looking for model makers and that's how I got into the industry.
So we have a lot to thank your college friend for then?
I'd say so … especially since we ended up getting married!
That worked out well for you! You mentioned beginning at Origin as a model maker. Was that a useful place to start from?
That first job – where I was working on complicated industrial products – taught me how to make incredibly detailed models, which put me in good stead for toy invention. Even now, although the way we make models today has completely changed, those skills are still so valuable.
It sounds like it stood you in really good stead. How did you transition from a model maker at Origin to a director at Fuse?
Well, at Origin we were part designers and part inventors, working on brands like Disney and Polly Pocket micro brands for Chris Taylor and Chris Wiggs. Whereas at Fuse, we're a pure invention house so we focus less on brand design now.
I suppose the short story is in 2001, Pete Cartlidge, Lucas Tyler and I set up Evolve which then became Fuse London in 2010 when we joined forces with Kev Gillon!
Did your time at Origin shape how Fuse works?
Yes, Origin had a very similar studio vibe to what we have now. We inherited that open studio as that's so important for collaboration between employees when working on products. That fun working environment was crucial for us to take with us. Chris Taylor especially taught us about how to view a product from a commercial standpoint and how to estimate the value of an invention – this forms the core of what we do when we get a brief.
That collaborative aspect sounds crucial.
Oh absolutely! Because there's so many different skills across our business, we really want to bring our employees together and utilise their individual skills in a team environment. It's very different from where I started as a modelmaker where you worked on jobs in isolation. You'd get told what to build and just had to get on with it!
Invention is very different to design. It's more important in my view to collaborate to figure out the unique part of the design. Everything's so much easier when you're part of a team!
I'd imagine that all feeds into a healthy creative culture at the company too.
Exactly. We want to create an environment that people want to stay around. We focus on keeping our team inspired or finding ways that they can keep themselves inspired. This could be having a fun day out of daily work to get our minds drifting over different ideas with less pressure.
Smart. Could you give us an example?
Recently we had a trip to the London Aquarium shark tanks to get inspiration for a Hot Wheels underwater track.
Love that! What are some other factors key to Fuse's ongoing success?
Maintaining a great relationship with our client base is essential. Listening to what the brand managers of the toy companies are asking of us and working collaboratively to generate unique ideas are all crucial.
Having an excellent archive of inventions and people in-house that can remember and track what is actually in the archive is also majorly useful! We've sold products from that archive which are fabulous concepts that were just waiting for the right licence to come along to get their day in the sun! Such ideas can still be super fresh when they come out.
We also have young inventors who we give responsibilities to as soon as we can. All our designers –from the newest to the most experienced – keep track of latest trends for inspiration, and constantly present us ideas that blow us away!
You've mentioned how important teamwork and collaboration is for you, but we all had to work from home during lockdown. This must have impacted your ability to collaborate with your team?
Yeah, like everyone else we were working from home in isolation which made it much harder to collaborate. It's harder to relax and brainstorm over a Zoom call, but everyone got into the swing of doing it and we managed to continue being successful throughout that period.
Not being able to pitch to our clients in-person was something else that was a challenge. We've always found that putting a model on the table is the best way to get someone excited about an invention. They can get their hands on the model and play with it which means the USP can be communicated very quickly. Covid travel restrictions put an end to this overnight.
Like the rest of the world, we had to learn fast about Zoom and rethink video presentations. We used to consider sizzles as an excellent back-up for those occasions when a prototype didn't behave itself in a pitch… But during Covid, sizzles held equal importance to the physical model. We really polished our virtual presentations during that time!
While we were able to work around these issues, we of course missed being able to socialise with our clients as it also allows us to get to know them on a personal basis. We're so happy that our trips can now continue as they are so valuable and great fun.
It's great to hear that something positive came out of such a horrible time. Speaking of positives, what have been some of your favourite toys to invent?
In terms of projects, I've been most deeply involved in personally, I really enjoyed working on the Fisher-Price Sit-to-Stand Skyway play-set. With Fisher-Price and those younger consumers, the challenge is often making a toy that will grow with the child – and of course, there are many more safety constraints!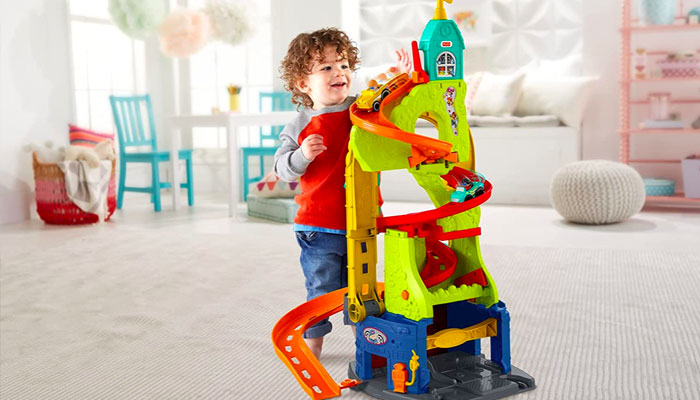 It was the first time where I tackled a toy which needed to have longevity for the parent. This has become even more important to us in recent years, with the toy industry pushing for sustainability and the cost of living crisis. It was a really exciting challenge; they made an amazing job of the execution and it ended up being very successful.
Is it still out on the market?
Yes, the Sit-to-Stand got a relaunch in 2020 in international markets which was great news!
Fab! Are there any other highlights we can bang the drum for?
There's the Fisher-Price Imaginext DC Super Friends Bat-Tech Batbot. We had loads of fun coming up with concepts for that and partnered with Spring Loaded Pty Ltd. Between us, we came up with a great transforming feature that Fisher-Price loved. And as always, the Fisher-Price team did a fantastic job of turning it into an extremely cool toy.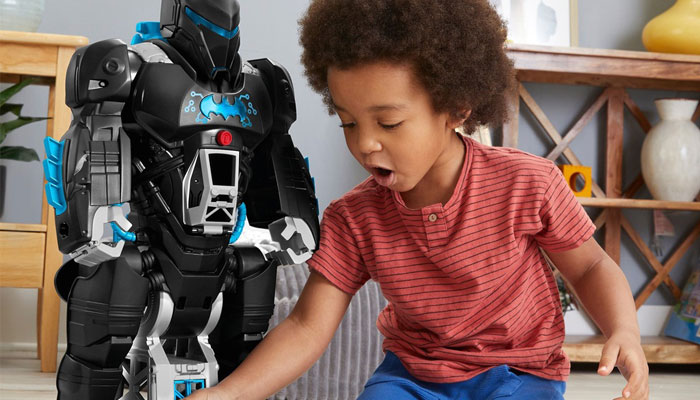 We also have the Kumi creator, which has become an evergreen for us through a great partnership with Spin Master. Our DC Comics Batman Bat-Tech Batcave playset with Spin Master is yet another testament to our great relationship with them.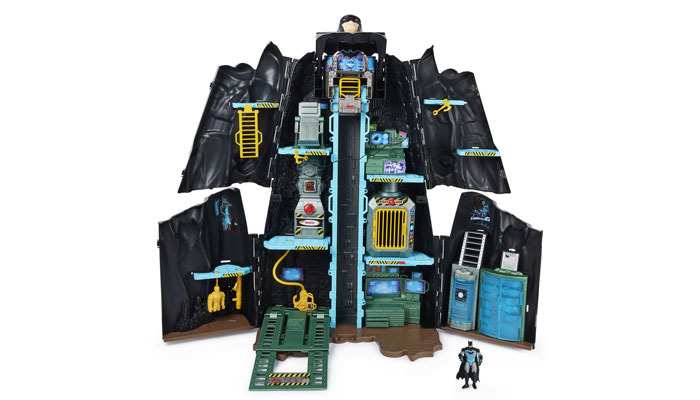 We're working on a project with Hot Wheels which is shipping soon! We're very excited about it but it's all top secret so I can't say anymore I'm afraid!
Yes, let's not get you into trouble! You mentioned sustainability and the cost of living crisis. Do think these will see a shift in the kinds of products that land on shelves over the next couple of years?
Right now, there is a lot of pressure on people's spending – pockets are being squeezed due to inflation. Due to that, we know that we're going to be looking to invent products at a lower price point. The toy industry is also trying to be more gender inclusive so we're no longer thinking of gender in the binaries of girls and boys but just thinking of designing a great toy for any kid.
We're also trying to be more environmentally conscious, making our concepts work from a sustainable angle. Toy companies are trying to reduce packaging so we're looking at ways to get lots of play out of packaging so that it's not just thrown away. As I mentioned earlier with the Sit-to-Stand toy, we're also trying to increase the longevity of the products.
You seem very willing to change and evolve – excuse the pun!
I was talking with the other directors recently about the crises we've faced over the years that can force change. Often these changes are in response to issues which are affecting wider society, such as the shipping crisis which started us thinking about products needing smaller box dimensions. While this is an example of how a crisis can affect an invention house, a lot of our changes are driven from a desire to be more creative, innovative and inclusive of course!
Interesting. Now, as your daughter, I'm hoping to boost my ego with this question… Did having children affect how you invented toys?
As a young inventor, before I had children, I had to rely on remembering back to being a kid: how my mind worked and what got me excited! But spending lots of time around your own children means you see that first-hand all the time – which is good for someone like me with a fuzzy memory!
It really helped me with problem solving concepts as well as inspiring new ideas. Now, of course, I don't have that experience on a day-to-day basis anymore so sometimes have to rely on Katrina to remind me of certain things you used to do as her memory is fantastic!
Did it change your ideation process at all?
No, it didn't change the thought process so much, but made it easier and quicker to eliminate ideas that weren't right – a key part of inventing in my opinion.
Now, onto the most important question of this interview! I remember losing a pair of Monster High shoes to a presentation model… Did you ever feel bad about this?
Ha! I've had many sleepless nights since that day and am constantly reminded about it. As toy inventors we're often guilty of destroying old toys and re-mashing them into something new. In that respect, we're a bit like Sid from Toy Story – but don't worry, we're nowhere near as mean!
Even now our garage is full of your old toys which I still try my best not to cut up unless absolutely necessary!
Well, that's still very much appreciated! I've just got one final question – what is your favourite thing about being a Fuse director?
That's a tough question: there's so much to choose from! I'd probably break it down into three parts…
• Having a business which allows you to travel internationally and allows you to make friends with other inventors and clients.
• Being able to mentor members of our team, as I find passing on knowledge and experience very rewarding.
• Last but by no means least ­– and one of my favourite parts of the job – is still being able to design and build my own prototypes on occasion. Building is what got me to where I am, and I still love it as much as I did when I was a kid making Airfix kits or LEGO creations!
That brings our interview full circle! Thank you again for speaking with me today and sharing those tremendous insights!
–
To stay in the loop with the latest news, interviews and features from the world of toy and game design, sign up to our weekly newsletter here