Gabe Lam – Design and Development Manager at Native Shoes – on designing the firm's Crayola footwear collection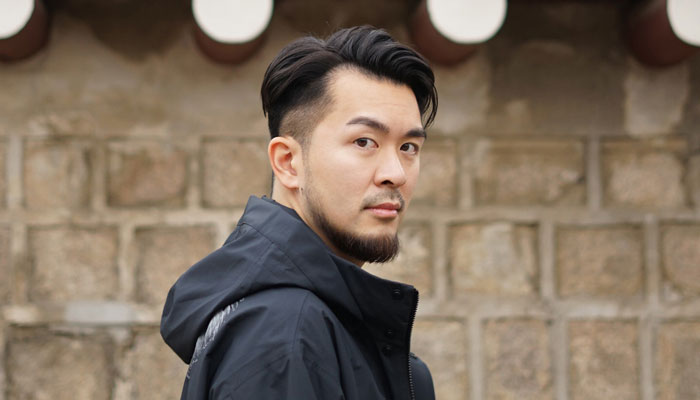 Earlier this year, the purpose-led footwear brand Native Shoes debuted a limited-edition collaboration with Crayola, celebrating the brands' shared creativity.
The range spans 11 of Native Shoes' most popular styles for adults and kids reimagined with bright, abstract scribble prints, mimicking the laydown and bold colours of classic Crayola markers.
To delve into the design of the range, we caught up with Gabe Lam, Footwear Design and Development Manager at Native Shoes.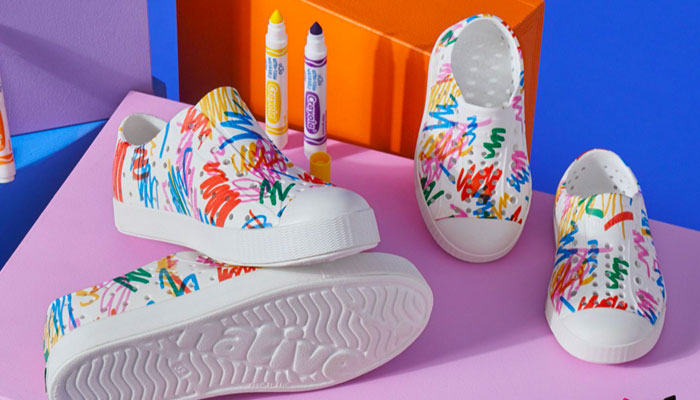 Hi Gabe, great to connect! To kick us off, for anyone new to Native Shoes, how would describe the brand and its values?
It seems the heavier the world gets, the more it needs lightness. That's why we exist: designing products which help all to live lightly. Founded in 2009, Native Shoes fuses innovation, sustainability and curiosity to create a lighter, healthier, happier world for us all.
We are dedicated to our purpose: asking more 'what ifs', encouraging tiny activism and kindness to all kinds, our goal is for each and every pair of Native Shoes to be 100% life cycle managed by 2023.
How did the collaboration with Crayola come about? What made them a good fit for Native?
From the very start we knew we were a natural fit because we share a lot of the same core values. Crayola is passionate about providing tools to inspire creativity and play, which is aligned with Native Shoes' purpose of designing products to help everyone live lightly. This was an opportunity to celebrate our shared creativity, light-heartedness and love of colour.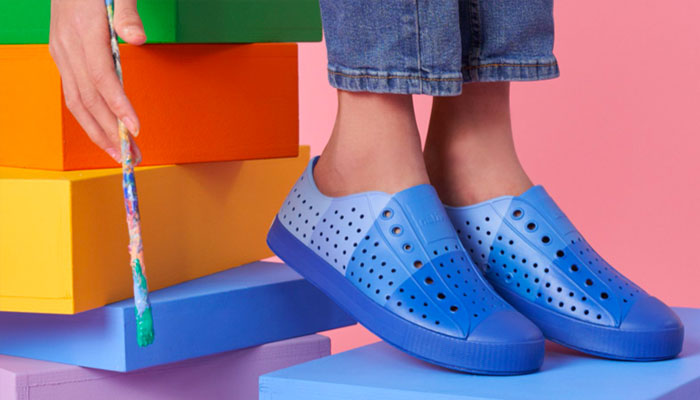 What did your first few creative steps look like when designing the range?
Both Native Shoes and Crayola are known for our playful use of colour. Our first creative steps were to investigate the ways we could celebrate colour, creativity and play. From there, we took a deep dive into both the Crayola and Native Shoes colour palettes to identify the bold, bright colours which spoke to both of our brands.
The scribble design really captures Crayola in a smart way too.
Yes, the iconic scribble print really brings to life the brands' shared colour, creativity and play. It reminds us of our old sketchbooks as kids, scribbling with markers with no limits to our imagination.
We also interpreted this another way with the gradient block design – this was the result of taking Crayola's most popular colours and giving them a very fun Native Shoes treatment.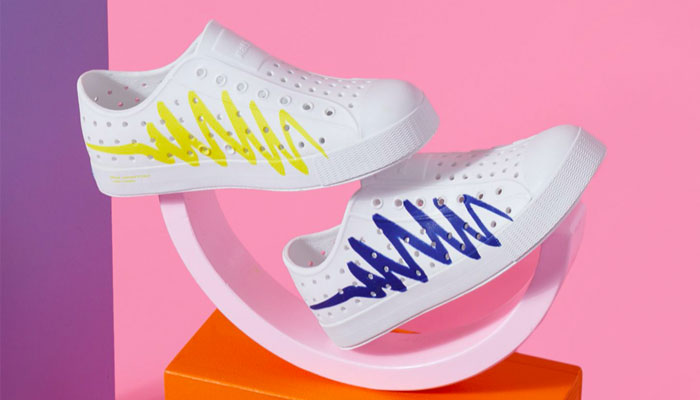 Looking ahead, are brand collaborations of this kind something that we'll see more of from Native?
You will definitely be seeing more brand collaboration from Native Shoes in the future. You can expect all future collaborations to lean into our brand purpose and sense of fun, working with brands that share the same core values and goal of helping everyone live lightly.
We'll keep our eyes peeled for those! Thanks again Gabe, and congrats to you and the team on the Crayola range.
—
To stay in the loop with the latest news, interviews and features from the world of toy and game design, sign up to our weekly newsletter here