Galactic Sneeze's Sara Farber and Bryan Wilson on goat yoga, Kikkerland and why game design is like improv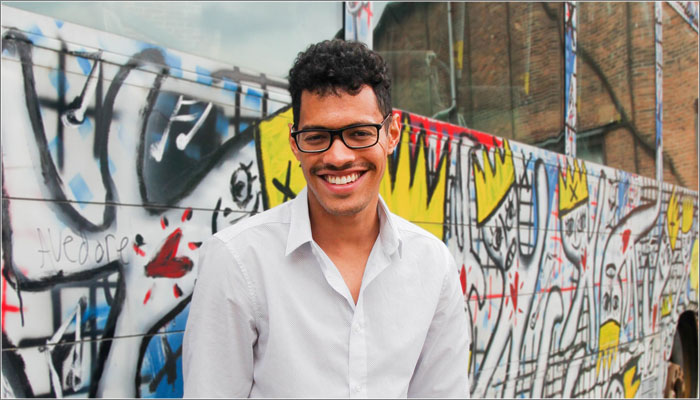 Sara Farber and Bryan Wilson are team behind Galactic Sneeze, a Brooklyn-based creative studio known for their self-published party games like Schmovie and Spank the Yeti.
This year has seen the duo enter the world of licensing, with Kikkerland launching three of their new games: Goat Yoga, Maskarades and the wonderfully named Clock Block.
We caught up with Galactic Sneeze to learn more about their new releases, and find out exactly how many classes of goat yoga it took for Sara and Bryan to nail that trend's transition into party games.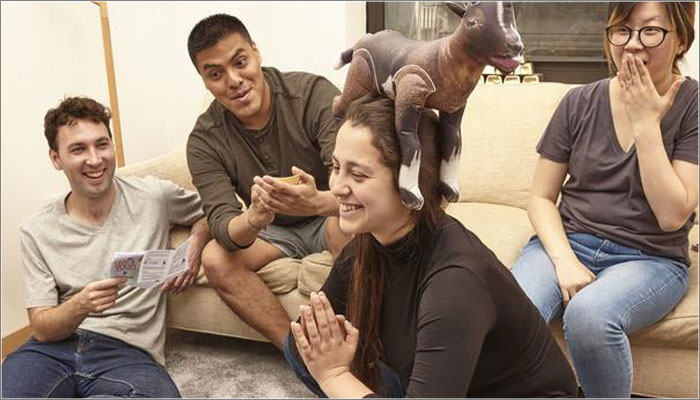 So for those who may not know, who are Galactic Sneeze and how did you guys get started?
Galactic Sneeze is an indie creative studio based in Brooklyn, NY. We're Sara Farber (that's me), Bryan Wilson (my Co-Founder husband), our eight-year-old daughter (Lead Play Tester), and a rescue mutt named Tinker (Director of Barketing).
When Bryan and I met, I was the Director of Content Design at Fisher-Price in NYC, and he was an Art/Creative Director at BBDO making M&M's TV commercials. We knew early on that someday we'd create our own brands and fun stuff. With my background in designing play patterns and writing/producing content, and his experience in advertising, branding and design, it seemed like the perfect combination of skills to make something happen.
When we first started Galactic Sneeze, we threw a bunch of stuff at the wall. We wrote a script for an animated film, developed IPs, and spent way too much time and money making overly polished prototypes.
After a major publisher almost licensed one of our games and ultimately passed at what felt like the last minute, we boldly decided to make it on our own. That kicked off our adventure into self-publishing.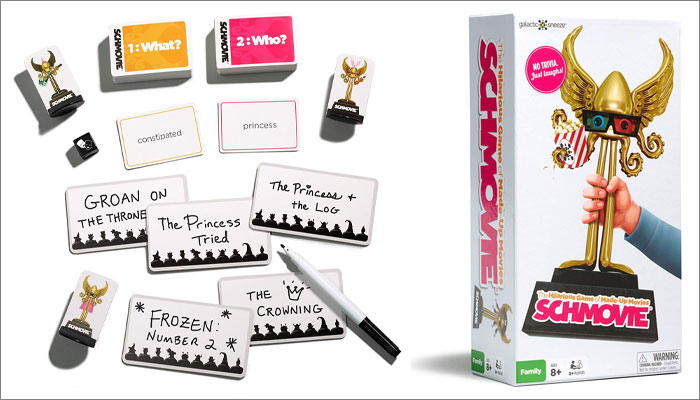 We made a family game called Schmovie, where players write funny titles for made-up movies. It was a huge learning curve to not only design the game, but to also handle manufacturing, logistics, warehousing, sales, distribution, and promotion.
We said we'd never do it again. Then we did it again. We released Spank the Yeti, an irreverent adult party game that we successfully crowdfunded on Kickstarter.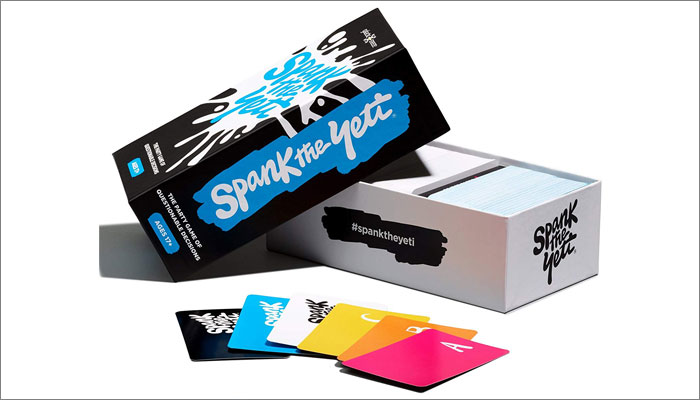 We recently decided to switch gears and focus on licensing, and we're thrilled to have three games hitting stores right now via our partnership with Kikkerland Design: Goat Yoga Party Game, Maskardes, and Clock Block. One of the coolest things about partnering with a global company like Kikkerland, is that the enclosed rules are written in six languages. All three games are very visual, which helps with distributing them in various markets around the world.
How would you sum up your approach to game design?
There are a bunch of ways we approach game design. Here are our favourites:
1. We start with a name. Sometimes we're struck by a funny saying, a silly word, or a portmanteau. And then we work (sort of backwards) to sort out what the gameplay or shtick would be to fit that. An example of this is our new game Maskarades. We decided it would be a twist on charades … with a mask. More on that later.
2. We start with a popular theme or trend. This is how we got to our Goat Yoga Party Game. We saw the Goat Yoga trend growing and growing, making its way into more mainstream media with celebs on YouTube, TV commercials, and morning news shows. We knew a party game was inevitable, and we jumped on that opportunity.
3. We start with a mechanic. This is how we ended up with our adult party game, Spank the Yeti. We were inspired by F***, Marry, Kill (or Shag, Marry, Kill), the popular parlour game that's played in long car rides or over drinks with friends. We thought, how can we take that simple and fun mechanic, blow it out, and put it in a box? And voila … Spank the Yeti was born.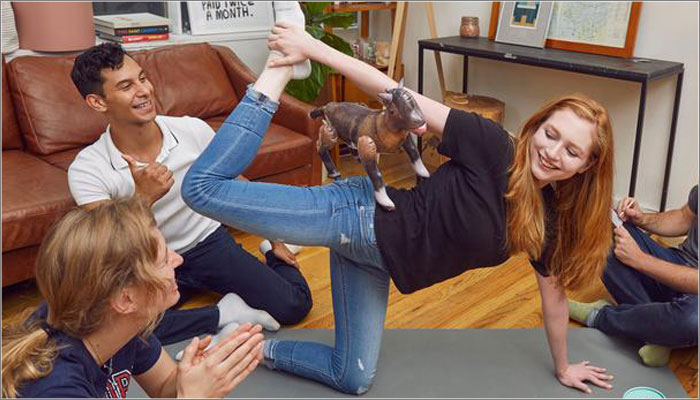 As you mentioned, this year has seen you partner with Kikkerland Design on three new games, and they each sound amazing. First off, Goat Yoga – where did the idea come for this? Any real goat yoga classes taken as 'research'?
When we first saw on the news that people were doing yoga with actual baby goats, I thought, "you've gotta be kid-ding". Then I saw it again on social media and thought, "om-g". Then I saw celebs were doing it and thought, "let's make a game that's the G.O.A.T!" We shared it with Kikkerland and they immediately loved it and jumped on it. They've been a fantastic partner.
Goat yoga is exercise; it's fun, it's funny, and it's super instagrammable. We're hoping our game is all those things and more! It comes with an inflatable goat and the content is filled with hilarious physical challenges and goat puns.
Players must complete a variety of tasks while posing with the goat, from Bleat to the Beat (hum a tune), Float Your Goat (bat it in the air five times), to Billy Buddies (partner poses). There are also Goat Wild cards with things like, "Goat peed on your mat. Lose a turn."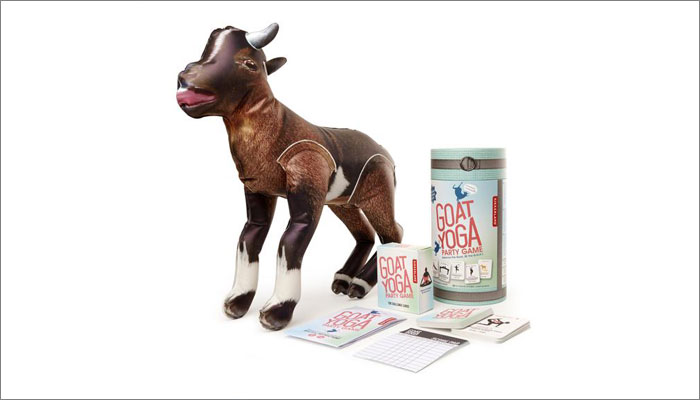 It was winter in NYC when we were cranking out all the content for this game, which is not ideal timing for doing downward dog with baby goats out in a field. So unfortunately we didn't make it to an actual goat yoga class, but, that's a huge reason as to why we made this game! It's perfect for all the other folks out there who'd love to feel the burn while balancing a baby goat on their back, yet can't due to location or weather. So now instead of hoofing it to the closest farm, you can play Goat Yoga Party Game in your living room. Added bonus… real goat smell not included!
Yes, always nice to avoid that smell where possible! Onto Maskarades – talk us through this new take on charades?
As I mentioned, we started with the name on this one. And from there the game fell into place. We knew it would be a twist on charades … with a mask.
You choose a character from a card, put on the dry erase mask, and then blindly draw the character's face while also acting out. Everyone has one minute to guess who you are. Then there's this hilarious reveal when you take off the mask and look at your drawing… which of course looks nothing like you thought it did in your head. But between the wavy hair you scribbled and the imaginary wand you waved around, your friends figured out you're Hermione Granger. So it's a win/win.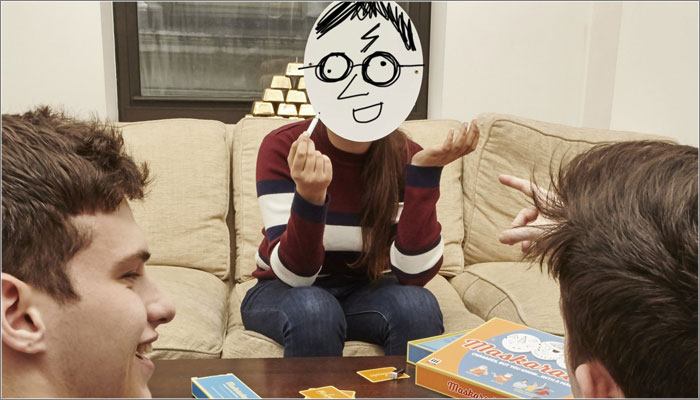 Initially, we had players draw the face on the mask and then put the mask on. Through play testing, we discovered people were self-conscious about their drawing skills. Suddenly we had a breakthrough. When we had players put the mask on first and then start drawing! Those anxieties vanished and it just became pure fun, which is interesting from a psychological perspective. This is a great example of why it's important to play test so you can work out the kinks.
Absolutely. And last but not least, the wonderfully titled Clock Block! Building, betting and blocks, together at last where did this idea come from?
You'd think this is a game where we came up with the name first, but surprisingly it isn't! We started with the concept of a game where players would "one up" each other.
In Clock Block, a player flips a card to see what structure to build using the blocks, and then rolls the die to determine how – with their dominant hand, non-dominant hand, both hands, from memory, or blindfolded. Then they declare how long they think it will take to successfully do it. For example, "18 seconds!" Then the other players have a chance to "clock block" that player by declaring they can do it faster. Whoever declares the fastest time steals the turn and builds for the points. Everyone else bets on whether they'll succeed, so all players have some skin in the game in terms of scoring each round. The timer starts and everyone watches the builder go for it. If you "clock block" another player but fail, you lose points.
We were pretty pleased when we came up with the name "Clock Block", and were thrilled when Kikkerland decided to make the game and keep the name.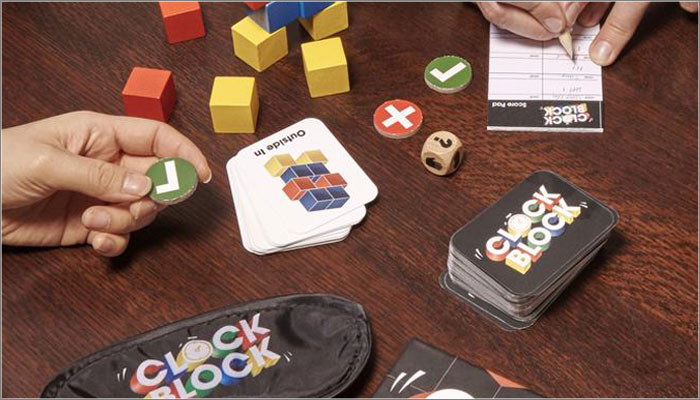 Do you think the games space is in a good place creatively?
Yes, for sure. The playing field has changed significantly in recent years. Previously, publishers needed a big marketing budget, well-placed TV ads, and relationships with major retailers to make a game mainstream. But because of social media and Amazon, the door has opened for indie game companies to have success as well.
This means that games Hasbro, Mattel, or Spin Master wouldn't necessarily bring to market are still able to see the light of day. It also means there's a lot of competition for shelf space and consumer attention because there are so many games. And since there are all these options, you need to invent something unique to cut through all the noise and stand out.
A few years ago we saw a lot of roulette games, and then came games with water payoffs, followed by poop. Lots of poop. I'm excited to see what the next trend will be! Yoga with goats perhaps?
Here's hoping! And between you, how do you fuel your creativity?
Bryan Wilson: Books. I have a big collection of books on modern art, graphic design, posters, packaging, logos, graphic novels, etc., and it's my first stop with any new project.
I also keep a bunch of projects going at any given time, and I find that by hopping back and forth between them, insights gained from one project often help solve design challenges with another.
I also watch a lot of YouTube … my current obsession is Adam Savage's Tested, but I'll happily watch any crafty person make something as they talk through their process.
Above all, my favourite activity for fostering creativity is making stuff with our daughter. Working on projects alongside an eight-year-old is truly eye opening. She doesn't have preconceived notions of what things are supposed to look like and it frees her up to make new creative connections.
Sara Farber: We're fortunate to live in NYC, where in addition to experiencing art in formal settings like museums and theaters, we're surrounded by inspiration and creative energy just walking down the street or riding the subway. There's a constant stream of interesting characters and weird art, which is why I love it here.
I used to take improv classes at Upright Citizens Brigade. Improv is centered around the concept of "yes, and…", which means you accept whatever your scene partner brings to the table (that's the "yes" part), and then build on it (that's the "and" part). And that's the core of inventing as well.
One little kernel of an idea sparks something else which then leads to something else … and maybe you'll end up with a product on the shelf at Target. Or if nothing else, an interesting story to tell.
———
To stay in the loop with the latest news, interviews and features from the world of toy and game design, sign up to our weekly newsletter here