Galactic Sneeze's Sara Farber and Bryan Wilson on creating a Curb Your Enthusiasm party game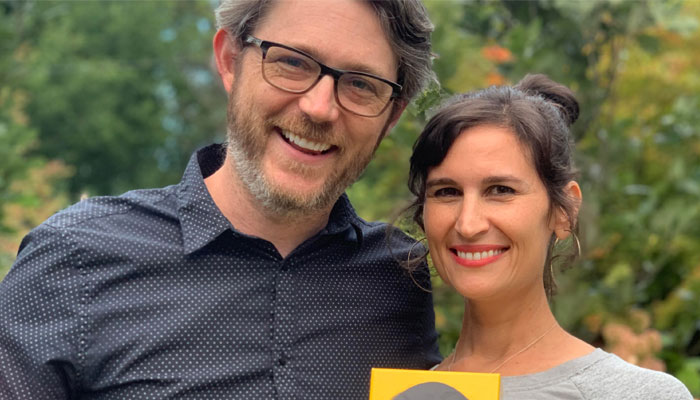 HBO's award-winning, toe-curling comedy Curb Your Enthusiasm has been given the party game treatment by Spin Master.
Invented by Galactic Sneeze's Sara Farber and Bryan Wilson, Curb Your Enthusiasm: A Pretty, Pretty, Pretty Good Party Game sees players compete to be the ultimate Larry David.
We caught up with Sara and Bryan to find out more about the development of the game, and why Spin Master was the perfect partner for the project.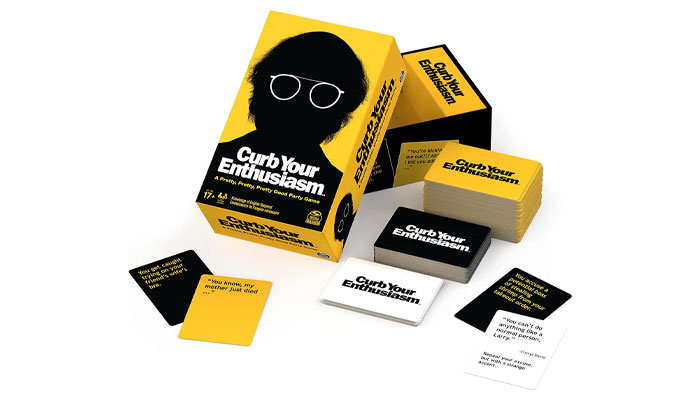 Guys, great to check in again! Before we dive into Curb, how has the last year or so been for you from an inventor standpoint? Are you a fan of virtual pitching?
This has been quite the wild year and half. We had a great year from an inventor standpoint, given all the challenges we were up against. And it took a global pandemic to make it happen, but Galactic Sneeze – aka: Bryan and I and our nine-year-old daughter – ultimately moved from our small Brooklyn apartment to a more spacious house in the NJ burbs.
I never thought I'd say this after 20 years of NYC living, but I love it. Having more room to think, play, and create has been a positive change for all of us. Now that we have dedicated space for Galactic Sneeze in which to brainstorm, build prototypes, set up shoots, and playtest, we're excited to see where it leads us. Also, we have groundhogs in our yard, and I had no idea they were so darn cute!
You asked about virtual pitching, and I think it's one of the best silver linings of this pandemic. We love it. We found that many toy and game companies adapted quickly and made themselves available for virtual pitches. We don't have to book travel, scramble to find sitters, or lug prototypes around from meeting to meeting. We can just pour a mug of coffee and hop on Zoom wearing fuzzy slippers.
It's also enabled us to connect more frequently with certain companies we typically would only see once or twice a year at industry events. That said, we do miss the energy of face-to-face meetings and can't wait to see everyone live and in person again… hopefully sooner rather than later. Fingers and toes crossed for New York Toy Fair!
Absolutely. Now, you guys have invented Curb Your Enthusiasm: A Pretty, Pretty, Pretty Good Party Game for Spin Master. I love the show and I'm excited it's entered the game space. Talk us through how it plays.
It's fun and funny and we're pretty, pretty excited about it!
It's a role-playing game with a judging mechanic and a couple playful twists. Players hilariously compete to be the ultimate Larry David by trying to talk themselves out of awkward situations.
To start, everyone gets a new game name, which is Larry plus your first name. So we'd be Larry Sara and Larry Bryan, and you'd be Larry Billy. If your name is Larry, then you're now Larry Larry and you get to go first. If your name is David, then you're now Larry David and fittingly, you go last.
Ha! Nice touch!
Yeah, we think this adds a fun additional layer to the role-play aspect of the game, and we're happy this made it into the final version.
So here's how to play. The first Larry flips a SITUATION CARD – which is an awkward scenario Larry David's gotten himself into in the series. For example, "You get caught trying on your friend's wife's bra."
Now everyone else plays an EXCUSE CARD from their hand and expands upon it. These are actual excuses Larry David has used on the show. For example: "If I wear it I don't have to carry it", "That's not how we do things here in America" or "You know, my mother just died…."
If you happen to also have a TRY AGAIN, LARRY CARD in your hand, you can play it on top of another player's excuse and they must follow the penalty on the card. They have quotes from other characters, which brings even more flavour of the show into the game. For example: "There's nothing funnier than shtick in the bathroom, Larry." – Jeff Green. Now that player must repeat their excuse from the bathroom with the door closed and stay there until the round ends.
After everyone presents their best excuse, the judging Larry chooses their favourite and that player wins the round. The first Larry to score five rounds wins the game. But really you're all winners because you've just spent 20 minutes channelling your best Larry.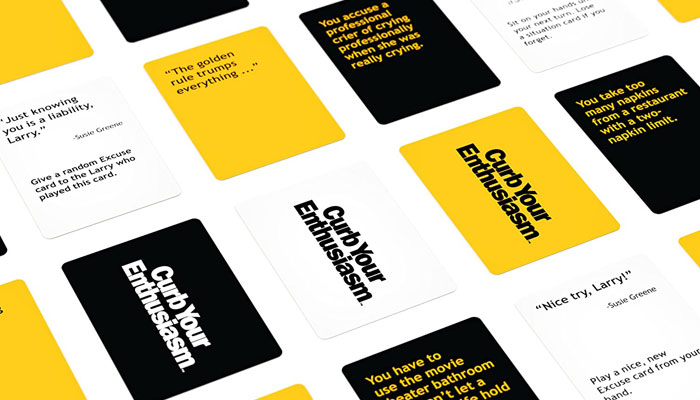 I was about to say exactly that! 20 minutes channelling Larry David sounds very more-ish! So how did this come about? Was it always a Curb game?
Yup, it was a Curb game from the start. Spin Master had the opportunity to develop a Curb Your Enthusiasm party game, and we were fortunate to have the opportunity to partner with them.
We're big fans of the show and we knew Larry David himself would be signing off on it. So, we wanted to create something he'd ideally like so much, he'd be willing to steal it from a dead man's coffin. We're here now talking about it, so… Bingo, baby!
Exactly, happy days! Now talk us through the design process. What parts of the brand did you latch onto as being key elements to bring into the game?
Mainly we just wanted to design a game that Larry David could get out of the package without stabbing himself in the hand with a kitchen knife. Also, our goal was to capture the essence of the show – Larry getting hung up on some small annoyance that leads to an awkward situation, and inevitably making it more cringeworthy as he tries to explain his way out. We knew we should keep it simple and easy to pick up for a casual game night – and also make it super replayable.
How did you juggle making it something that die-hard fans would love, as well as keeping it engaging for those new to Curb?
After 20 years on air, Curb Your Enthusiasm has a passionate fan base. We wanted to design a game die-hard fans would love and appreciate, that's still fun to play even if you've never seen an episode.
It was a blast doing our "research", which in large part entailed binge-watching the series. We tried to include the most iconic moments, which we know Curb fans will be excited to see in the game.
On top of all the content we provided, Spin Master was able to get the show writers to contribute a great deal as well, which is awesome. This helped create a truly authentic game play experience.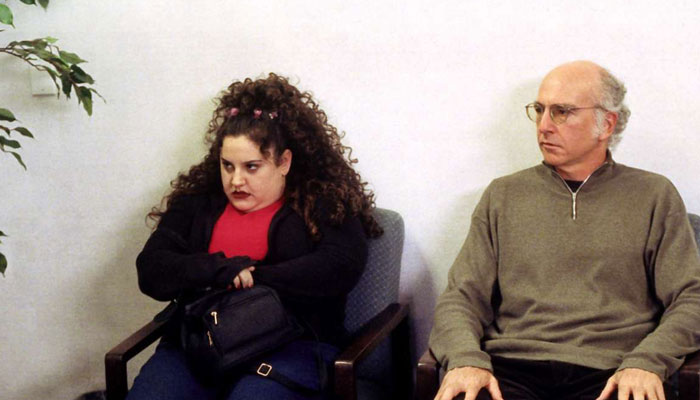 Amazing. On paper, Curb Your Enthusiasm is a left-field brand for a board game. Do you think these kinds of IP actually present some exciting opportunities for game inventors?
There's been a growing trend of licensed games based on iconic TV series… from The Office to Friends to The Golden Girls. This show lends itself well to a party game format because it's filled with relatable – and ridiculous – moments from everyday life that anyone can connect with, whether watching on TV or playing around a table.
There are plenty of opportunities for inventors to explore these types of licensed games. The key is to find an intellectual property that has a strong enough fan base to carry it – and also an ownable shtick that translates well to a party game format.
It also comes down to which publishers have access to those brand owners and are able to make the necessary connections. Some companies seem less comfortable releasing games for the adult market, since it conflicts with their larger mission and messaging. We totally get that. The key is to find the right combination of brand, game play, and publisher.
With Curb out in the world, are there any other brands you have your eye on?
We think the reality dating show Love is Blind would make for an epic party game experience. Oh wait, never-mind. Love is Blind IS another new party game we collaborated on with Spin Master!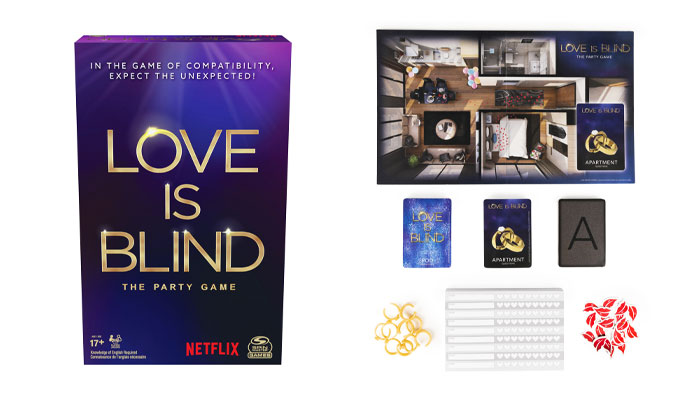 We also have a funny third game with them this fall: Netflix: Trending Now, which we're super excited about too. We've enjoyed collaborating with Spin Master on these games and can't wait for people to play them!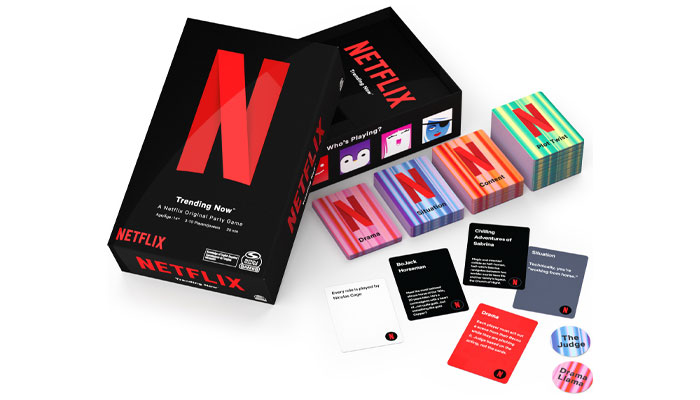 Both sound great – and to our shame, me and my other half got through Love is Blind in one night so the game sounds like a must! You mentioned that you enjoy working with Spin – what makes the team there great to work with?
Spin Master is a fantastic partner. We worked closely with Dougal Grimes in Inventor Relations and Ben Rathbone in the Games group. They both have a ton of expertise and gave great feedback, helping pinpoint what aspects of the game we should expand upon or push further. And of course, we also shared a lot of laughs. Everyone we've worked with at Spin Master has been collaborative and committed to making awesome games. They took what we created and made them even better… We love how these three products turned out!
From a brand perspective, why is Spin a good home for these kinds of licensed games?
Spin Master has incredible relationships with so many IP owners and content creators. And we appreciate that they don't shy away from going after some edgier brands. As the creators – and publishers – of the adult party game Spank the Yeti, we appreciate the opportunity to collaborate with a company that's not afraid to push the boundaries a bit.
We loved working on this Curb Your Enthusiasm party game, and we think it's pretty, pretty, pretty good.
Sara, as always, this has been a real pleasure. Huge congrats on the Curb game, as well as the Netflix ones – I look forward to checking them all out!
—
To stay in the loop with the latest news, interviews and features from the world of toy and game design, sign up to our weekly newsletter here