Game designer Kim Vandenbroucke on the origins of PlayMonster's Pigs on Trampolines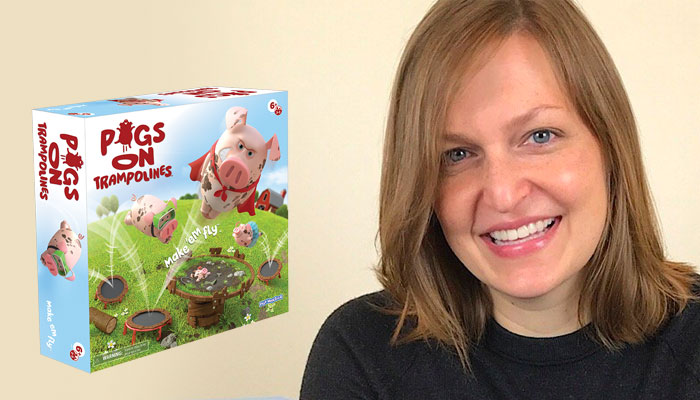 Kim, it's great to catch up. Now, one of my highlights from London Toy Fair was PlayMonster's Pigs on Trampolines – and it's one of yours! How did the idea come about? And theme-wise, was it always pigs?
That's so nice of you to say Billy! I'm thrilled with how the production version of Pigs on Trampolines turned out. Play Monster did a great job giving the pigs personality and they really made sure the trampolines have the right bounce. It even sounds good!
Theme-wise, it always was pigs on trampolines. I had come across videos of animals — including pigs — jumping on trampolines and decided I had to make a game about it because it was so hilarious. Pigs were the funniest to me. Luckily, I had the perfect pigs already on my desk, so it came together in an afternoon.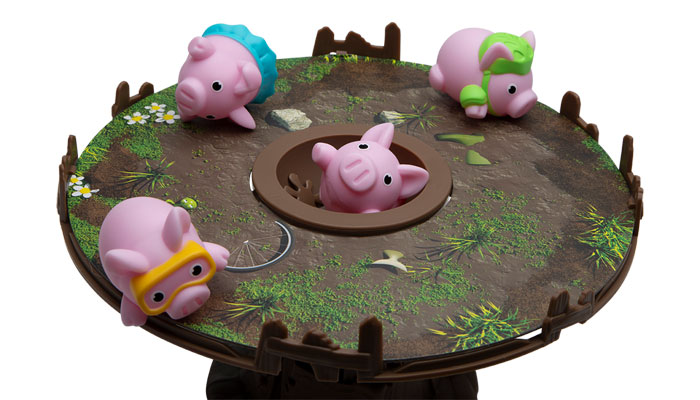 With skill games, how do you tackle the difficulty element? Making something easy to learn but tricky to master sounds like quite a feat!
I already had a very good idea of what I wanted to create, so it wasn't quite as hard as some concepts. I found that the rubber pigs I had in my office were perfect for bouncing off the mini-trampolines I made. Not round enough to give a perfect shot, but enough to give some slight control. No one wants a game that's too easy!
The raised scoring platform gave the pigs a reason to be bouncing on a trampoline. I'm not sure they really need a reason, but I liked the idea of a story and it had a "king of the hill" type feel. Once the initial prototype was assembled, I brought it to my favourite playtesters and it was a clear winner!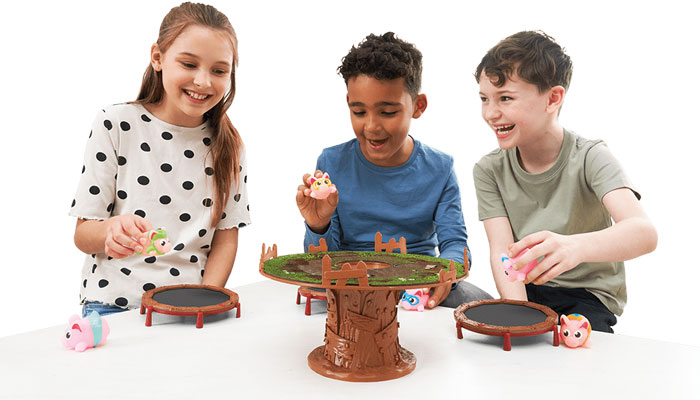 What made PlayMonster a good home for the game? Did it evolve much once it was with them?
PlayMonster was really excited about the concept immediately after viewing the sizzle. I love partnering with companies who share my enthusiasm for an idea, and they were definitely excited!
The final game is really similar to what I pitched. The scoring was tweaked and they were able to get three trampolines in the box instead of just two, which I think really adds to the fun, chaotic nature of the game. Fun tip: If you have two copies of the game, six players going at once is downright hilarious!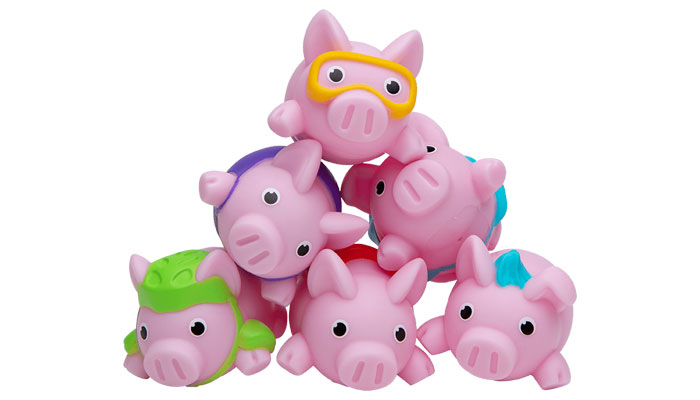 Noted! Away from Pigs on Trampolines, I also wanted to ask you about Split – or Insert Card Here as its known in the States. I'm always amazed by the amount of great games that can come from a deck of numbered cards so this looks right up my alley! It's a beautifully simple idea, can you talk me through how you came up with it?
Again, thanks for the kind words! I'm proud of the simplicity of the game, but unlike Pigs on Trampolines, Split took a bit more time to come together. I liked the idea of a card game with a narrowing gap to play in – and I really wanted players to choose how big or small to make that gap. When players make that one simple decision to move the centre card right or left, it really impacts play.
I had the initial gameplay down pretty quickly but the details of how to reset if you couldn't play – and how many wilds and how to use them – took a little more time. I've seen a couple reviews comparing the game's simplicity to UNO but with more player agency, which I find to be a huge compliment! I hope you enjoy it when you have a chance to try it!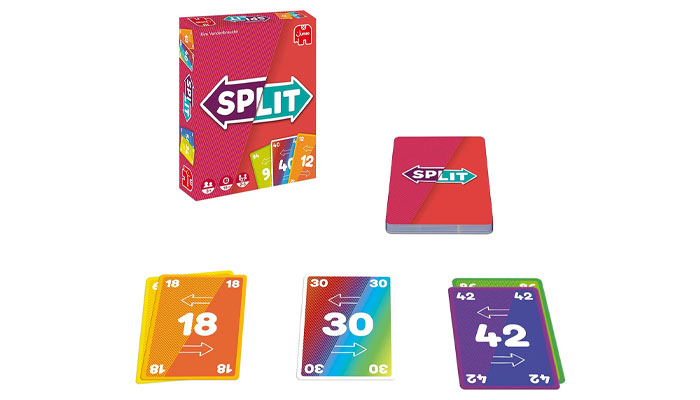 I'm sure I will – I can't wait to give it a go. Last question! Looking through all of your games, which one would you say is maybe the most underrated, or flew under the radar a little bit? We can put a spotlight on it here!
Such a tough question! How about this, the two games I get the most fan mail about are Raccoon Rumpus with Educational Insights and Share and Sparkle Unicorns from Peaceable Kingdom.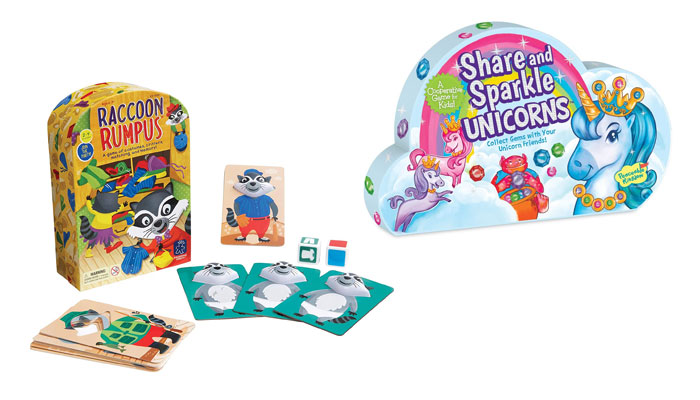 Both are pre-school games and it completely makes my day/week/month when I hear from parents or grandparents about how much their little gamers enjoy these games. The bonus is that the adults like them too!
Kim, this has been fun. Congrats again on Pigs on Trampolines and Split – let's catch up again soon.
–
To stay in the loop with the latest news, interviews and features from the world of toy and game design, sign up to our weekly newsletter here