The Game of THINGS… creator Tom Quinn on how a life in the movies helped prepare him for adventures in game design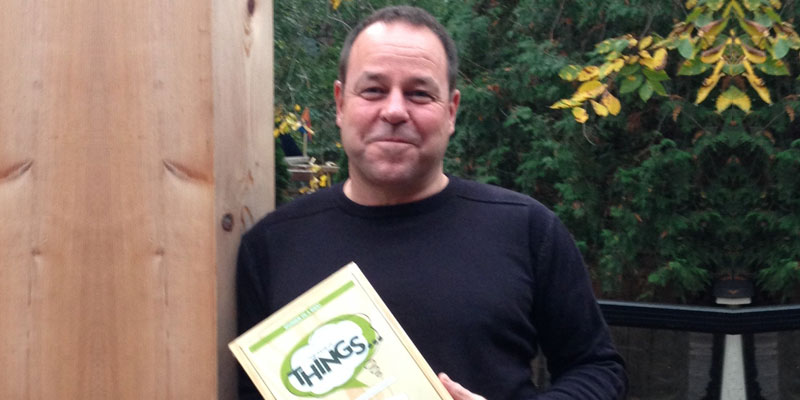 From dealing with Keifer Sutherland on a film set in Hollywood to conceiving and launching the party game, The Game of THINGS…, Tom Quinn's journey into the world of game design has been a interesting one.
An assistant director on the likes of Chicago, Kick-Ass and The Fly, Quinn's background in the movies has gifted him a skill-set that he says has been transferable to his work in the world of games.
We caught up with him to talk about the origins of THINGS…, the secret to a great party game and the advice he wishes he'd been given at the start of his game design journey.
Where did the idea for The Game of THINGS… come from?
There were multiple sources of inspiration for THINGS… but essentially it boils down to my brother Ted and I trying to make each other laugh. We would often adapt other games and sports to make them funnier for us.
Once we had defined the simple concept for THINGS… – of providing a prompt for players to respond to – we soon realised that if we gave our friends the right prompts, we could illicit hilarious responses from them even if they were not inherently funny people.
We played it for almost five years with family and friends and it was always a hit but we didn't seriously think about putting it on the market. I was busy making Hollywood movies as an Assistant Director and Ted was in Yemen teaching at a private school.
THINGS… may never have got to market if it wasn't for a good friend from childhood, Mark Sherry, already a serial entrepreneur and game lover, who kicked our butts and convinced us that our game was what was missing from the store shelves: a product that consistently makes people laugh.
Mark, Ted and I became partners and together we designed it and wrote the topics and instructions. A year later we launched THINGS… at the Canadian Toy & Game Fair. We are now approaching three million copies sold.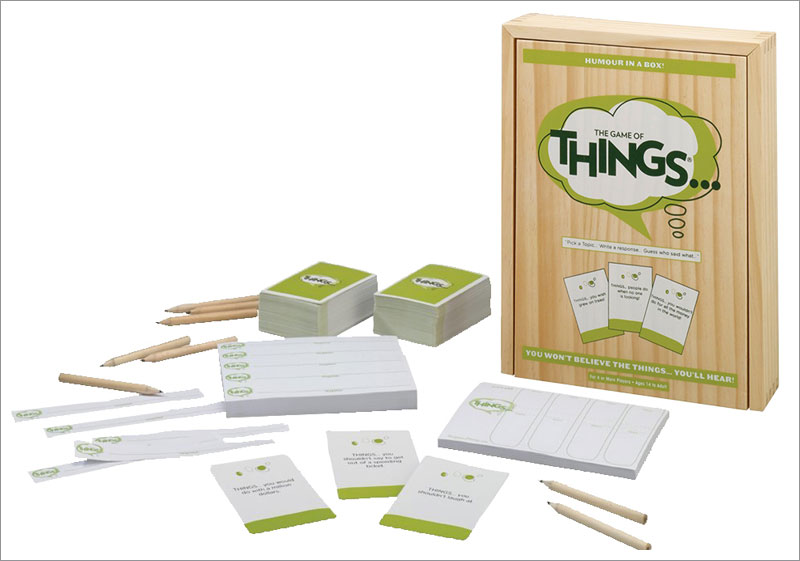 What do you think the secret is to a great party game?
You must keep everyone engaged at all times so that their attention does not wander when it's not their turn. There are lots of devices to accomplish that, but we found that keeping people laughing even when they were not writing responses or guessing "who-wrote-what" worked for us.
How do you stay creative?
I am surrounded by creativity all the time so it should be pretty easy for me. I work in the film industry as well as games, and my wife is a co-host in morning radio, which means a lot of our friends are creative people. My oldest daughter is in a pop band out of Montreal called Motel Raphael and my son is a 13-year-old singer-songwriter. I have a 20-year-old nephew who is also a singer-song writer and four other siblings/in-laws who work in film and TV as well, so we are always encouraging each other and discussing what's happening in our home of Toronto, a city alive with creativity.
Having shared all of that, because a lot of what I do in both the film and the game industry is business, I do get bogged down in minutia and can get regularly blocked on my creative pursuits. When I have a problem with creativity I turn to my dog-eared copy of The War of Art by Steven Pressfield which is a short guide for succeeding in any creative sphere by breaking down internal resistance to creativity (He also wrote the novel The Legend of Baggar Vance and many others).
I also find that a little exercise always puts me in a good frame of mind.
Having worked in the movie business as an assistant director on the likes of Chicago, The Fly and Kick-Ass, were any of these skills transferable into the world of game design?
My experience as an Assistant Director has taught me how creative businesses work. I am familiar with the amount and type of labour that's involved in taking a concept and seeing it through to the end whether that be the movie theatre, the TV set or the store shelf.
Another thing that film taught me that works in toys and games is to think big. It was on my first film job in my early twenties, The Fly, that I saw an entire apartment/laboratory film set literally turning upside down while shooting to make it look like Jeff Goldblum was walking on the walls and ceiling. After that I thought "anything's possible". And that was before computer animation.
Film has also made it hard to intimidate me. Once you've argued nose to nose with Keifer Sutherland (we became friends) or told Kathleen Turner she has to wake up at 4:30am tomorrow (I still have the scar), what's left to fear?
Looking back, is there a piece of advice you wish someone had given you prior to launching The Game of THINGS…, or any advice you would give someone looking to get their game to market?
Marketing is key! Before signing an agreement with any company make sure you understand exactly how it will be presented to the consumer. Have the marketing plan in the contract. No marketing = no sales.
This advice is the same for any industry: Don't rush into anything while you do your research. Study all the angles before making major decisions. The game business is massive and there are many ways to launch a product and even more pitfalls. Get advice from as many toy and game professionals as possible, especially other game designers, to figure out what route is best for you and your product before spending too much of your own money.
Have you got any more games, or THINGS… spin-offs in the pipeline?
Our next step is launching THINGS… in non-English speaking markets. We also have a TV show in development with comedians playing a stylised version of THINGS… and a THINGS… app that is about to be beta tested.
We also have a card game that we are working on. A simple concept that should be fun for all. It's almost done.