Gamely's Hazel Reynolds on game design, creativity and Dragons' Den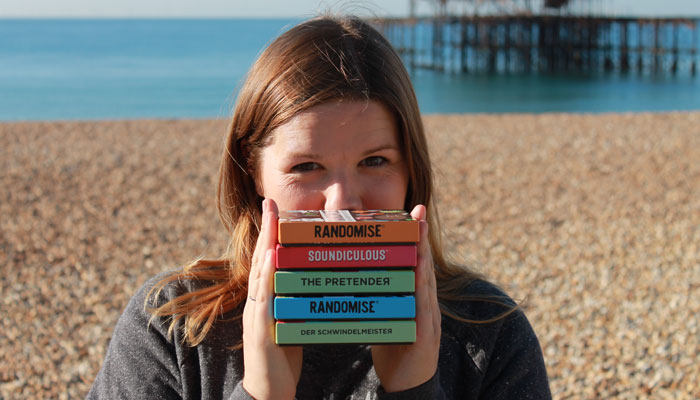 August 2015 was something of a game-changer for Hazel Reynolds.
With her dream job rapidly turning into a nightmare, and her self-esteem plummeting, she decided to quit the role and instead put the finishing touches on a card game she'd been working on. The game was called Randomise, and the Kickstarter campaign for it raised just under £4,500 within three weeks.
Fast-forward four years and Reynolds has now sold more 55,000 copies of Randomise, and the game is just one of several published by her board game company, Gamely.
We caught up with Reynolds to learn more about where she find inspiration for games, and whether her appearance on Dragons' Den was as scary as it sounds.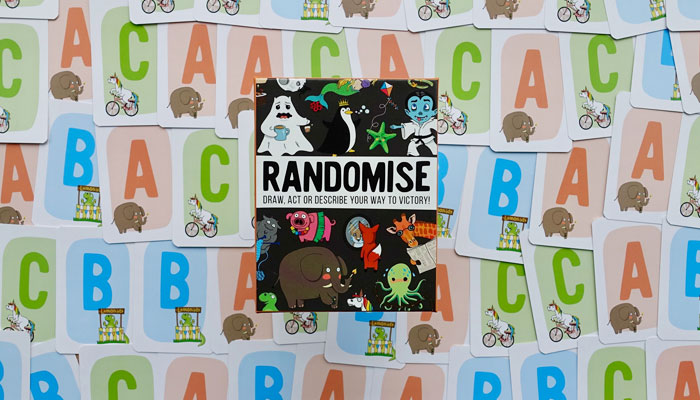 Where do you find your game ideas come from?
Anywhere and everywhere! I'm always thinking of new games ideas, though it's not until I sit down and make them and – crucially – play them with other people that I discover whether they are any good!
I came up with my first game – Randomise – to lure my little sister away from her iPad. The idea itself is really simple; just a mash up of my favourite bits of classic party games that you can play with everyone, but with random twists that end up making more than a million random funny identities. After one failed version (which only my husband Chris saw and dismissed instantly!), it worked spectacularly and everyone loved it – but it was only through lots of playtesting that we perfected the rules and content to make the game as it is today.
The idea for Soundiculous came from teaching my son Charlie animal noises and realising how many were actually pretty tricky – what sound does a camel make?! The process of trying to work it out and make the noise was so fun in itself we decided to turn it into a game. Once we'd come up with a list of all the sounds we could think of, we had to try and make them all ourselves so we could rate them (easy, medium, hard) – this made for a pretty hilarious afternoon!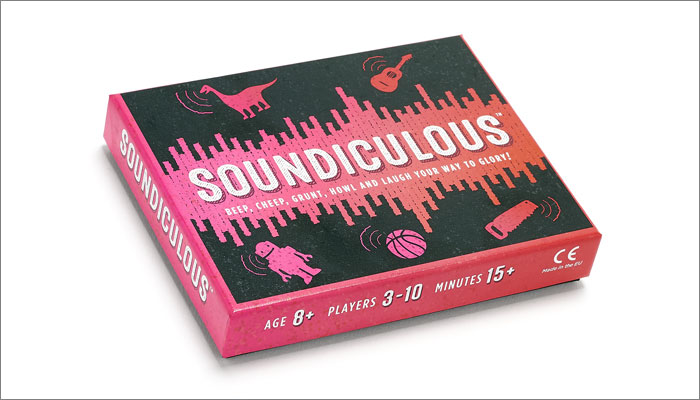 At what point did you decide to make a career out of game design and launch Gamely?
I'm not sure I recommend this, and I know not everyone is in the position to do this, but for me it really was a (pretty blind) leap of faith.
I was in a job I didn't enjoy in Brighton. I'd fairly quickly gone from being really happy in my previous job in London at Which? Magazine (where I'd been an investigative journalist then home deputy editor then, with my most fun job title to date, a 'senior innovation executive'!) and then crashed into this new job at a local charity that looked like my dream job but turned out to be anything but.
Looking back I can see that the work environment was pretty toxic and my self-esteem really took a hit – I ended up feeling pretty rubbish and useless. I didn't trust my own decisions anymore and it was actually my husband who really encouraged me to leave and set up Gamely.
I'd come up with Randomise the previous Christmas and we'd been playtesting it loads – we knew people loved it but the big question was would people actually buy it? We agreed in August 2015 that I'd quit my job, finish the game and run a Kickstarter in time to deliver for Christmas. If it bombed then I'd have tried and would have learnt loads and would just seek out a new job in January.
Luckily it didn't bomb! It didn't go crazy either but we raised just under £4,500 within three weeks, which was enough to start manufacturing and get Randomise out into the world. Things just got better and better as we were chosen to feature on Amazon's Launchpad and the customer reviews came in.
Now we've sold more than 55,000 copies of Randomise, we launched two more games last year (Soundiculous and The Pretender) and we have a small dream team of part-timers.
I absolutely love making games for a living and I still can't believe how lucky I am to do this as my main job. I'm super keen to help other people follow their dreams and have really enjoyed helping other games designers develop their games and get them out into the world too.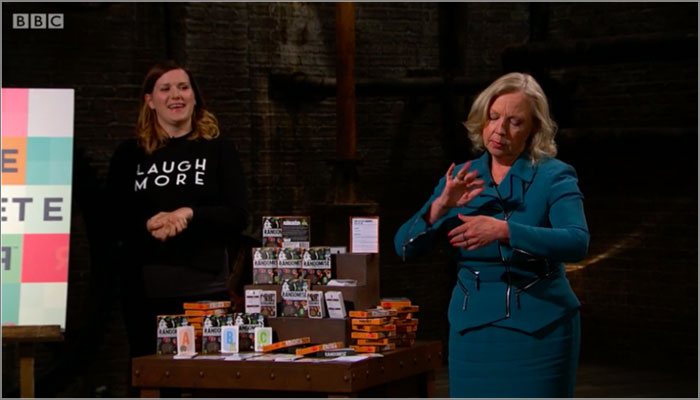 Last year saw you grace our screens on Dragons' Den. Was that as terrifying as it looks?
I actually loved it. Of course I was a bit nervous (how could you not be?!) but the adrenaline rush of being in there was amazing.
I'm passionate about games and love talking about our business and bringing people together to spend more quality time together, and ultimately this was a great platform to do exactly that. I was in there for an hour and a half (though that was cut down to 10 mins for TV) and it was weirdly fun! They asked really good questions which were both helpful and challenging, and really got to the root of the business.
It's a shame that the offer we got wasn't quite right for us but just getting it felt awesome – sort of like a 'business-y' validation of what we've achieved so far and our aspirations for the future.
Because the offer wasn't that appealing, it didn't feel that surprising at the time that I turned it down, so I was surprised to see their shocked faces on TV, with Peter exclaiming 'She'll live to regret that!' once I'd left the studio. But I also secretly loved this a bit, as it gives me a really nice opportunity to prove him wrong – no regrets so far Peter!
Is there a common attribute that links all the games published by Gamely?
So far we've focused on party games – the current range and next two games are all about laughing and having fun! They're also easy to learn and can be enjoyed by a wide range of ages. Ultimately we're all about getting people together and building bonds, and these elements are really important for those sorts of games.
That's been a great starting point for us, and I think we'll always enjoy making these sorts of games, because we love to laugh and have fun! But we also love to play a huge range of diverse games and we have a wide variety of possible games in the pipleline. These ideas need more playtesting to perfect (some may never see the light of day!) but in the mix at the moment are bigger strategy games, a sophisticated after dinner 'thinking' game, a quiz game, kids games and of course, more party games!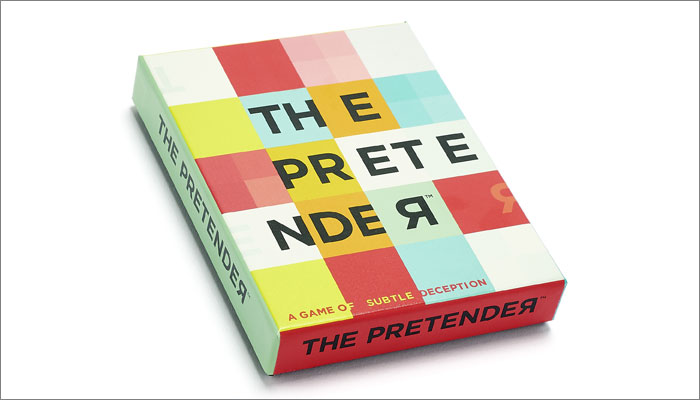 Where did the idea for your latest game, The Pretender, come from?
I suppose ultimately it came from a fusion of our love for social deduction games and my experience of making Randomise.
There are loads of social deduction games that I love – Spyfall, Fake Artist goes to New York, One Night Ultimate Werewolf to name a few. I've also found that in Randomise, for me, the funniest moments came from the acting/charades bit of the game. So I got thinking and working on how you could combine the fun and ridiculous elements of the charades bit of Randomise, with the social deduction model.
One thing that some people struggle with in social deduction games is that they can be quite 'serious' and also cause arguments, but I think what we've come up with is something that requires sleuthing and detection but is actually just a lot of fun and makes you laugh.
Are there new games on the way this year? If so, can you tell us about them?
Yes! We have a few games in the pipeline for this year. The first one has just gone to print and is called Jibbergiggle. It's a party game where you have to use nonsense words to 'act out' everyday situations using just your face and the nonsense word. For example, proposing to your one true love just using the word boomshakalaka. We love it as a team and our play-testers raved about it. We can't wait to share it – watch out for it on Amazon and in John Lewis in the summer.
We're also hoping to have another couple out in time for Christmas. We are testing out a kids version of Soundiculous and also working on a shiny new party game that has been cracking us up in playtesting – quite high energy but totally worth it for the big laughs! They're not ready yet, and we'd rather release a great game than rush out something that's only 'good enough', but we're hoping they'll both ready to be released later this year.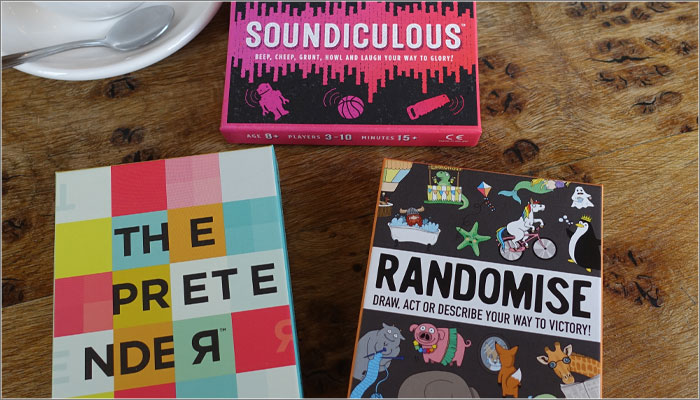 How do you stay creative?
I had a really interesting chat at Board Game Club recently with Deej Johnson about how creating new things is all about making random connections. He believes that the key for good output (ideas) is good input. I hadn't considered it like this before but it certainly rings true for me.
I'm all about shiny new experiences and love getting as many in my life as possible – whether this is through travelling to new places, going to exhibitions and watching talks by people from different backgrounds or just buying a magazine on a topic I've not read about before. I love feeding my brain new things. But, on the flipside, I also find it's really important to make a bit of space in my life with no stimulus – so my mind can breathe.
Often ideas come in the shower or when I'm walking or sea swimming. I find that time away from my phone, constant stimulation, and the responsibilities of everyday life really helps me be creative.
For more information on Gamely please visit www.gamelygames.com