Games that sell: Specialist retailer Becky Ottery on what she can't sell and doesn't buy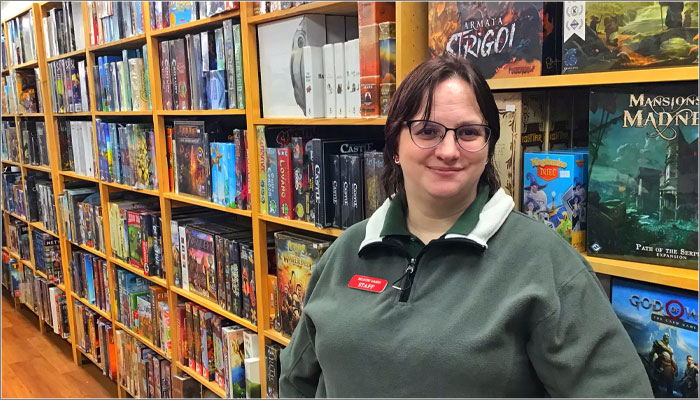 What do retailers know about inventing games that sell? Darrell and Becky Ottery own and run the aptly named Eclectic Games in Reading.
With a tireless work ethic, they strive to play every game they stock, and meet each customer's need with insight.
To find out how creativity and reality collide, we spoke to Becky as she gears up for London Toy Fair…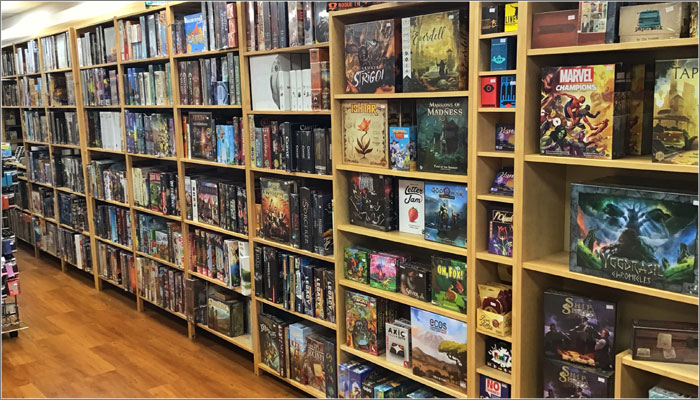 Becky, you've run Reading's board-game shop, Eclectic Games, since 2006. How come?
It came about because the town's previous game shop went pop. I was its manager for about eight months before it closed. I enjoyed it, and was building good relationships with suppliers… When it closed unexpectedly and messily – bailiffs, locks changed, my laptop still inside – I got some investment and a business plan together, worked with suppliers to get their stock back, and found a new location.
What an extraordinary way to start! This isn't the location you're in now, though?
No, we've moved three times in 14 years. Originally, we were in an old pub, stripped back to bare concrete except for the bar. We repurposed that as our shop counter, riffing off the 'friendly local' vibe. Friends and family put in about three months' hard work doing the painting, plastering, screwing hardboard to batons on the concrete ceiling… We spent money on professionals for installing the electrics, heating and carpet. Space off the shop floor has always been a key requirement as we've held events from the start. We've also focussed on board games since we opened, rather than being a card shop or a minis store.
You do hold a heck of a lot of events! Is that because you love games? Or because customers love games?!
Both, but primarily as part of our unique selling proposition, and commitment to experiential shopping and community building. As a business, we're much more than a commodity seller… Games are absolutely not interchangeable boxes. We're a specialist, with product knowledge, experience, range and quality. To display this, and better serve customers, we strive to be somewhere customers want to be, where they can discover new games, meet other gamers, play the games they've bought and get access to exclusive content – be it playtests, designers, or events – that you can't get on amazon…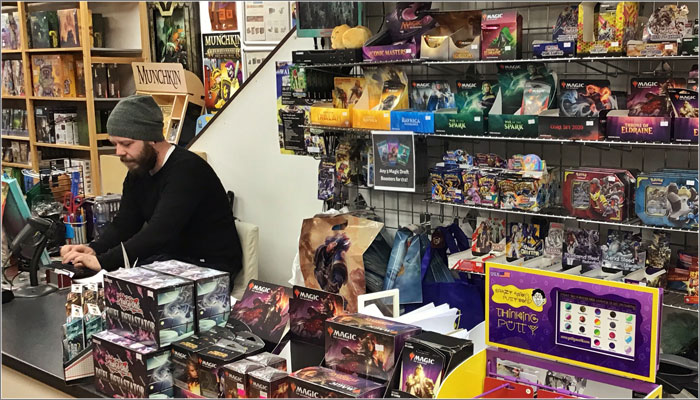 What are the biggest changes you've seen and felt in the market?
Over the years, we've seen a bunch of trends in the industry, some that have come and gone, some that continue. We were around for the launch of D&D Third Edition, with the game-changing initiative of the Open Gaming License, and for the following years of d20 'glut'. We've seen the arrival and growth of board-game cafés, from Snakes and Lattes in Canada, through Draughts and Thirsty Meeples in the UK and beyond. Ever since we opened we've been offering the board-game-café model of having a library of games, with a reasonable event fee to borrow and play them in store. We just haven't done the food-service model to go with it, because neither of us have any interest in it at all!
Yes; clearly you're more about Splendor than Splenda…
The appeal of board games has been growing throughout the time we've been open. The rise of computer and console gaming broke the negative view – predominant in the UK market – that games are only for children, and there's been an on-going move to the mainstream of board games that used to be the domain of hobby enthusiasts only. Catan hasn't quite reached the same ubiquity that Monopoly or Scrabble have, but it's probably on a par with Diplomacy, Game of Life, and similar classics.
Interesting. And what's been the most disruptive change in the market, do you think?
Probably Kickstarter… Crowdfunding has both positive and negative impacts on the friendly, local games store, with amazon and online shopping as a second major retail landscape shift over time. Online has fewer positive impacts I can identify than Kickstarter though. The industry is also making progress towards more inclusiveness on many fronts, from representation in all forms to colour-blindness, and although it's still got a long way to go, it's encouraging to see.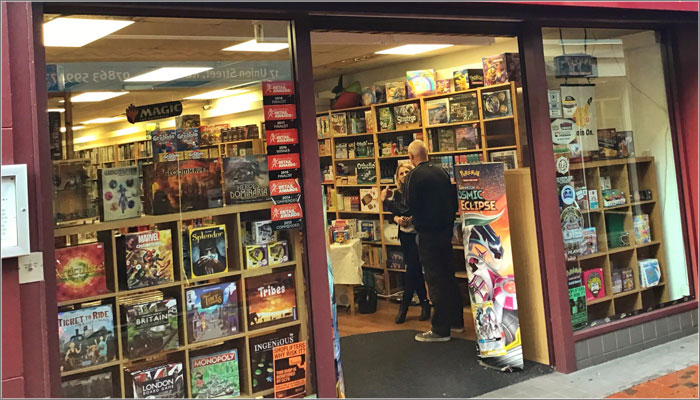 So that we have a point of reference, which games are solid hits for you?
Modern classics and best sellers for us over the years are Catan, Carcassonne, Ticket to Ride, Pandemic, Splendor, Rhino Hero, Cobra Paw, Hey That's My Fish!, Terraforming Mars, The Mind, Coup, King of Tokyo, Dobble, Jaipur, Lost Cities and many forms of Werewolf… Plus Magic the Gathering, Yu Gi Oh and Pokémon all have thriving communities that regularly buy from us and play in store.
If there's one game that you think deserves to do better, but doesn't sell the way it should, what would it be? What needs to happen for it to sell better, do you think?
Games that don't manage to sell the way they should don't last on the shelves – they get cleared and not re-ordered! Sometimes it's a case of having a great game that just doesn't catch the public attention – Shipshape is the most recent one on my list, and Nusfjord took forever to sell through…
Often it's the fact that the price point is just too high for what the game is. Cursed Court is a fantastic game, but print-run size and component cost means it has to be £49.99 RRP, which is about £10 too expensive to actually sell well.
It's interesting that you not only know that a customer's view is, "That's expensive!" but also what reduction would change that view.
The price-point issue is exacerbated by amazon and online discount stores – their model is based on volume and theoretically lower overheads, and thus lower gross margins. The 10% to 30% off regularly seen on most games becomes significant at about the £50 point – up to then, the immediacy of being able to pick a game up in your hands and walk out the shop with it is still a tangible benefit. After you can save £10 or more, it's a factor in people's decisions, especially in an environment where amazon Prime exists.
And as a bricks-and-mortar store, what, primarily, do you look for when you buy stock?
We're in a golden age of great games – which is both fantastic and a problem. Bad games are easy not to stock! Choosing between good games is much harder, and is a function of several factors. Primary selection criteria are price point, general appeal – whom do I expect to buy this game? – reliability of supply and restock: if this is a hit, can I get more of it? Also, are my staff going to be excited about this game? Because enthusiasm sells products!
Secondary questions are things like "Was this a Kickstarter?" If so, is there still demand, or has the publisher destroyed the game's value-proposition by underpricing the crowdfunded version vs. the retail version? Also, do we have to order this directly from the publisher? What's the minimum order quantity and carriage-paid amount? Will the mass market have this game, and will they clearance it swiftly?
So, long before a game arrives in store, you're dealing with really measured questions?
Yes; even down to the box: is it a pain to store, ship, or merchandise? Triominoes, for example, comes in a triangular pouch. Gloomhaven weighs 10kg… Abyss has no text on the sides. And anything that comes in a simple, tiny, non-shrink-wrapped tuck box is subject to shelf wear. Those things are really difficult to merchandise and display effectively.
You go to Essen every year, and we often see you schlepping up and down the aisles at Toy Fair, Games Expo and so on… Why bother? Why not just let distributors come to you and show you what they think is great?
Distributors do show us what they think is great – on their stands at shows! But seriously, there's no way distribution has the manpower to 'hand sell' to all their accounts when they have something like five-thousand different products, and the 'New Releases Showcase' email each week contains between six and twenty new games.
Industry shows are where we meet and talk to distribution, publishers, designers, and where we do a bunch of product research. We'll look out for new suppliers, and catch the buzz of what the industry is excited about. Board-game enthusiasts, and gamers of all kinds, tend to be very well-informed on the subject of their hobby, and we need to be at least as well-informed if we're to maintain their respect and customer loyalty. Shows are part of the product-selection process for the business – getting an idea of what's going to be released, what people are going to be marketing for Christmas, the summer holidays, etc.
So attending the industry shows isn't strictly necessary, but not attending would put us at a competitive disadvantage in terms of information, and we'd miss out on a lot of networking, both for fun and profit. It's all part of being a proactive and full-service games store.
A board-game company once told us their product had "sold out", so they weren't promoting it anymore. But retailers' shelves were still heaving with it! To what degree do retailers need better after-sales care?
Most of the after-sales care a retailer needs from a publisher is clear communication about the status of the product… It's also really helpful ahead of product launch! Things like "There's less than 10% of the print run left for distribution to buy, and it's going to be six months before the next print run hits their warehouses because Chinese New Year will disrupt the next wave of shipping" or "The expansion to this game is going to be available in three months time and will add two more players"…
Bonus points for avoiding things like selling out of the product a couple of weeks before Will Wheaton enthusiastically reviews it and causes the TableTop Effect! Also, offering a fantastically-good deal direct to consumers from your own website on new stock… If they can buy it from a publisher at the same price I can from distribution, why am I carrying that line?! Or having a really-desirable publisher website and convention-only exclusive on a product; Plan B Games: Century Spice Road – Golem Edition Playmats, for example.
Retailers probably would benefit from more 'pre-sales' care from publishers – everything from clear communication of dates to expect product shipping – from a solid sell-sheet detailing whom the product is targeting, and how they recommend selling it, to good, clear videos of how to play, and demo scripts for shop staff if the game would benefit from that.
And what one thing would you want all inventors to understand about selling games?
The answer I want to give has about six vital things I'd like to pass on to everyone that considers publishing and selling a game, but I'll try and boil it down to a single point… Maybe I can do a list of Do's and Don't's for physical retail products later on…
No maybe about it! Let's absolutely do that!
But for just one thing, it's to remember that your game has to have a reason to exist and be on my shelves, in preference to everything that's already on there. There's always more product available than I can stock, so everything that makes it in any way difficult for me to stock your game, reliably and profitably risks me just not bothering.
Perfect! So last question for now: what else can inventors do to engage with customers?
As a general set of behaviours? Recognise what they're good at, what they don't have the skillset for, and try and understand the market and conditions before they jump in. Distinguish between publishing a game as a form of 'vanity publishing' – which is a totally valid choice – and as a commercial enterprise intended to generate profit.  You have to work out which you want to do.
Be professional; be friendly, and follow the rule of "do what you say you will". The industry is relatively small… In the process of evolving, and weeding out bad apples, we all talk to one another across tiers, and bad behaviour towards any part of it will result in your reputation being damaged very quickly. Reputation damage is practically permanent, and very hard to repair.
In terms of specifically engaging with end-user customers… Communicate why your game makes you happy and enthusiastic! Believe in your game, and the RRP you've set for it! Because if you don't think it's worth £39.99, how is a store going to sell it at that price? Share insights into why you've designed your game in a particular way, and how your ideas developed. Finally, make your end-user customers feel a degree of shared ownership of your game. People buy from people, and enthusiasm sells.
Becky, what can we say? This interview is inventors' gold! Thank you so much for making time to answer what might seem like daft questions.
—–
To stay in the loop with the latest news, interviews and features from the world of toy and game design, sign up to our weekly newsletter here