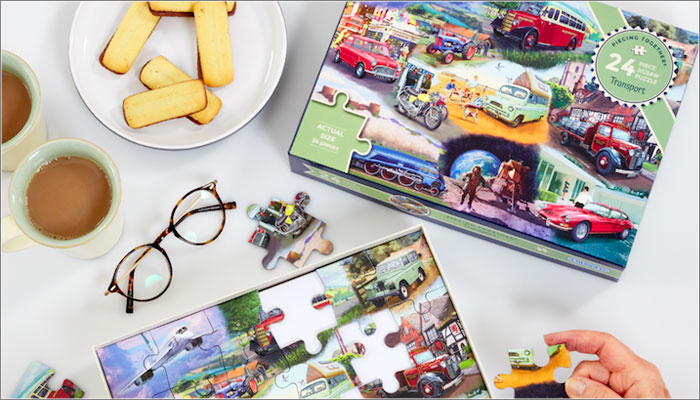 Gibsons, the family-owned jigsaw puzzle and board game company, has given away over 1000 puzzles to those in need and will be donating all profits from their Piecing Together collection to mental health charity, The Samaritans.
Following the outbreak of the COVID-19 pandemic, Gibsons have seen a huge surge in demand for jigsaw puzzles.
"None of us could have foreseen the current situation nor did we expect that the humble jigsaw would bring so much joy to people during this difficult time," said Gibsons MD Kate Gibson.
"We feel honoured to be able to supply pastimes that make isolation a little easier and feel it's our duty to give back to those who are at risk, vulnerable and are facing months of quarantine."
The Samaritans was selected because the charity provides emotional support to anyone who is in distress, struggling to cope, or at risk of suicide. The COVID crisis is the biggest challenge they have ever faced, so the donation will help them continue to provide aid even after the coronavirus pandemic.
The Piecing Together Collection was specifically designed for the elderly or those with sight difficulties or living with dementia and features extra-large pieces and nostalgic artwork.
Gibsons is also supporting other charities and organisations who are working tirelessly to support those in need by:
– Teaming up with Age UK and donating 600 jigsaw puzzles to care homes and residential facilities around the country
– Donating puzzles and games to children's charity Stripey Stork and Elmore Community Services.
– Donating extra-large piece puzzles to Elm House Care Home, Friendship at Home and Dementia Concern – organisations who all care for the elderly who are most at-risk.
– Adding a donation button to their website, to encourage consumers to donate to either MIND, The Samaritans or #FEEDNHS when they check out.
"Elmore is continuing to support people with mental ill health and complex needs during this difficult time," said Tom Haynes, Chief Executive of Elmore Community Services.
"Many of the vulnerable people we support are finding isolation and distancing challenging. That's why this act of kindness from Gibsons is so timely and important. The donation of jigsaws and games will make a real difference to our clients. Not only will they be able to stay active, but because they are receiving the gifts as a donation, they will be so touched by the gesture and the generosity of Gibsons."
—-
To stay in the loop with the latest news, interviews and features from the world of toy and game design, sign up to our weekly newsletter here