A Girl for All Time founder Frances Cain on the world of dolls, facing the Dragons – and why diversity matters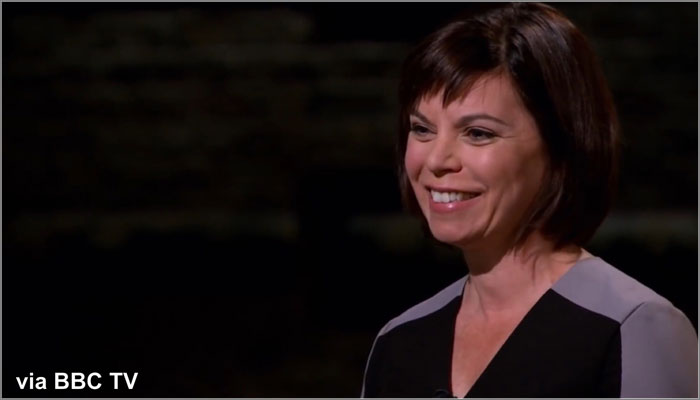 Frances Cain on A Girl for All Time, Dragons' Den and dolls with purpose.
You may not know it but you're the second person I ever met in the toy-and-game industry… Your good cheer confirmed the industry was mostly-friendly. So thanks for that!
Thank you! I did not know that!! What a fun fact for future generations!
That's actually my way of asking you to be a character witness when the time comes…
I'll do that! I do remember that meeting actually – it was so much fun; a great intro for me to the toy industry as well.
And now here we are again… Welcome to Mojo Nation! Let's start in the easiest place: with what did you play when you were little?
Everything, really. I remember my dad building a tree house for us when I was six… I spent hours in it, even slept overnight when I was allowed! No health and safety anywhere in sight, it was a marvel of home engineering. I also loved my set of Lincoln Logs and thus pretended everything was Little House on the Prairie themed.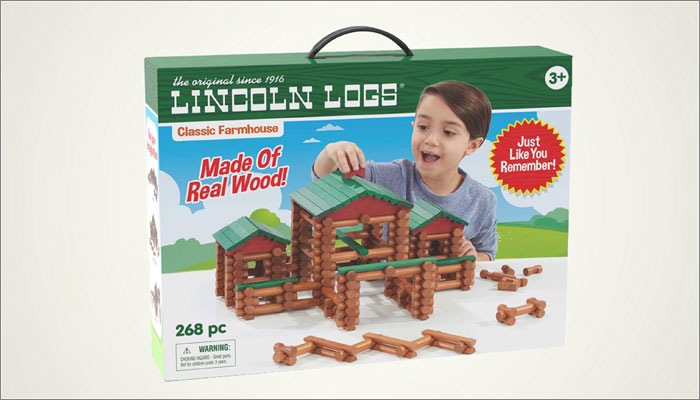 I like this… You surprised me; I hadn't thought about it but I guess I assumed there was going to be a doll early in the mix!
Well, there were dolls… One of my most-prized possessions was, of course, my Busy Lizzie. She could hoover! She could mop! Clearly, I was impervious to the subtle stereotyping as I hate doing either of those things to this day.
But my dad was something of an early adopter of feminism. He would wrap my Barbie up in aluminium foil and tell me she was an astronaut, and then helped me make one of those constellation mobiles out of old rubbish and left-over, dried up paint. I loved it.
So how did you come to work in the toy-and-game industry?
I think like quite a few of us, my children led me here, really. I wanted to see my own children play with something that would contribute to education, was well made, and could be passed down to the next generation.
Which led you to run the doll company, A Girl for All Time?
Yes. Through a combination of things… I felt there were too many disposable toys on the market, and I'd always loved stories about my family, ever since I was little. So creating a line of dolls that told the story of a family through the generations seemed a good way to encourage that love of family history in children.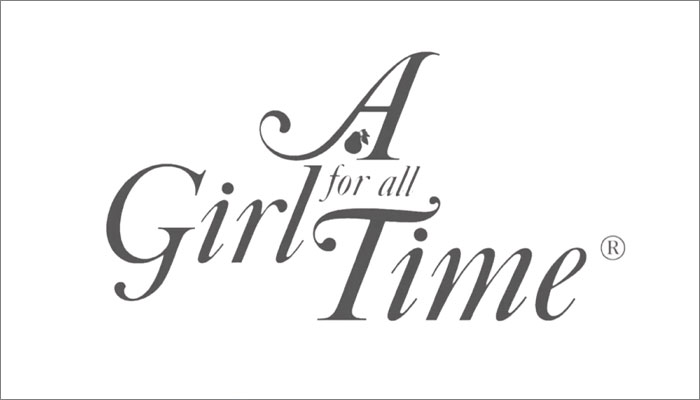 So that family aspect was in the DNA? Interesting. Because to people like me – with an encyclopaedic ignorance of dolls – this market looks like a war zone!
Ha! Yes, this sector in particular can look like a war zone, can't it?
I just wouldn't know where to start! So on that point, what does A Girl for All Time do that other brands don't? What's the USP?
We have a couple of hooks for our brand – but probably our strongest is the one we touched on. So far as I know, we're the only brand that focusses on family trees and personal family narrative as a means of teaching children empathy and sympathy, and helps children understand that we're all connected at some level.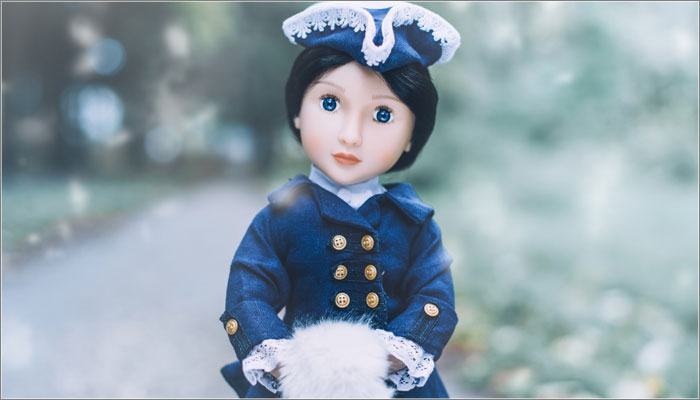 This is very strong stuff; it's not trivial…
No, not at all. I'm fact, there's been quite a bit of research in the US showing that sharing family stories with children is an important part of developing a child's healthy sense of self – not only as a member of a family but also as a member of society. And that is what we want to achieve with Your Historical Girl™ characters and stories… To help children understand that we're all threads in a global tapestry. If you wanted to look up some research on family narratives and how they benefit children, you can explore the work of Duke and Fivush for a longer read.
Threads in a global tapestry! That's a terrific sentence. Actually, that's a terrific sentiment… So that was one hook, excellent – what was the other?
We've also got loads of fun activities and content to help start children on their own family tree: questionnaires for children to ask family members so they can get to know the people in their family tree, family tree templates to fill out, historically inspired recipes and activities to recreate what their ancestors might have eaten or made in the past, and of course fun quizzes and stories too to learn more about different periods in the past.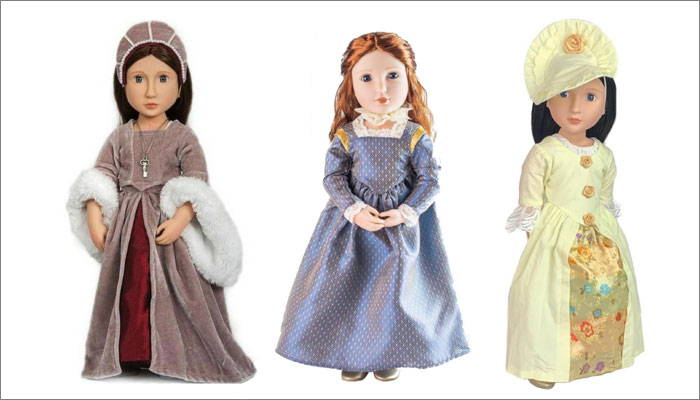 That's fantastic! It's very rich. So there's MUCH more to the world than just dolls… Back stories, education and activities… I know too that there are accessories and books. And people can check out the ranges – I'll drop the web address in here… www.agirlforalltime.com. To what degree, then, does education and creativity push the company?
Creativity and education play a huge role in everything we do. Our creative team doesn't have a traditional toy-design background – two of our costume designers have a television, film or fashion-design background. And our creative director and author is a BAFTA-nominated screenwriter and director. I think that brings a unique vibe to our range.
It certainly explains the depth as I perceive it. And when we are talking about the education, is that classical; not classical – is it curriculum driven?
Yes! We draw on the Key Stage 2 history that's taught in secondary schools for our character's eras: Tudor, Victorian, WW2, Georgian etc. So these dolls and their activities are perfect for supplementing primary-school children's education through play.
Also, for 2021, we're offering home-schooling focussed activities and 'lessons' to further support online learning in a fun way. That's based on each character and historical period, further supporting KS2 learning. I can't wait to get all of that loaded up onto our site starting this month!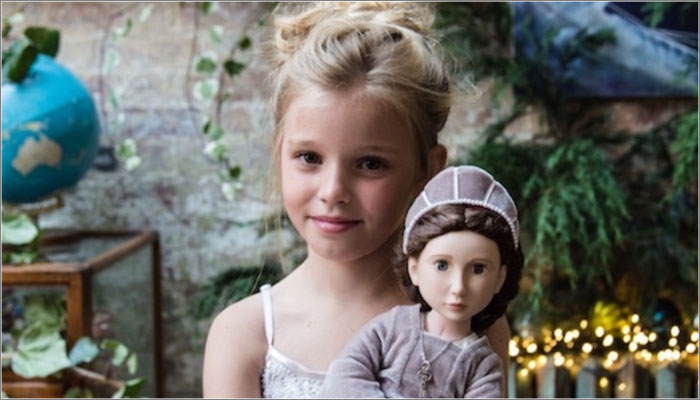 Busy, busy, busy! Let's jump forward in time: Your Modern Girl™ is a diverse collection of contemporary characters… They're all best friends; they live in modern-day London. What's the aim there?
I am really excited about this range! Our goal is to help children see themselves reflected in these characters. We have an Afro-Caribbean doll named Bex, a South American boy doll named Max, a mixed heritage Indian / British doll named Nisha and our own Marchmont descendent named Maya. So three-quarters of our characters are brown or black. We're working on developing this range further and I can't wait to see how this range unfolds.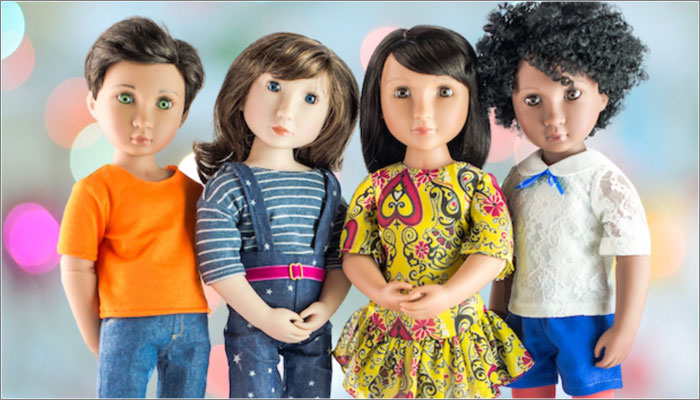 And I know from our other conversations that this isn't a bandwagon to jump on for you; this is important…
Right. I think it is important for children to see their own world reflected in their toys. Seeing themselves in toys can help reduce the likelihood of children feeling isolated by their peers because of how they look, where they come from, or what cultural practices they have at home.
If children grow up see diversity as something that is 'normal' and not as something scary or that they're not able to understand, then they'll naturally accept and embrace differences. If diversity is the norm, then we can create a fairer and more representative society.
Well said. Great! Okay… So: you're also a survivor of the TV-pitch show, Dragon's Den. What was the experience like?
Ha! Yes: PTSD after that…
I'm glad I asked! It wasn't that bad, surely?
No; overall it was really a very positive experience. Being in front of a bank of cameras was a great learning experience – although I hate being in front of a camera! I did learn to zone it out by focussing on the questions and the people at hand and not the actual filming. It was a very good experience and really helped me focus on the more "business-y' parts of A Girl for All Time.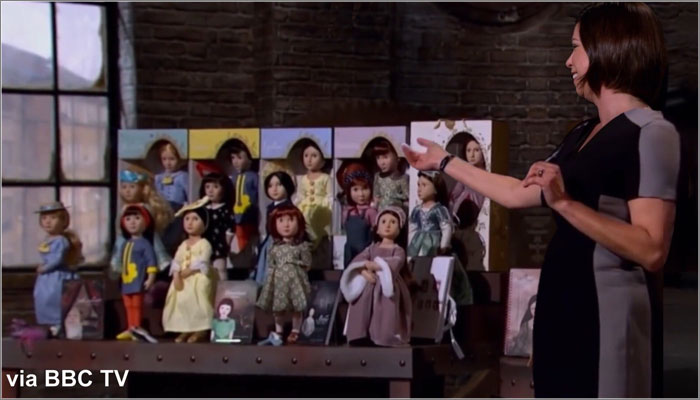 I'm curious, then: how did you prepare for it?
Prepping for the show involved a monumental amount of paperwork, receipts, NDAs, company accounts, etc. A folder literally heaving with all the most boring details you can imagine. But also it forced me to really focus on my pitch, and really figure out what I was looking for in terms of support from a partner/investor.
So great preparation for the business side of it…
Ridiculous preparation! And then there was an embarrassing amount of filming myself while I practiced my pitch. I really dislike being in front of a camera, so I knew that was going to be a challenge, and one I just had to overcome!
I hear you. Now, the televised sequence is – what? Ten minutes long? And for how long did you actually film?
This is a really good question, Deej…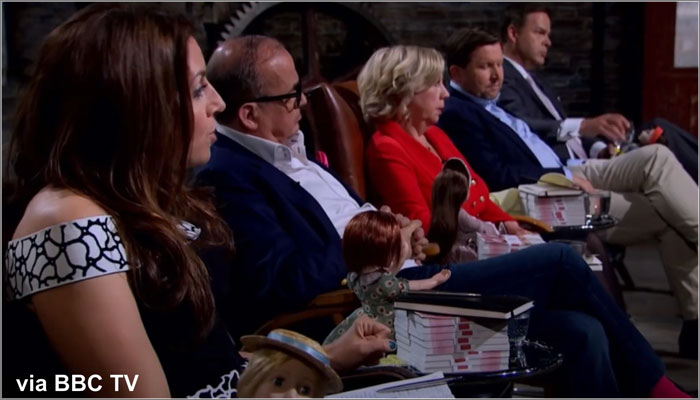 Thank you! That's something Mojo's asked me to be better at! They now insist that one in every 15 questions is good… It's quite a struggle! In any case, I'm assuming you filmed for ages?
Exactly! And actually, the show producer told me that if you're on set filming with the Dragons for more than 15 minutes you're having a really good session. We filmed for nearly 1.5 hours so I actually thought overall it went quite well. It was the longest filming session of the day, I remember that much!
In the end, the Dragons didn't invest for various reasons. My impression was that they didn't really "get it". How do you see it?
I think it's interesting that dolls evoke quite a bit of emotion, more so than many other toys, good and bad. Plus I have always thought that there is a certain stigma attached to what is considered traditional feminine play, and I've written and blogged about that in the past.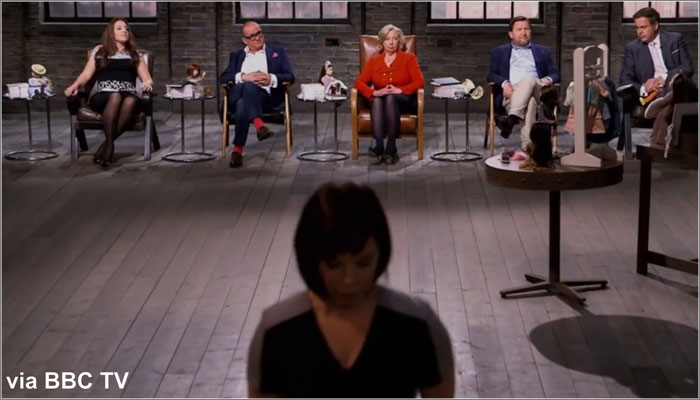 In what way?
Feminine play is less valued, very generally speaking. Girls play is often depicted as housework with plastic hoovers or ironing boards – some things haven't changed much since my own Busy Lizzie days! And for some people, dolls fall into that category of being less valued, or less valid. Part of my reason for creating a range of dolls that has a lot of rich backstories, depth and education behind them is to combat that pre-conception.
Interesting. And in what way did the Dragons' Den experience change the way you pitch?
I think the experience has taught me to be confident in what I believe in, and in what I'm creating with this range. In the nearly five years since I filmed that episode, a lot has changed. We've hit, for example, a lot of the goals I talked about in the show. And after what has been a very difficult year for the entire industry, I'm very proud that we're still going – and looking forward to expanding our range and customer base in 2021.
Brilliant. Frances, I knew this would be terrifically insightful and great fun. Thank you so much for your time. Just to make doubly sure I hit that interesting-question ratio, final one: what's the most interesting thing in your office on your desk?
Oooh… A few things actually – I have a handwritten note from Victoria Beckham thanking me for the beautiful dolls I sent her daughter, and a Mexican 'prosperity' candle that ensures riches and wealth once you've burned it all the way down.
Ha! Really? I've got to get one of those!
Well, I've burnt the candle – so just waiting for those riches now… My favourite thing, though, is a little jar of 50 facts about me that my two children made for a Mother's Day gift years ago. Fact #9 is that I am "short and foreign"… And I can't argue with either of those comments!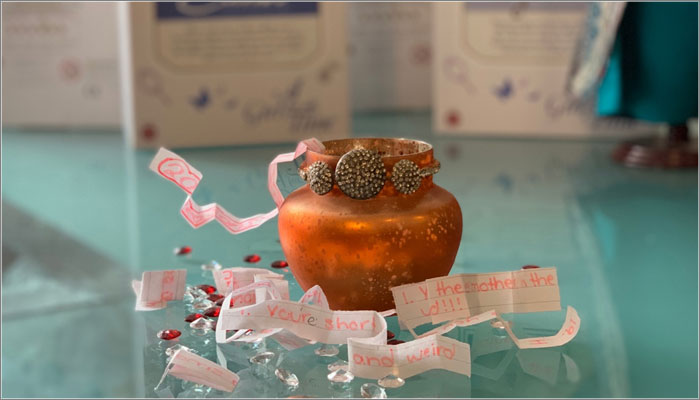 —-
To stay in the loop with the latest news, interviews and features from the world of toy and game design, sign up to our weekly newsletter here