Good Little Games' free print-and-play games return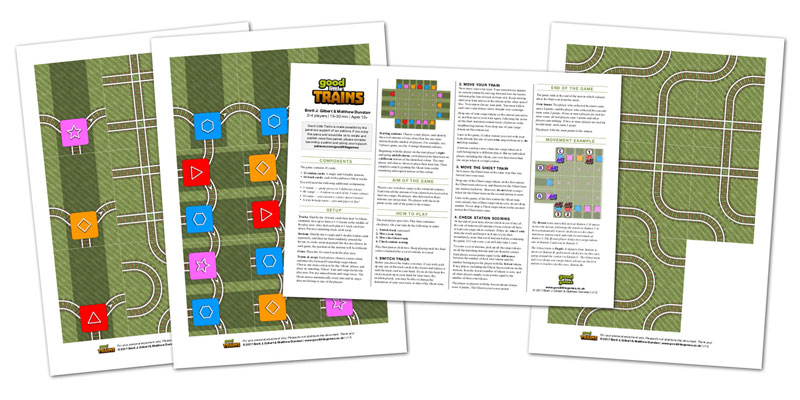 Good Little Games' free print-and-play tabletop games are back, supported by the launch of a new Patreon campaign.
Game designer Brett J. Gilbert first launched Good Little Games back in 2013 as a platform for free print-and-play 'microgames', each using a maximum of 18 poker-sized playing cards on two printed sheets. An array of game designers contributed 11 games to the Good Little Games portfolio, which have since received a combined total of over 30,000 downloads.
Fellow designer Matthew Dunstan has now joined Gilbert to re-launch Good Little Games and co-design each new title. Both hope to support this venture through the first-ever Patreon funding campaign focused on the creation of new tabletop games. Patreon is a crowdsourcing website that allows anyone to make small pledges of support for creators of all kinds.
Good Little Games plans to release a new free print-and-play game each month. The first game, Good Little Trains, is now available from www.goodlittlegames.co.uk.
Good Little Trains is an easy-to-learn, tactical, route-building game for two to four players, aged 10 and up. Players take on the role of train drivers, eager to deliver their cargo to the ring of colourful stations connected by an ever-changing layout of tracks.
In order to play each Good Little Game title, players just need to download and print the files containing the rules and game cards and find a small number of common components such as playing pieces, tokens or dice.
The firm's next game, Good Little Ninjas, has already been announced and initial playtesting files made available to the first patrons.
Those interested in Good Little Games should visit www.patreon.com/goodlittlegames to find out more about the campaign and the perks for pledging at different levels. These include exclusive posts from the designers, early access to playtesting files of upcoming games and the opportunity to participate in their development.