Hasbro's Brian Chapman on inventors, inspiration and embracing disruption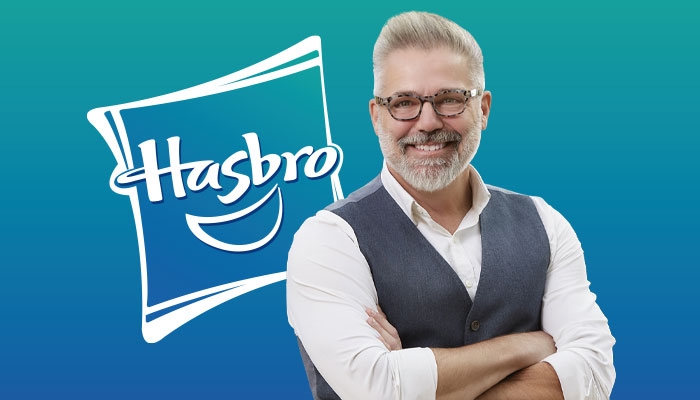 Brian, it's great to connect. Let's start at the beginning. What sparked your interest in design?
Hi, it's awesome to connect! My initial interest in design was based on my time spent with my grandfather, Oriel Lee. He was a small farmer in rural Indiana and he would always make parts for his equipment and machinery when they needed repair. I remember fabricating mufflers for his chainsaws, welding broken parts on his tractors or even helping him make an evaporator for homemade maple syrup. He was so clever and I realised I loved to create and make things from my time spent with him. It wasn't until later that I discovered Industrial Design while studying mechanical engineering at Purdue, and I realised I could have a career based on this creativity.
Was a career in toys and games always on the cards or were any other industries ever in contention?
It's funny, I never even thought about designing toys and games as a career. When I put my portfolio together to go looking for a job, I had a lot of passion projects in it. I loved drawing dinosaurs, fantasy weapons, crazy cars, and giant bionic warriors. My first interview was with Kenner Products, and they couldn't believe my portfolio. They needed designers to work on Jurassic Park, make Batmobiles, come up with Nerf blasters and do action figures. It was a perfect match and they offered me the job!
Sounds like the stars aligned! Now, if LinkedIn is to be believed, this is your 30th year with Hasbro. Has your approach to design changed much across the decades?
Wow, has it really been 30 years? Time flies when you're having fun! Yes, my approach to design has changed. Early in my career, it was about discovering the insights to make my projects the most successful they could be; now it's about building a culture that enables creativity and innovation. I'm super passionate about how to nurture that creative culture and unlock the potential in everyone to drive great toy and game play experiences.
Your design teams are working on some of the most iconic brands around – many of which have been around for years and years. From a design point of view, what's the key to keeping Hasbro's portfolio of brands fresh and exciting?
It's about being open minded, harvesting the best ideas possible from around the globe and ultimately being a champion for these ideas to take it from a concept sketched on a piece of paper to a toy or game in the hands of a kid. The process requires both left and right brain problem solving, a good amount of collaboration, and a lot of fortitude and determination.
Let's talk inventors. What was your first experience of working with the inventor community?
It was in the 90s when I was working at Kenner on their radio-control vehicle business, X-RC. We partnered closely with inventors to bring heavily featured, radio-controlled vehicles to the market.  Ricochet, Stunt Boss, Air-Devil and Crashback were all very cool, successful vehicles that were brought to us by inventors. We worked closely – with and relied heavily on – the inventor community to make those toys super successful. It was a great time, full of many challenges and lots of fun!
Why are inventors vital to Hasbro's continued success?
We rely on inventors to bring outside thinking to Hasbro. We need to push ourselves to not get caught up in traditional thinking. I like to think that the inventors, not encumbered by the day-to-day of the business, can think more freely and sometimes be more connected to new, creative opportunities.  They're not confined by the way we define brands, segments or categories.
 
What's the key to a successful inventor/company relationship?
Open communication, partnership and an open mind. Any product we take to market has many cost, safety, price-value and manufacturing challenges, and the type of innovation we receive from inventors adds to the complexity. We all must work relentlessly together, inventor and Hasbro developers, to solve issues throughout the entire process. We must iterate and adjust the play experience to resonate with kids, fans and families. Not easy, but so rewarding!
Absolutely. Looking more broadly, do you think the industry is in a good place creatively at present when it comes to design?
Yes, we're at an interesting time for design. We have the explosion of creative-led entrepreneurs being super successful. Tesla and Uber are a couple of examples of how these companies are disrupting their industry with a     focus on great design and awesome user experience. The toy industry is no exception. We see cool designs and dream products being created and delivered directly to the consumer, we see price-point thresholds removed, we see digital and physical products converging, and we see a big focus on sustainability. We're in a great time for design in the toy and game space and we must embrace this change and disruption.
Brian, this has been great. One last question! How do you fuel your creativity?
For me, it's about fuelling my passion and finding my personal inspiration. When I'm not creating or making at work, I'm finding new ways to challenge my create-and-make skills at home. I tend to jump into things like cooking, gardening, home restoration, or fixing up vintage vehicles to keep those skills sharp. All of these things require research, creativity and hands-on making to be successful.
Last night I was up late in a barn taking apart and cleaning the fuel system for an old bulldozer. Never done it before, had a few setbacks, but figured it all out… Kind of like what we do in the toy and game industry every day!
–
To stay in the loop with the latest news, interviews and features from the world of toy and game design, sign up to our weekly newsletter here