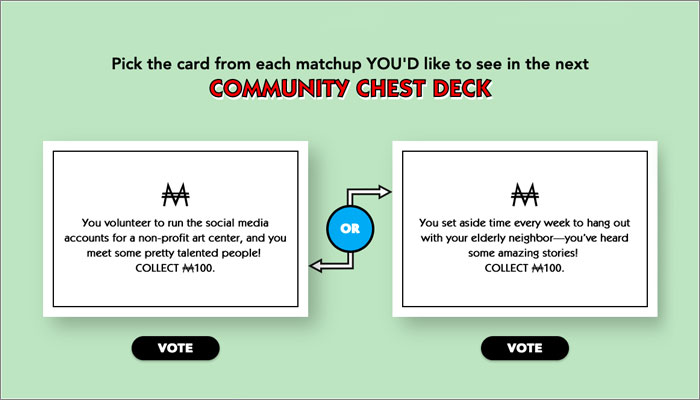 Hasbro is changing all 16 of Monopoly's Community Chest Cards – and is asking consumers to vote on the new cards.
New options include 'You shopped local all week. Advance to Go. Collect $200' and 'Your friends video chat you after a tough day. Get out of jail free.'
Take part by voting at MonopolyCommunityChest.com.
To further show the Monopoly brand's commitment to community, they will be hosting the first ever Monopoly Charity Classic with a $350,000 Community Chest fund up for grabs.
This will see four celebrities play to win a portion of the Community Chest to be donated to the charity of their choice and will air this Spring on YouTube.
"The world has changed a lot since Monopoly became a household name more than 85 years ago, and clearly today community is more important than ever," said Eric Nyman, Chief Consumer Officer at Hasbro.
"We felt like 2021 was the perfect time to give fans the opportunity to show the world what community means to them through voting on new Community Chest Cards. We're really excited to see what new cards get voted in!"
The updated Monopoly game – with new, fan-voted Community Chest Cards – will be available this Fall.
—-
To stay in the loop with the latest news, interviews and features from the world of toy and game design, sign up to our weekly newsletter here