Hasbro, Novalia and Collabsco to talk innovation at US Toy Fair's Creative Factor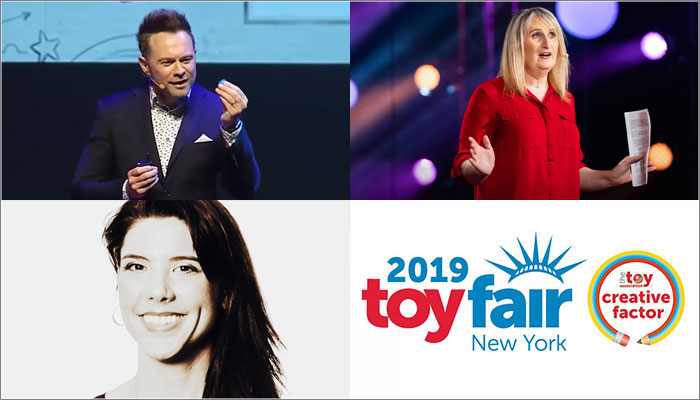 Mojo Nation's Billy Langsworthy is to chair the Play Innovation panel session at this year's Creative Factor at US Toy Fair, featuring design execs from Hasbro, Novalia and Collabsco.
The Play Innovation Panel will take place at US Toy Fair on Sunday, February 17th from 10:00 to 11:00 at Creative Factor (Level 1, Hall 1D, Lobby).
As both toy titans and some of industry's most exciting new start-ups embrace the opportunities these kinds of developments can bring, this session will shine a spotlight on how emerging tech is set to shape the toys and games of the future and look at how it's already changing the ways in which kids (and big kids) play.
Joining Langsworthy on the panel will be:
· Phil Sage, Senior Director, Design & Development, iPlay, Hasbro
· Valerie Vacante, Founder, Collabsco
· Dr Kate Stone, MD, Novalia
Discovering and innovating the world's best play experiences, Phil Sage's craft is channelled through building next-generation leaders, new processes and industry-best products. A toy designer and technologist with a passion for driving incremental business, his career talents and curiosity were evident at a young age. Compiling RC car motors, shing wire and batteries into elaborate duct tape bound lawnmowers, his love affair with the most magical of industries has spanned 15+ years. He is constantly innovating, evolving his global philosophy of partnering with the world's experts and with Hasbro he brings the best opportunities to market which ignite consumers' creativity and imagination.
Valerie Vacante is founder of Collabsco, a strategy and innovation firm based in Austin, Texas. For over 14 years, she has led cross-functional teams to create meaningful, consumer-centric experiences that connect brands, people and emerging technologies. 2018 saw the launch of Collabsco's Connected Cool Kids: Connected Play Landscape at Mojo Nation's Play Innovation Summit, mapping over 115 connected play products, companies and technologies across IoT, AI, Robots, Augmented Reality, Virtual Reality, Edtech, Makers, Wearables, Social NFC/RFID and Voice. Vacante has also expanded Collabsco's product innovation partnerships across the world, helping companies build their portfolio through collaborations with inventors, start-ups and global firms.
Creative scientist Dr Kate Stone is the founder of Novalia, a start-up that specializes in touch and sound technologies. Novalia has created touch and sound marketing brand experiences for NASA, Pizza Hut and Disney, but the firm has recently moved into the toy space, graduating from the 2018 Alexa Accelerator Class where it created its first kids and family product: The Creative Touch Studio. This immersive playscape enhances children's imagination through the power of sound. Parents can customize environments with Novalia's PlayShapes, select sounds and then watch as children bring their magical worlds to life with content provided through smart speakers.
The Play Innovation Panel session is free-to-attend for all those registered to attend US Toy Fair. You can register for the show here.