Hasbro, TOMY and Alpha to unearth new concepts at Mojo Pitch 2018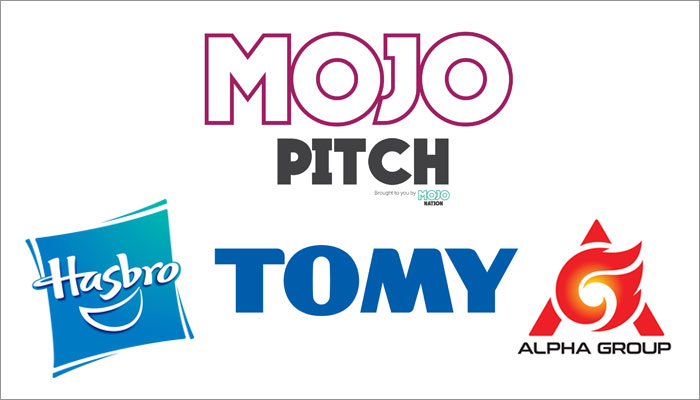 Mojo Nation has detailed the first wave of companies involved in this year's Mojo Pitch event.
Forming part of the inaugural Play Creators Festival, the Mojo Pitch will take place on September 11th at London's Emirates Stadium, and will see toy and game designers, invention houses and design agencies pitch exciting new toy and game concepts to a range of companies, each on the lookout for new products.
The first companies confirmed to be meeting designers at the Mojo Pitch are Hasbro, TOMY and Alpha Group.
"The UK holds some of the best innovation talent in the industry," said Rich Mazel, senior director of global product acquisition at Hasbro.
"Mojo Nation is leading the way in connecting this talent with companies and developers around the world. We have worked with the Mojo Nation team for years and are excited for this year's event and new venue. Hasbro is proud to be sponsoring this event, supporting both Mojo and this amazing network of inventors."
Darren Lee Phillipson, VP of design at Alpha Group, added: "Alpha Group is absolutely thrilled to be part of the 2018 Mojo Pitch. This is a groundbreaking event that will help toy companies tap directly into the creative talent that might not ordinarily have a direct line of contact with manufacturers.
"Mojo Nation is a clearly leading the way when it comes to innovative ways to bridge the gap between inventors and the toy industry."
Alpesh Patel, Head of Research and Development, US & Europe at TOMY, continued: "TOMY is delighted to be partnering with Mojo Nation on the Play Creators Festival. Invention, ideation and design is key to all toy companies and is at the core of our business at TOMY. As we reach to become a 100 year old company in 2024, we have had the same philosophy of making innovative and high quality toys with 'TOMY Magic' throughout our company's history, with inventors having played a key role throughout.
"The Play Creators Festival allows us the ability to make new connections, see fantastic new innovation and help us develop brand new world class products with a simple goal of making the world smile. We are very excited to be part of this great initiative and look forward to meeting everyone that is participating in this special event."
More companies are set to announced in the coming weeks, and Mojo Nation will be publishing a wish list for participating firms, outlining what each company is looking for in terms of product, ahead of the event.
To join Hasbro, Alpha and TOMY in seeing designers and new concepts at the Mojo Pitch, email Billy Langsworthy at billy@mojo-nation.com.
For more information on the Mojo Pitch, or to book your ticket, head to: https://mojo-pitch.com.
For more information on the wider Play Creators Festival, head to: http://playcreatorsfestival.com.