Hasbro's Gray Bright takes us inside Clue's latest revamp – and reveals the key to success when inventing for the brand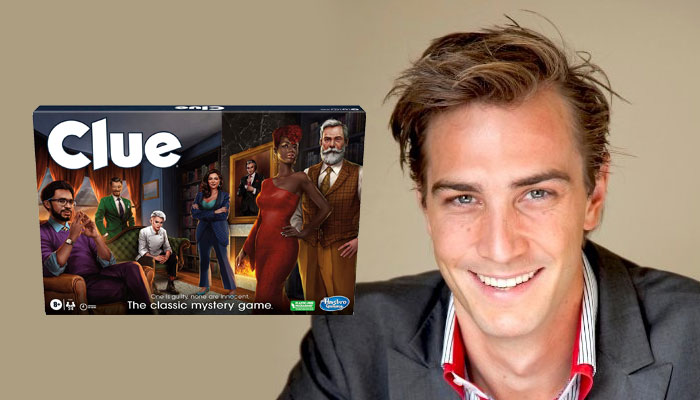 Gray, thanks for making time for a chat. Clue – and Cluedo, depending on where you are in the world – have just had a revamp. Talk us through some of the key updates.
Yes – our iconic mystery solving board game Clue has received a refresh that combines classic Clue gameplay with rich new takes on the original murder mystery storyline. We have an intriguing, diverse cast, highly stylised game pieces and the glamourous Tudor Mansion. The next chapter of Clue invites even more gameplay immersion as players see themselves in a sophisticated fictional murder mystery crime-solving experience.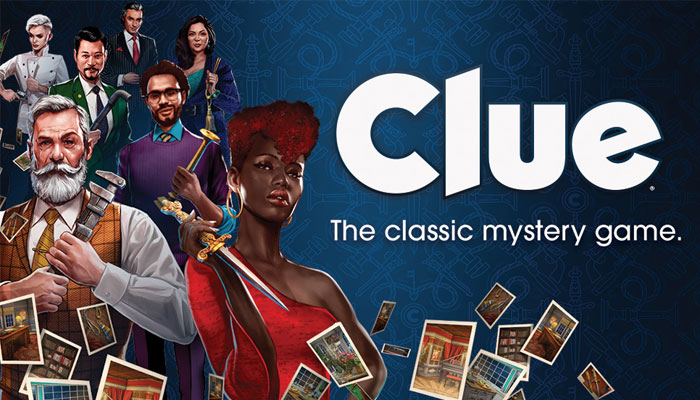 The new Clue game expands to a satisfying 20 x 20-inch gameplay canvas, giving players a birds-eye overview of the intricate Tudor Mansion. The entire box is designed to resemble Boddy Black's desk – and is covered in blackmail evidence he's acquired. It gives players a chance to discover more intel to unfold the mystery.
Gone are the generic-coloured pawns and the simplistic murder weapon pieces. These are replaced by sculpted character movers and richly textured weapons made of metal with golden finish. It all makes for a more captivated experience with an aesthetically pleasing feel.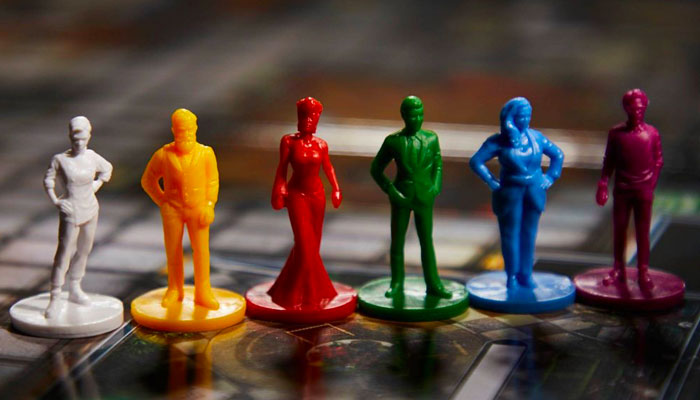 Impressive stuff – and it's worth stressing this is the core product. It isn't a special decadent limited edition version!
Yes, we've really taken some time to make this core product the best it could be. We do also have a Clue Signature Edition which takes it a step further, but the core product is an incredible work of art.
You mentioned updating the characters to be more inclusive and more diverse. What was that process like? What guides these decisions?
We put so much time and thought into this. We saw the importance of reimagining these iconic characters to reflect the diversity of the game's players more accurately – even beyond what the eye can see. Players can now choose to play as Miss Scarlett, Mayor Green, Colonel Mustard, Chef White, Professor Plum or Solicitor Peacock and race to crack the case by gathering evidence and narrowing down choices.
Chef White, Mayor Green, Solicitor Peacock… What provoked some of these character's career changes?
Well, each playable Clue suspect has been thoughtfully revamped to reflect a new character with a meaningful backstory and motive that engrosses players in the world of Clue. They've been designed to be better reflective of the people – and world – today.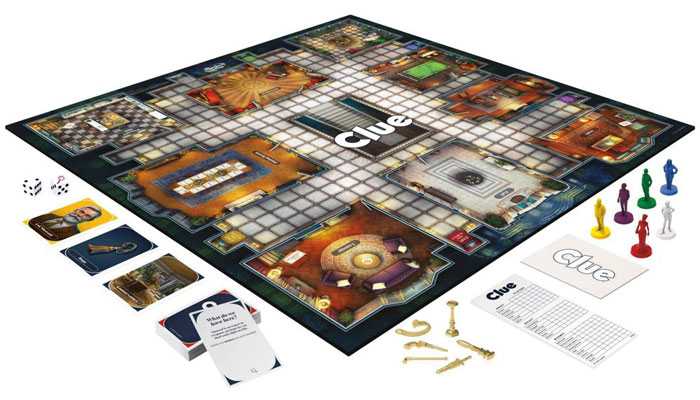 Absolutely. And it seems apt that con artist Mr Green – known as Reverend Green globally – has finally found his way into politics in this edition! Now, for any inventors reading, what is the key to inventing a compelling Clue game? What should they bear in mind?
Clue is an immersive and cinematic world that allows players to entrench themselves into the atmospheric glamour of a classic murder mystery. Players should be invested in piecing together clues and feel the tension of reaching for something that's just out of grasp. This ensures that when they do solve the mystery, it's a real lightbulb moment!
When inventing for Clue, it's also key to put mystery – not crime – at the centre of your game's narrative. While Clue is adjacent to true crime, they're not the same world. Detectives, forensics and the like are possible in Clue, but they shouldn't necessarily be the focus.
It needs to have the DNA of the original Clue in that players are solving a whodunnit, but it also needs to be different because if the change is too subtle, consumers will think they already own your version.
Great advice! Any other tips?
Yes! The rule of three is what makes Clue unique in this genre of game….
The rule of three being…
It's the solution that can be deduced – typically 'Who?', 'Where?' and 'What?' But that can be different. It takes cleverness and persistence to sleuth out the different variables. If someone reading is looking to innovate in Clue, exploring how to make the rule of three feel fresh and exciting would be pretty cool.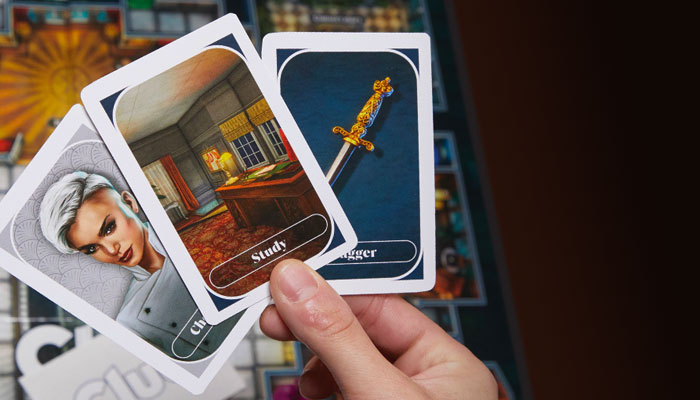 It's also worth remembering that our core six characters are not heroes – and they shouldn't be – but they are certainly the stars of any Clue game. What could the next mystery be that these characters experience? Recently we've published Clue versions of escape rooms, invented by Just Playing Games. These games have been such a natural fit for the brand and what's next? Well, we're very open to hear from inventors!
Anyone looking to invent for Clue should definitely pick up a copy of the 2023 refreshed version, and do have a play of the new Clue Escape games to see how these revamped the Clue's classic gameplay.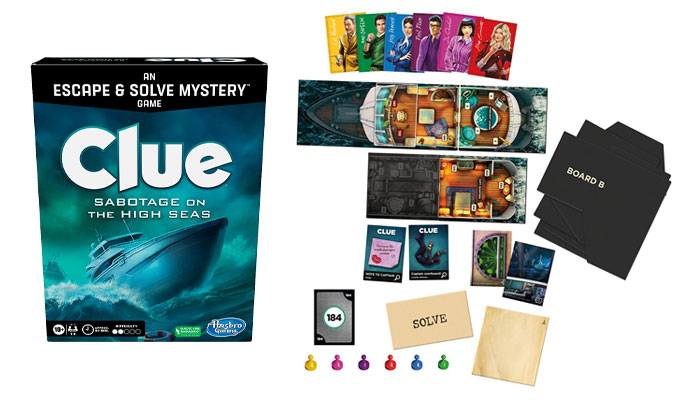 Really useful stuff Gray. Thanks for that. Now, away from just the games aisle, is it fair to say Clue is now a fully-fledged brand in its own right?
Absolutely! For years, the inspired mysteries of Clue have excited players across the globe through countless game night interrogations, cult classic entertainment offerings and iconic pop culture fandom moments. Today, Clue is the 2nd most popular board game in the world, having sold more than 150 million boards. It has inspired experiences and entertainment from escape rooms and walking tours to the cult classic 1985 Paramount film Clue.
Soon fans will encounter even more mysteries with the new Clue live action feature film adaptation from eOne and 20th Century Studios. It boasts James Bobin directing, Oren Uziel writing and Ryan Reynolds starring, with his company Maximum Effort producing. We also have a Clue animated series in the works from eOne, Fox Entertainment and Bento Box Entertainment.
Clue has become a mystery solving worldwide phenomenon and we are excited to see Clue expand even further with new games and experiences throughout this new chapter.
There's lots of iconic board games that don't end up with their own movies, TV shows and apparel lines, so why can Clue stretch in this way?
It's the power of the storyline – it can be manifested in so many different ways. We're seeing that now across various modes of entertainment, but at its heart, you have a compelling story.
On that, we've had Glass Onion, See How They Run and Bodies, Bodies, Bodies in cinemas recently. It feels like the whodunnit is having a bit of a moment again. Can Clue – the game – benefit from the apparent re-invigoration of the genre?
Like Clue, this genre has a real heritage, and there are even references to Clue throughout some of those you mentioned. For over 70 years, Clue has remained a timeless, textured mystery-solving experience with its Who? Where? What? solution. To your point, with the accelerated rise of mystery and true crime content across film, TV, literature, podcasts and more, there's no better time to reintroduce Clue – the game that has inspired so many modern retellings of the classic whodunnit.
I have one last question! The new version of Clue has prompted some very funny feedback from fans who find these revamped versions of the suspects rather attractive… One headline I read said: 'The Internet Wants To Get Murdered By Clue's Sexy New Cast'. Did that come as a surprise or was it all part of a smart marketing plan? Is someone at Hasbro frantically drawing abs onto Rich Uncle Pennybags for the next Monopoly?
Although we did not embark into the redesign of Clue with this goal in mind, we are thrilled with the response the cast is receiving. We love seeing fans engage with Clue in this way and look forward to continuing to bring these iconic characters to life in the months ahead.
Fab. Gray, as always it's been a pleasure. Thanks again.
–
To stay in the loop with the latest news, interviews and features from the world of toy and game design, sign up to our weekly newsletter here