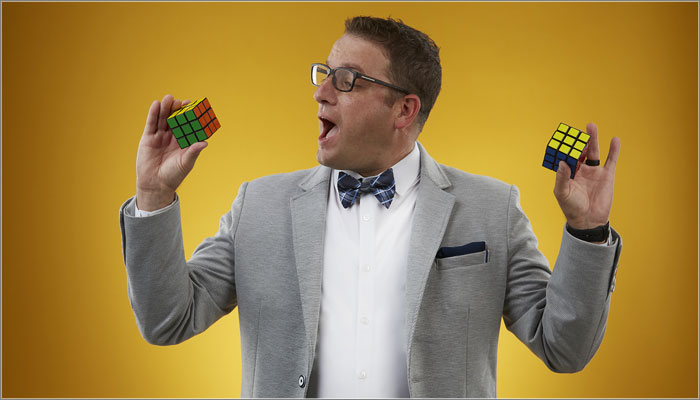 As one of the industry-leaders when it comes to working with outside innovators, we caught up with Hasbro's Senior Director, Global Product Acquisition, Rich Mazel, to discuss why he believes diversity of thought is key to unearthing creativity.
What do you see as the future of toy and game innovation?
At Hasbro, we're committed to reinventing invention. Looking to the future, we're interested in new ideas from new voices and appreciate that great ideas can come from anywhere.
Each person on this planet has their own unique blend of life experiences that inform how they think, act, and feel – no two people are exactly alike. It's those differences that we want to celebrate. It's those differences that inspire fresh, fun ideas that ultimately make great play experiences.
Who is invited to your Innovator events? Is it just toy inventors?
We're interested in new ideas from anyone, anywhere, so this year, greatly expanded our Innovator Summit. For example, we hosted a satellite rocket scientist! While not a toy inventor by trade, she came to us with 20 ideas – some of which we are actively exploring. We also hosted a shadow artist (yes, it's a thing and it's really cool), several mom-ventors, and people from around the world using technology in new and exciting ways.
We look for fresh, new, bold ideas which align with the future of our business and brands. It's our responsibility to bring in complete left-field opportunities, those innovations we weren't looking for. As in most industries, this can lead to some radical shifts, keeping our portfolio relevant and growing our brands.
How do you approach outside innovation vs. in-house design and development?
Outside innovation is incredibly important to our company, and we take great pride in our legacy of working with professional inventors, as well as companies and consumers, to bring the world's best play experiences to life. We believe that outside creativity complements the work we do as an organization, and we love hearing from people who aren't part of our industry.
Have you made any changes to your organization to support this approach?
At Hasbro, our Global Product Acquisition team, by design, is more diverse today than ever before. As a global company serving all markets, audiences, fans and families around the world, diversity is a key element in a successful innovation strategy.
As an industry, as a company and as a team, diversity is key to unlocking innovation, and we invite everyone to work together with us to continue to make that happen. We believe that diversity of thought is not only the right thing to do, but leads us to the most exciting creative solutions. Join us!