Hasbro's Tanya Thompson, Mattel's Damon Saddler and designer Eric Lang to speak at d4: Tabletop Creative Conference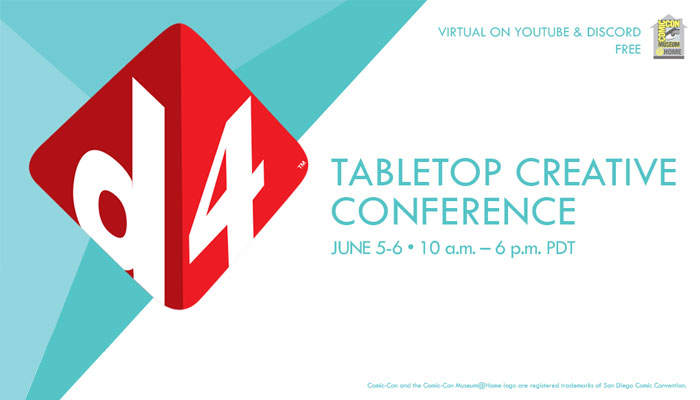 San Diego's Comic-Con Museum has detailed its upcoming d4: Tabletop Creative Conference.
The free virtual conference will be held across June 5th and 6th 2021 on the Comic-Con Museum YouTube channel.
The two-day event will feature recorded panel topics as well as special guest speakers covering a range of topics including design, development, marketing and trend-spotting.
Speakers include Tanya Thompson (Director of Global Acquisition and Inventor Relations for Gaming, Hasbro), Damon Saddler (Key Lead Designer, Mattel), Eric Lang (Game Designer), Tanya DePass (Creative Director, Motherlands RPG), B Dave Walters (Lead Developer, Into The Motherlands RPG), Becca Scott (Host, Good Times Society), Ivan Van Norman (Head of Development, Darrington Press) and Gabe Hicks (Game Designer).
"Tabletop gaming brings people together and while we still can't gather in-person for this conference, we are excited to provide those in the tabletop game industry – and those interested in the industry – the opportunity to convene virtually to get involved in the process behind creating games and learn about the skills needed to get games published," said Eddie Ibrahim, Senior Director of Programming at Comic-Con International.
"Hosting this conference expands on our offerings and aligns with our mission of promoting and supporting areas of popular art that might otherwise not receive the attention they deserve."
The event will also include an opportunity for designers to pitch their concepts to a panel of experts who will provide feedback on the game itself and the quality of the pitch. This part of the event – called the Game Pitch Review – will be broadcast live for those who register to participate.
For more information, visit: www.comic-con.org/museum/d4-tabletop-creative-conference
—
To stay in the loop with the latest news, interviews and features from the world of toy and game design, sign up to our weekly newsletter here